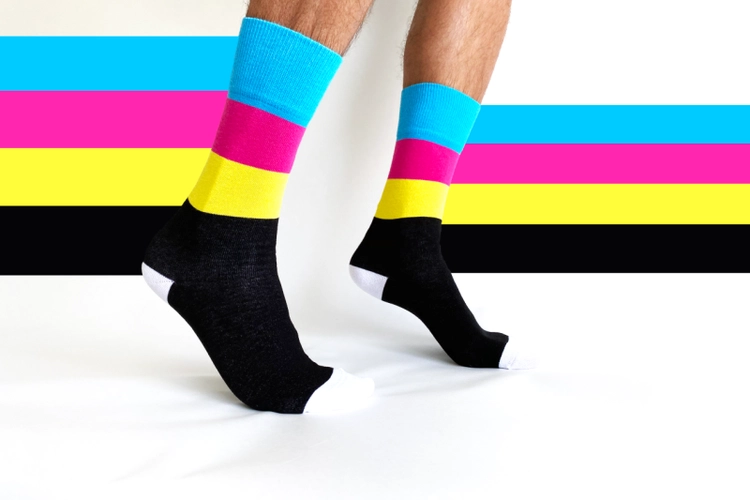 Making custom socks are the peak of fashion in recent years. So it's time to order printed socks for your employees or advertising campaigns. This paired piece of clothing is functional, always in sight (given the current fashion), and also has a high level of demand. Therefore, well-known brands produce socks with branding. If you wish to follow their example, we are ready to provide you with some tips that you need to consider.
Sizing for Custom Orders
Custom designed socks are generally offered in 4 sizes.
Small size is the one that corresponds to the youth's 12 to 5 and ladies' 4 to 7 sizes;
Medium size corresponds to the men's 6 to 9 and ladies' 7 to 10 sizes;
Large size fits the men's 9 to 12 and ladies' 10 to 13 sizes;
Extra large size is for bigger feet.
Custom Sock Materials
In addition to 4 sizes, custom socks differ in composition. High quality custom socks are generally made of 100% nylon stretch yarn or a mixture of 77% polypropylene + 17% nylon + 3% elastic + 3% Spandex. It gives socks ease of care, softness, an attractive appearance and increased strength.
Rich colors, improved relief and, of course, smooth structure are achieved thanks to a combed system used for yarn production. Combed socks are more comfortable to wear, skin-friendly and hygienic. There are no impurities or tricks. 17% nylon is the reinforcement for the toe, heel and the base that allows the sock to stretch freely and fit comfortably around the foot. 3% elastic and 3% spandex, these are rubber bands.
Among other materials that are good for socks are: Acrylic, Cotton, Polyester, Coolmax® Polyester, Lycra® Spandex or Merino Wool.
To increase the performance of socks, several technologies can be applied. For example, Blister Control, Compression, Climate Control, Antimicrobial, ProDRI.
Number of Socks
Generally, custom designed socks are offered in sets where 12 pairs of one size are packed. Frequently, the company has the minimum order number of 1 set or 2 sets with 12 pairs each. In case you order 2 dozen or more, you need to specify the desired size for each dozen.
The Purpose of Custom Socks
Design options are very different as the purpose of ordering custom socks can vary. When it comes to promoting the company, be sure to apply the logo and slogan. Do you want to cheer up the recipient of the present? Use funny inscriptions, comic phrases, funny emoticons. Funny memes, "top" cartoon and movie characters are especially popular.
In addition to custom socks with words that are individually tailored and printed, you can consider this type of clothing as an excellent promotional souvenir. Any events and conferences can be accompanied by such cute and useful gifts for the participants.
Also, branded socks are perfect as prizes in various promotions. They are nice to receive as a gift. And they will definitely be used, and therefore, increase the recognition of your company. This is a sheer benefit.
Sock Style
Modern equipment and highly qualified specialists at Custom Socks Shop allow you to implement the most incredible ideas for your branded socks. A wide range of sock styles manufactured takes into account the needs of buyers and customers of all ages, collections are created for all seasons of the year, climatic features of various regions of the country.
You can choose a model from the company's range and it will be released under your brand, or you can submit your layout. Here you will find: children's models, women's models and men's models from the simplest to socks of all colors of the rainbow. Modern knitting equipment creates a unique pattern on socks for your order. As for the models themselves, they can be short socks, they can be high, the elastic band is also discussed.
Custom Socks Shop is ready to implement the craziest and most daring ideas, they will offer different types of socks: classic plain, designer socks, both men's and women's. Their production has been modernized to create unique socks. They have spent a lot of time on this and continue to develop!
Do you still have any questions on ordering custom branded socks? Fill free to share all your hesitations and we will clear up everything for you.