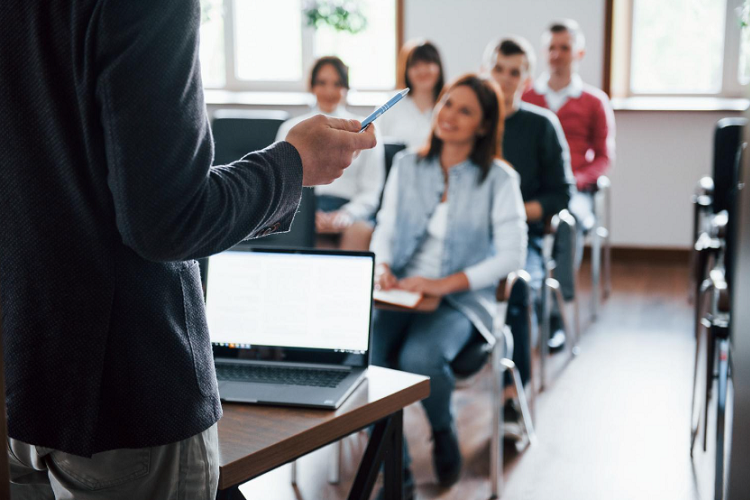 If you are planning to settle abroad as a teacher then it is the best choice to select TEFL training. You will get a better experience and hands-on practical knowledge to plan the lessons and manage the classroom. This course is well-designed and tailor-made to make you an efficient teacher with good communication skills. Also, you can enhance your English learning with fundamentals of grammar and necessary language details.
What is TEFL?
TEFL – Teaching English as a Foreign Language, is an internationally recognized entry-level certification training for teaching English as a Foreign language.
The TEFL training enables the individual to get English teaching opportunities in institutes and schools worldwide. Training is meant to help individuals to teach non-native English speakers across the world. For those who want to become teachers, this training can be the best path to choose. As the TEFL classes cover all the needed information that is necessary for ESL abroad.
The TEFL classes are designed to include practical tools and techniques to improve your teaching skills.
TEFL training with certification is a common requirement for teaching English as a foreign language abroad. The teaching positions may vary in multiple ways in different countries. So, taking training can be an added advantage for you to get distinguished from other candidates during the interview.
What is taught in the TEFL training
The TEFL certification includes teaching skills involving language skills, grammar, classroom management, and lesson planning. The classes include the following –
Language skills – Major five fundamentals of language skills are taught: reading, writing, listening, pronunciation, and speaking.
English grammar – Basic grammar knowledge is taught as part of the curriculum. Learn to simplify complex grammar concepts into simpler chunks.
Lesson planning – Learn to make proper lesson planning with appropriate delivery of the class objectives with productive learning.
Classroom management – Know how to manage students and the classroom. This includes maintaining a good learning environment with better knowledge-sharing capabilities.
Learn to identify the learning skills – Learn to know the level of the student's knowledge and understanding. Learn to identify how to teach the lessons with better learning skills.
Arrange effective learning materials – Know how to find, adapt and make appropriate arrangements for the lesson explanation. Learn to make arrangements using proper materials to make effective learning in the class.
All the above aspects are included as part of the specialized strategic teaching concepts to customize the TEFL classes. Learning business English, teaching English to younger students, preparing for the teaching test and so many others.
Online or In-site TEFL training
The TEFL training varies as per the institutes. There are many institutes offering online and classroom learning opportunities. The major difference is that online training offers more
flexible and convenient learning while in-site training offers hands-on and intense learning.
Although in-site learning has many benefits but online learning would make your expenses like traveling charges and many connected miscellaneous. Still, there are a few points to consider for online learning-
Taking online training can be less when compared to in-site learning.
You can complete your course at your ease and convenience.
Informative videos are shared and sessions are conducted online.
In-site TEFL training is comparatively most recommended and is accepted. The in-site learning is advantageous and is expected to be competitive. Below can be some of the points considered –
Direct classroom learning is conducted by experienced and professional trainers.
You will get an opportunity to learn in the classroom environment.
Immediate feedback and comments are provided as per the classes or sessions conducted in the classroom.
You will explore the local culture and new peers who are studying along with you.
How to get the TEFL certification?
While selecting TEFL training, you need to ensure that matches your adequate requirements that match the international standards of TEFL. Make sure you get into the leading teaching academy –
The class meets the international standards of English language teaching with acceptable regulations of learning.
The course must include appropriate hours of training classes. So that learning becomes easy and compelling.
Training materials covering teaching skills, language details(including fundamentals of grammar), classroom management, and phonology subjects along with the application of these in the classroom effectively.
Make sure trainers are well-qualified are subject matter experts with good experience and profession.
All the training materials should be updated and match the international standard of teaching.
Make sure the certificate provided is globally recognized and matches the international level of learning.
Reasons to take TEFL training
1
Exposure to the classroom environment
As part of the TEFL training, it is observed that many institutes offer practical learning opportunities. This includes activities and interactive sessions with the students. You get to work on multiple assignments and assessments that will shape your learning and skills.
Exposure to the classroom helps you deal with the students and understand the teaching techniques. You will get appropriate supervision and guidance from the instructors which can help you to know better ideas to deal with the classroom.
2
Shapes your teaching methods
Getting practical experience by taking classes can be beneficial always. As part of learning you can shape your tricks and techniques to mold yourself as per the teaching standards. Practical knowledge along with the theoretical subject details is the better option to shape your teaching methods.
With practical knowledge, you can shape your teaching methods to deal with the students. These give you confidence and technical knowledge about the subject and the necessities to handle the classroom.
3
Master the English language
TEFL training includes all the fundamentals of the English language. It may involve grammar, pronunciation, and proper sentence building to grasp the student's attention. The TEFL classes consist of subject knowledge along with the fundamentals and advanced learning scope.
English without grammar is like a body without a skeleton. So, mastering the English language with better grammar knowledge is the best option available in TEFL classes. Knowing grammar will enhance your communication skills which will in turn help you to hold a good position in the teaching field. Additionally, you can end up having a better pay salary as per your desire from the reputed institutions.
4
Become an open-minded personality
When you learn amongst your peers you will expose yourself to them. Generally, moving abroad will enhance your experience of the new culture, and managing the transition will be a plus point. The TEFL certification also gives valuable cultural knowledge along with providing useful instructions about how to deal with other students and peers.
However, TEFL certification will teach valuable professional skills and knowledge to stand out among the other competitive employees.
Desirable teaching jobs in recognized institutions are competitive. Having TEFL certification will make you outstanding among the others.
As TEFL certification adds value to your resume, and also shows your leadership qualities and interpersonal skills.
Many recruiters are looking for teaching staff with TEFL certification. TEFL training provides better learning knowledge and hence recruiters will give priority to the ones who have the TEFL certification over the others who are non-certified.
6
Secure a better job with good pay
Usually, there is not much focus on TEFL-certified teachers. But having one will automatically give you more consideration. Also will in turn provides you with higher salary opportunities. Employers always recommend candidates having certifications other than non-certified candidates.
This way you can get better job opportunities with a better salary, which will be an added advantage to your career in the international teaching market.
7
Know yourself as a teacher
If you are recently graduated or have no idea about teaching, then TEFL training can be the best platform to choose. You will learn to work as a teacher which will give you the hands-on experience to deal with classroom management skills.
The TEFL training includes multiple practical sessions which have assignments and assessments. These assignments are then supervised by instructors who can help you to get a good learning experience.
8
Earn lifelong TEFL certification
If you earn TEFL certification, then it will be a life-long stand for you. As you don't need to bother about the expiry of the certification. The TEFL certification will extend your travel opportunities to new countries. The certificate is valid for a lifetime and never expires, but it may need to be renewed as necessary. It is a valuable certification as it fetches a handsome salary from anywhere at any time across the world.
Always it is advised to refresh your learning regularly which is always recommended and is the best practice to keep yourself updated. This way you will be updated and boost your learning capacity as per the recent teaching trends.
We can say TEFL is a one-way ticket to the international teaching field. Once you gain the TEFL certification then it is the lifelong savior that stays with you.
9
Opportunity to work across the world
Moving to foreign countries is not always easy. As there are many litigations for the immigration and visa processes. Having TEFL certification can make you more work eligible around the world.
The classes include theoretical and practical training to teach English as a foreign language in any country. This incorporates daily practical sessions while offering hands-on educational experience to develop a strong hold on the basic teaching methods. Also helps you to gain knowledge about the teaching skills and tools for constructive training to become an effective teacher with better quality educational experience.
Teaching includes tactics and intuitions to plan, prepare and organize lessons before taking any class. One will learn to prepare proper lesson plans to make the class more effective and attentive. These plans will build self-confidence in you which will boost your teaching knowledge and skills.
TEFL training not only teaches the English language methodologies, but you will also connect with many people from different cultures. This way you can expand your network across the world. In turn, can enhance your learning and teaching skills.
Conclusion
TEFL training provides an internationally recognized certification. Having certification can be the clean chit to fly across the world with good teaching skills. You can land your desired job with classes and enhance yourself in other countries. Having TEFL certification in your resume will stand you out of the crowd to secure a better job with good pay. Always explore before enrolling in the TEFL certification course and explore your teaching skills.
FAQs
Q.1 Is TEFL certification worth taking?
Ans. TEFL certification shows your teaching knowledge and required skills. The TEFL training will make you effective in the teaching field. Most schools and institutions look for teachers who are certified with practical knowledge.
Q.2 Does TEFL training include practical learning?
Ans. TEFL classes include many practical sessions to help each individual to learn the required skills to teach students.
Q.3 How long does it take to take TEFL training?
Ans. The duration may range from a few weeks to months. It all depends on the hours of learning you opt for, it can take from 4 weeks to 6 months. 4 weeks course generally has 30-40 hours per week of learning. While the 3 to 6 months course has a part-time learning option. The long-term course will be a realistic option to opt for students who work or have other schedules to deal with.
Q.4 Is TEFL training with the certification valid?
Ans. Many organizations, institutions, and schools looking for candidates who are good at teaching and have better English knowledge. Also, it is recommended to have TEFL certification which is recognized worldwide. With the TEFL training, you will have enough skills and techniques to deal with students, and also you will all the fundamentals of the English language.
Q.5 Are TEFL trainers well-qualified?
Ans. The trainers, professionals, or instructors are professional-level candidates who have better knowledge about the TEFL syllabus and curriculum. They teach the course appropriately as per the industry standards to match the recent change in teaching methodologies and technologies.