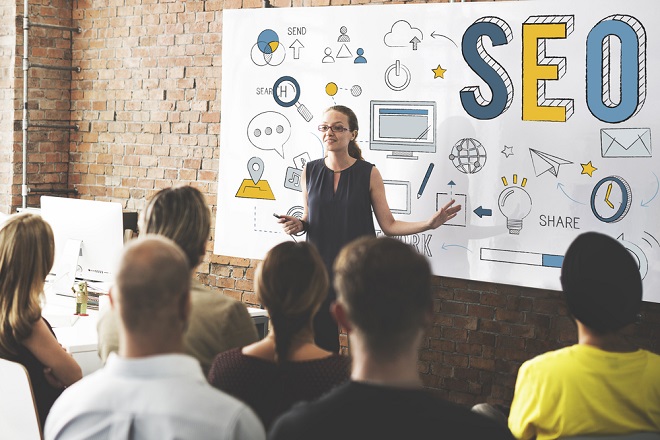 An SEO Consultant is responsible for researching, planning and executing overall search marketing strategies.
Marketing and reaching consumers has always been an extremely important part of business. However, thanks to our reliance on the Internet, marketing efforts have shifted from its more traditional form to digital marketing in recent years. Now digital marketing and SEO are some of the best ways to grow your brand and generate leads. Unfortunately for many people, digital marketing and SEO can be tough topics to grasp, which often results in many companies outsourcing the processes to dedicated marketing firms.
However, even when you outsource, you still need to have a baseline understanding of SEO and what it can do, as you need to ensure that your efforts are actually paying off. So if you seek out SEO consulting services, what should you expect from the agency you hire? Here are some responsibilities of an SEO consultant that you should expect them to complete.
Understanding Clients' Goals
The first thing that an SEO consultant should do when planning to work with you is to better understand your wants and goals from digital marketing. Although the SEO firm may be the expert in this area, they still need to listen to you and understand what you're trying to achieve through SEO.
In addition to understanding your goals, an SEO consultant needs to identify things such as your industry, competitors, brand recognizability, and current web presence. If an SEO consultant can't understand your position and is unable to help you reach the goals you want to reach, it's probably best that you take your business elsewhere.
Optimizing SEO Practices
In addition to understanding your goals and expectations from digital marketing, an SEO consultant needs to optimize your web presence for SEO practices. To do so, an SEO consultant will have to make adjustments to a wide variety of areas. For example, they may optimize your web page URLs to make them shorter and more descriptive, or they may restructure your website to make it more easily navigable for search engine crawlers.
Finally, an SEO consultant may do other things to optimize your website for SEO, such as improving website load times and making your website more mobile-friendly. There are many things that can be done to optimize for SEO, so you definitely can expect an SEO consultant to make some changes to your website.
Conducting Research and Analysis
Another thing that you should expect out of an SEO agency is for them to conduct research and analysis regarding your company and your marketing goals. As mentioned before, an SEO agency should already have a good understanding of your current position and goals. However, an SEO agency also needs to conduct research and analysis to figure out what direction to take your digital marketing campaign.
For example, an SEO agency should research what types of keywords you should be ranking for. In addition, research needs to be done into what a firm's target market should be and what form of digital marketing is best to reach that target market. A heavy amount of research and analysis needs to be done for digital marketing to be effective, so you definitely should expect an SEO consultant to conduct research for you.
Creating Campaigns
Finally, as a paying customer, you should expect an SEO consultant to help create your digital marketing campaigns. Once an adequate amount of research is done, your SEO consultant should have a campaign created to best reach your audience and grow your business. For example, an SEO consultant may create various content pieces containing specific keywords, boosting your search engine ranking for those individual searches.
Additionally, an SEO consultant may have a campaign to optimize your website for SEO practices, engaging in activities such as restructuring your website, optimizing URLs, improving load times, and enhancing mobile-friendliness. Several SEO practices will be applied to many different areas of your brand's web presence, all with the end goal of boosting your search engine rankings.