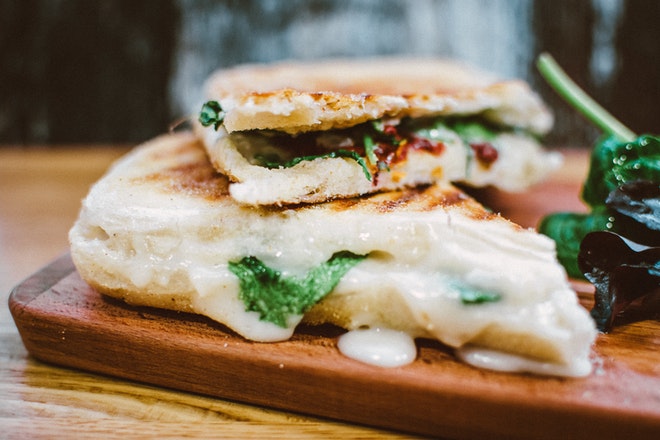 It is no doubt that grilled cheese is comfort food. Some ooey-gooey cheese melted between two toasty slices of bread can brighten your day in an instant. It's this easy happiness and joy that is hard to give up when taking on a healthier lifestyle. We end up spending the entire diet dreaming about the day we can bite down on a crunchy and melty cheese again.
In this article, we are here to tell you that you can have a healthy lifestyle and still enjoy your grilled cheese too.
The Right Bread
Want grilled cheese in your life? All it takes is the right bread and a little ingenuity.
We know what you are thinking:
Bread is full of empty calories.
My healthy lifestyle does not include bread or gluten.
There is no way I can meet my macros and enjoy a cheese.
Bread is not a health food.
But what if we told you you were wrong and that bread could actually check off all of these boxes for you by changing the narrative? How would you feel about a grilled cheese then?
The answer should be:
Bread is full of protein and healthy fats.
My healthy lifestyle can include bread without gluten.
I can meet my macros and still enjoy a cheese.
Grilled Cheese is a health food.
Is your mind blown? Through the proper research and development, we've been able to create a healthful keto bread that toasts perfectly, tastes great, and will not suck the life from your bank account. This bread is something you can easily integrate into your new lifestyle without worrying that you won't have access to when you don't have the funds.
So let's get started with those recipes!
Vehicles for Flavor
Grilled cheeses don't have to be boring. Grilled cheese is actually one of the most versatile foods that are readily available. We've pulled together four ways to make excellent grilled cheese.
1
Everything But the Kitchen Sink
Have a fridge full of leftovers? Grilled cheese is a great avenue for turning those hodge-podge leftovers into a cohesive meal simply by adding in a little bread and cheese on top and bottom.
2
The Sweet and Savory Sunrise
A fan of dessert? Grilled cheese made with two french toast pieces slathered with some cream cheese and stuffed with bacon and fruit with a drizzle of maple syrup on top will simply make your morning, and it's not a complicated meal to create.
This grilled cheese take avocado toast to a whole new level. The first step is to toast your bread. The spread avocado over the outside of each piece. Layer on a slice of cheese and place the bottom piece in the pan cheese side down to begin toasting. You'll want to get that cheese nice and crispy. Now fill the middle of your grilled cheese with more cheese, grilled chicken, crumbled bacon, a spread of cream cheese, and a slice of tomato. Pop the lid on the avocado side up and place a piece of cheese onto the spread avocado. Flip once the first side is toasty and toast the second side. Enjoy this crunchy cheesy madness filled with healthy fats and protein.
Everyone has that memory from childhood of that epic stretch on a grilled cheese. Well, this recipe shows you how to do it. In a bowl, combine shredded mozzarella, chunks of Havarti, some shredded cheddar, and about a spoonful of cream cheese. Blend all your ingredients loosely together and spoon some into the middle of two buttery and garlicky pieces of bread and toast. Enjoy the melty, cheesy stretch fest for one of the most interactive lunches you've had in a long time!
Back to the Future With Bread
In conclusion, there is no better way to hit your macros than with a grilled cheese made from keto bread. This seemingly magical bread will open up your sandwich possibilities and give you the freedom to make a meal on the go, which is a huge gift on the keto diet.
You get to enjoy the nostalgia of your childhood past again with each and every grilled cheese while investing in a healthy future.