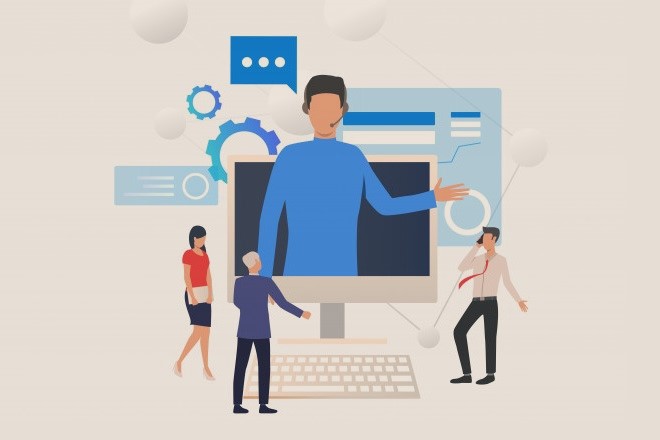 Thinking about hiring a VA? If you're going to hire a virtual assistant, keep these tips in mind to ensure your investment helps you maximize productivity.
Not even five years ago, an assistant was thought to be something only executives could have. Who else could afford to pay someone to be at their beck and call forty hours a week, plus benefits?
Today, personal assistants come in a variety of forms, including virtual. Anyone can hire a virtual assistant (VA), and thousands of people do.
The popularity of this role stems from the fact that it's beneficial for both the employer and the assistant. Flexible hours and the ability to work from anywhere lend themselves to a symbiotic work relationship.
When you hire a competent VA, it's your responsibility to use them to their full potential. Otherwise, you're wasting the opportunity that an assistant presents.
If you're going to hire a virtual assistant, keep these tips in mind to ensure you're maximizing your productivity with your investment.
Start With Entry-Level Work
You might be hiring a VA for difficult projects, but you should start everyone with entry-level work first. It sounds counterintuitive to pay someone to do basic tasks, but it's actually a savvy business move.
If you know nothing about the person you've hired (besides what they wrote on their resume, don't trust them with important tasks just yet.
Start with small jobs. Monitor their ability to follow basic instructions and meet deadlines. As you work through these tasks, you'll learn about their abilities. As you grow more confident in them, you can involve them in more high-stakes jobs.
It's beneficial for your VA, too. He or she can learn the job without the stress of potentially causing damage.
If you're too busy to train someone on mundane tasks you mastered years ago, don't worry. Once again, technology comes to the rescue.
There are dozens of software tools you can use to train your VA. All you have to do is explain the process once, and anyone you hire can follow the steps. If they can't, you'll find out very early that they're not the VA for you.
Analyze Your Tasks, Then Delegate
As a business owner, one of the hardest things to do is to give up control. But if you want to get ahead in your industry, you have to learn when to ask for help.
You've taken the first step by investing in an assistant to take on some of your workload. Now, you must choose which jobs to pawn off on them and which ones to keep for yourself.
To get started, make a list of the tasks you do regularly. Which of those jobs can you delegate to your VA? Which need the skilled touch only you can provide?
When you're deciding what to keep versus what to hire out, consider the ROI. The goal is to dedicate your time to tasks that will make your life easier and earn you the most amount of money.
If it's a toss-up between delegating a task and spending quality time with your loved ones, the choice is easy. Work-life balance is invaluable and more than worth the price of a VA.
Let Them Help You Reach Your Goals
Once you've built a relationship with your VA, let them in on your long-term goals for your business. You can do it alone, but why should you?
Your support system should be cheering you on to success. After you've worked with your VA long enough, they'll become part of that system. But, unlike your family and friends who may not have the skills to help you, your VA can speed up your momentum.
Think about the goals you have for your career. Create a list of steps you'll need to take on the way to reaching those goals.
Jot down the steps you think your assistant can help you with and go over them together. Then, train your assistant to handle the ones that they're confident they can do.
It's okay, and even necessary, to have help in your journey.
Let Your VA Handle Social Media
As a business owner, it's crucial to maintain an online presence. It's basically a requirement for success in today's digital age.
But, social media is also a vortex that can suck you in. The five minutes you scheduled to update your Facebook status can easily turn into an hour of "checking up on" friends, family, and current events.
Instead of falling into this black hole, let your VA handle your social media accounts.
If you know your assistant has strong communication skills, put them in charge of client responses. They can check emails, reply to questions, and forward you the important ones. They can also field phone calls and business-related text messages.
Your VA can also monitor your accounts for comments from customers. If you get any bad comments on your page, they can respond immediately to mitigate potential damage to your reputation.
Scale Them With Your Business
When you advertise for an assistant, clearly state that the position has long-term potential. Make sure the person you hire is interested in growing with you.
As your company becomes bigger and more successful, you can give your assistant more responsibilities.
Just remember that most VAs juggle multiple clients, so they may have to adjust to the new work gradually.
If they become too busy with the more detailed tasks, be open to hiring another assistant for entry-level assignments. Before long, you'll have an entire team of assistants!
Conclusion
Going it alone earns you all of the credit for your success, but limits your growth potential. If you're serious about growing your business, enlist the help of a virtual assistant.
Whether you own a web-based company or a brick-and-mortar business, a VA can boost your productivity and increase your profits. Just make sure to use these tips to get the most from your investment!
Article published by Dominique Daniels
Dominique Daniels has five years of experience in managing high-end apartment communities. Her ability to consistently deliver white-glove service to residents and prospects has propelled her into a successful career that now finds her leading the team at Vida at Daybreak.