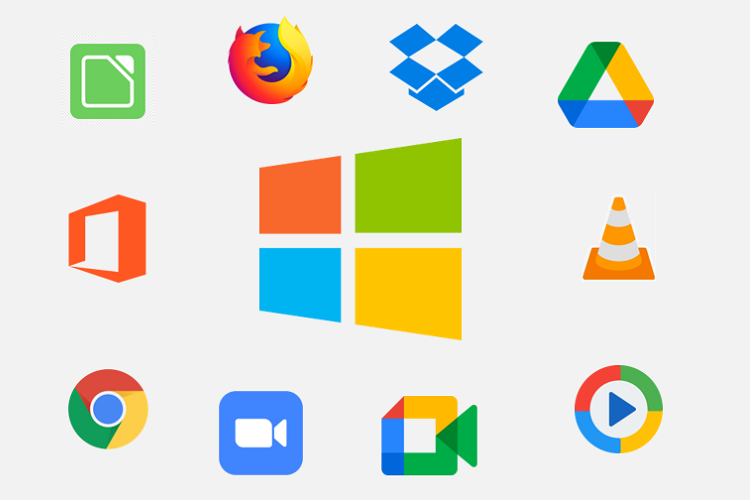 There are dozens of different Windows software and tools that allow you to optimize the workflow, increase productivity, and improve the process of communication and collaboration. In this article, we present a selection of the top Windows software and apps in different categories that will be useful to you regardless of your profession and type of activity.
Office Suite
LibreOffice is a free popular office suite that has a simple and clear interface. It offers programs for word processing, working with spreadsheets, presentations, databases, graphs and charts, and mathematical formulas. LibreOffice has many powerful built-in features and also provides mechanisms to extend functionality.
LibreOffice has built-in support for the Open Document Format (ODF) standard and is compatible with various file formats such as .doc, .docx, .xls, .xlsx, .ppt, and .pptx.
Microsoft Office is a software suite that includes programs such as Word, Excel, PowerPoint, Outlook, Access, and more. It enables you to efficiently create electronic documents and tables, work with databases, manage email and personal information, and so on.
This office suite ensures compatibility with various file formats and seamless and integrated work with its programs. It also provides cloud storage and collaboration features through Microsoft 365. This allows users to access their files and work from anywhere and on any device.
Web Browsers
Google Chrome is one of the most popular web browsers designed for fast and efficient web browsing. It has a simple and intuitive user interface. Google Chrome provides the ability to customize the appearance with various themes, extensions, and plugins to improve functionality and adapt it to specific needs.
One of the advantages of using Google Chrome is the robust security measures. It provides built-in protection against malware, phishing attempts, and malicious websites. Chrome's Isolation Environment technology isolates each tab and extension, preventing potential security breaches and providing a safer browsing experience.
Google Chrome provides a sync feature that keeps bookmarks, browsing history, and settings consistent across devices, allowing users to easily pick up where they left off.
Mozilla Firefox is a popular high-performance open-source web browser. It provides reliable security tools and regularly releases updates to fix vulnerabilities and improve protection against malware. To ensure privacy, Firefox blocks third-party trackers by default and gives users control over their online privacy.
Firefox provides extensive options for personalizing the interface and offers a large selection of themes, extensions, and add-ons. This allows users to customize Firefox to suit their needs.
Cloud Storage
Dropbox for Windows is a desktop app that makes it easy to sync files and folders between your local Windows computer and the cloud. Users can easily drag and drop files into their Dropbox folder and they will be automatically uploaded and synced to the cloud storage. Any changes made to files on one device are automatically synced to other connected devices, ensuring access to the latest version of the file from anywhere.
Dropbox for Windows also provides robust collaboration features. Users can create shared folders and invite others to access and collaborate on files, enabling seamless teamwork and file sharing. The app allows users to set permissions, granting specific access rights to individuals or groups, and providing privacy and control over shared content.
Google Drive for Windows is an application that allows users to access and manage their files stored on the Google Drive cloud storage platform directly from the Windows operating system. It fully integrates Google Drive with the Windows environment, allowing users to sync, store and collaborate on files conveniently.
With Google Drive for Windows, users can easily sync files and folders between their local Windows computer and the cloud, eliminating the need to manually transfer files or use external storage devices.
Google Drive also supports offline access. Any changes made offline are automatically synced to the cloud when you reconnect to the Internet. Also, it provides a feature called "Backup and Sync" that allows users to back up selected folders on their Windows computer to Google Drive, ensuring safe storage of important files in the cloud.
Media Players
VLC Media Player is a popular multi-functional open-source media player that supports a wide range of audio and video formats, including MP4, AVI, MKV, MP3, and more. It provides a user-friendly interface with intuitive controls that allow users to easily navigate and manage their media library and playlists.
In addition to playback capabilities, VLC offers advanced features such as media conversion, streaming, and subtitle support. It allows users to convert media files to different formats, making it useful for transcoding and compatibility.
Windows Media Player is a universal media player for audio and video files that is compatible with various media files. It makes it easy to create playlists and manage your media library.
This program includes a library feature that allows users to organize and categorize their media files for easy access. It also offers options to search and sort media files based on various criteria such as artist, album, genre, or rating.
In addition to local playback, Windows Media Player supports streaming media from the Internet. It allows users to access online radio stations and streaming services, expanding their media consumption options.
Video Conferencing
Zoom is a popular Windows app that allows you to conveniently join and conduct online meetings, webinars, and video conferences using the Zoom platform. It provides high-quality audio and video communication that allows participants to communicate face-to-face regardless of their physical location.
Zoom is easy to use. It allows you to schedule, hold, and join meetings with just a few clicks. The program provides various tools for collaboration during meetings. Participants can share their screens, use the chat function to exchange messages and collaborate on virtual whiteboards for interactive brainstorming sessions. You can send invitations to participants by e-mail or by exchanging meeting links.
To ensure security and private communication, Zoom provides password protection for meetings, waiting rooms, and host control. End-to-end encryption is also used to protect the integrity of meetings.
Google Meet is a program that allows users to join video conferences from their Windows computers using the Google Meet platform. It has a simple, intuitive user interface and provides high-quality audio and video communication.
Google Meet integrates easily with other Google Workspace applications, allowing users to access and work on shared documents, spreadsheets, and presentations during meetings. The program supports meetings of various sizes, from one-on-one conversations to large-scale conferences. It implements encryption and other security measures to protect the privacy and integrity of meetings.
Other
Mosquitto MQTT broker for Windows
Mosquitto MQTT Broker is a reliable, high-performance, open-source message broker that is used to transfer messages between IoT devices and sensors. It can handle a large number of concurrent connections and efficiently route messages between publishers and subscribers.
MQTT broker Windows offers support for Quality of Service (QoS) levels that ensure reliable message delivery and control over message retention. It also provides security features such as authentication and authorization, allowing administrators to secure MQTT communication by configuring user credentials and defining access rules.
The Mosquitto MQTT Broker provides many configuration options to tailor the behavior and performance of the broker to specific requirements.
Conclusion
So, as we have covered, there are many different types of software that can help you improve the performance of your Windows operating system. We have listed the top Windows software, among which you will find what you need.