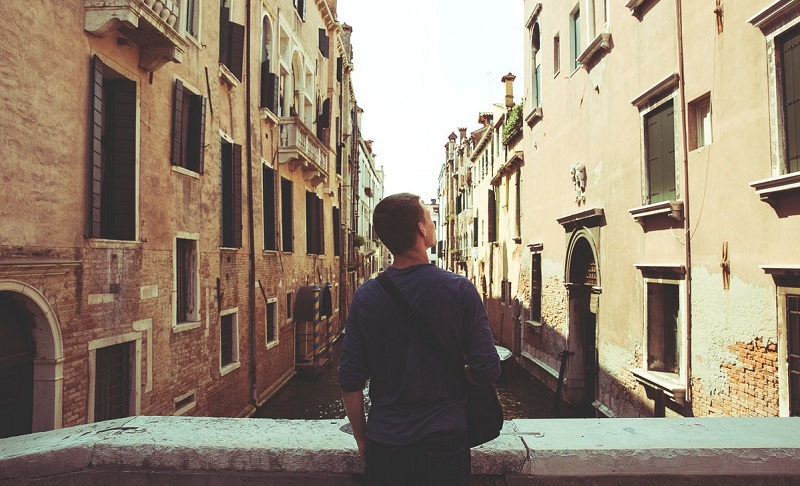 Hundreds of new and shiny travel gadgets enter the market every year, but the life-cycle of most of these gadgets is extremely short. It's a tough challenge for a company to be able to create a worthwhile travel gadget that will be a breakthrough. For a travel gadget to be successful, it will need to have a strong purpose and make the users life a little easier in some way, and most gadgets entering the market do not.
2019 is fast approaching and I think we're all past the days of buying things just for sake of it. The items we buy will need it will need to benefit people and be marketed well, in order to do well when on the shelves. Here's a few travel gadgets that we think will steal the show in 2019 and make traveling a little easier and indeed, more enjoyable.
Huzi Infinity Pillow
Travelling consumes a lot of our energy and sometimes you need to recharge your batteries by having a quick power nap. This infinity pillow is a super soft travel pillow made from silky bamboo fabric. Most travel pillows look a little buky and can take up some room in your carry-on bag when getting from A to B. This pillow isn't as bulky as the rest and because of its softness, it can be folded to fit easily into your luggage.
There's more than one way to use the Huzi Infinity pillow, depending on how and where you wish to sleep or rest. You can wrap the pillow around your neck, just like a scarf, wearing the pillow like this will support your neck and is ideal if you will be sleeping whilst in an upright position. It can also be used as a desk pillow, a foot warmer and much more, the possibilities are endless with this travel pillow.
One of the best things about this pillow is that it's not solely restricted to travelling, if you like it then you can continue using it back home too. It doesn't look like a typical travel pillow, so if you use it in the house, people won't suspect a thing!
GoTenna
Some travelers like to wander where there's no phone signal. It's an adventurous way to travel and is perfect for those who don't wish for their travel to be disrupted by phone calls, text messages and worst of all, social media. But what if you get lost and I mean completely lost.
This is where GoTenna becomes a literal life saver, it's a lightweight device that allows you to go anywhere without signal and still be able to send and receive text messages. The product is compatible with Android and IOS devices, simply pair the GoTenna to your phone and you're ready to go!
Micro Lazy Luggage
There's many tired parents out there, willing to buy anything and everything to make traveling abroad with their child a little easier. Micro Lazy Luggage is a hard-shell, fabric suitcase that can convert into a pushchair.
At first look, you may think that the suitcase is small and that you wouldn't fit very much into it, but looks can indeed be deceiving. Micro Lazy Luggage has one front pouch which is rather spacious and has four pockets, as well as a laptop sleeve. When you unzip the main part of the case, you will be surprised to see that it is big enough to hold up to 18 liters.
Now to the fun part, converting it into a pushchair! At the back of the case, you can press two buttons and the legs of the pushchair will be released, making your Lazy Luggage a four wheel case. There's room for your child to sit on the case, facing your direction and resting their feet on the footrest. If only there was a Micro Lazy Luggage case for us adults, eh?
LugLoc Luggage Locator
Let's be honest, airlines don't always handle luggage in the right way and unfortunately, this can result in our luggage being lost. Lost luggage is a fear that many travelers have, but there's no longer any need to worry, simply purchase LugLoc Locator to keep track of the whereabouts of your belongings when travelling.
LugLoc is a small device that you can pop in your luggage, it connects to an app on your smartphone, allowing you to track your stuff at anytime! If leaving your luggage behind is another worry you might have, LugLoc can alert you when you move away from your luggage. The detailed proximity tracking of this device is fantastic and could save both airlines and travelers a lot of money!
Shirt Shuttler
This nifty gadget is a protective case for your shirts. Yes, it's really just a laptop or phone case, but for your shirts. Of course Shirt Shuffler may will not appeal to everyone, but it's became increasingly popular recently and is set to be one of the 'must have' travel gadgets for 2019.
Shirt Shuttler is ideal for those travelling for work, with very little time to iron their shirts needed for business meetings on arrival to their destination. All you have to to is fold the shirt using the Shirt Shuffler (as recommended on the package), and once it's folded, simply close the Shirt Shuttler case and pop it in your suitcase! It's super simple to use and can save you a lot of time when travelling abroad for business.
Written By Rebecca Martin, Digital Marketing Executive At Uni Baggage.