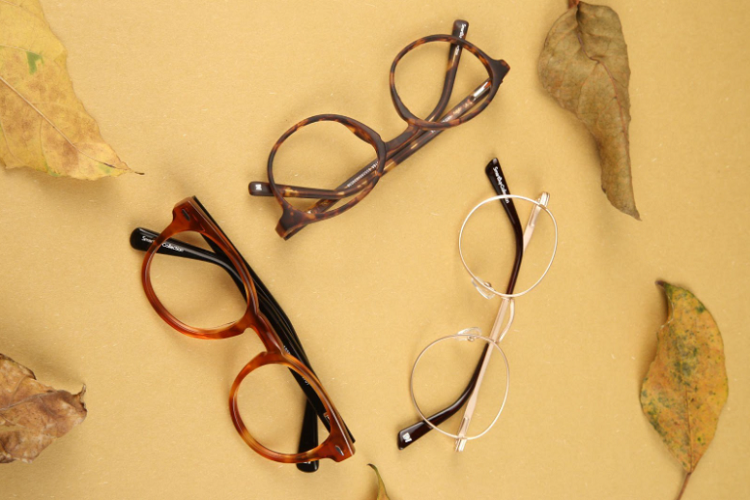 Fall frame eyewear is officially here! As Autumn settles in, there's no doubt that we're all eager to enjoy what the new season has to offer. Whether you'll be welcoming in the season with a walk in the park, a catch-up with friends over a pumpkin spiced latte, a cosy night in front of the TV, or heading to festive celebrations; it's time to step out in style! Take this opportunity to upgrade your wardrobe to autumnal hues, switch up your summer slips with oversized knitwear and invest in a new pair of fashionable glasses.
Making it easier to shop for your everyday accessory essentials, SmartBuyGlasses is home to thousands of fashionable glasses online. From high-end luxe designer brands, to more affordable exclusive value frames, the online eyewear retailer has a little something for everyone. The online store is easy to browse, offering a virtual try-on feature to allow you to try glasses on – online! You're sure to find the perfect frames to match your outfits, whether you're working from home, stepping into the office, playing sports or heading for an evening out with friends.
Fall Frame Eyewear Styles
We've found the latest fall frame eyewear styles for this season, bound to capture attention all whilst keeping your eyes healthy. From clear frames, to cat-eye shapes, the latest trends below are sure to have you looking stylish all season – and beyond! Fall frame for these beautiful eyewear trends:
One of the most popular eyewear trends of the year, clear frame glasses have captured the hearts of fashion fanatics everywhere. Easily transposed with any accessory or outfit style, clear frame glasses are available in a range of colours and frame shape styles. Upgrade your prescription glasses or rock plain ones for a style boost!
As resonant as always, cat-eye glasses are still in style and a killer look for both a social or business environment. Sexy yet serious, they're a modern silhouette suitable for emphasising professionalism and expressing a playful side! One of the latest trends this year is the geometric twist on the classic cat-eye frame, which accentuates your personality and highlights your face shape. A cat-eye frame compliments a variety of face shapes – adding angles to flatter a square-shaped face, or define a more round-shaped face.
Simple yet beautiful, round eyeglasses frames are a great pick for those who want to change up their look. The retro silhouette is available in acetate pop colouring, sleek thin metal frames, or bold oversized styles. Smaller frames are perfect for creating an elegant yet modern look, whilst an oversized frame is the ideal accessory for helping you stand out.
An enduring fashion favourite – tortoiseshell print glasses are more popular than ever, and lucky for the more daring individual, they're here to stay. With so many colour palettes of this trendy pattern, tortoiseshell glasses frames can be suitable for any face shape, as you're sure to find the perfect one to suit your skin tone! Their attractive textured nature works with so many different outfit styles, creating a classic and modern feel, all at the same time.
Shopping for glasses online is easy!
With the latest eyewear trends this season, you can protect your eyes, all whilst looking stylish. Whatever your style, prescription or personal preferences, you're bound to find a pair of glasses online that you not only like, but love. With so many lens types available, wearing glasses is about more than just needing eye correction – you can choose from a range of premium lens upgrades suitable to your lifestyle! All frames come with a best price guarantee, 2-year warranty and 100 days to return. Buy glasses online from SmartBuyGlasses UK.