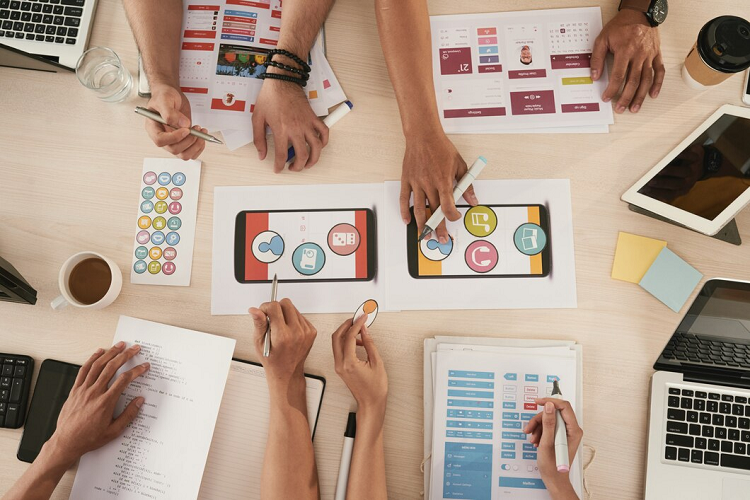 The world is evolving and so is technology, pick any industry and you will realize how each of them has adopted it. So, when we talk about app development, a similar is the case, applications are not built the same as they used to be.
The reason is that no mobile phone can run without an app, it's like renting a place with no rooms. So, just like there are new Android and IOS smartphones released every other month, app development companies have to meet their requirements too. That is why app development companies are looking forward to developing apps that can easily function on all platforms.
Also, many businesses are shifting towards apps so along with a website they are now getting an app for their online business. But let's look at the reasons why applications are more in demand than before;
What Kind of Apps are in Demand in Dubai?
If you're looking for the best app developer companies in Dubai, then you've come to the right place. Since Dubai is a hub of technology and a world of architectural wonders, staying ahead in app development is equally the same. You lift your head and the sky is tearing with massive skyscrapers.
Hence, technology is used to the fullest to make sure people in Dubai get the convenience and comfort of life.
Food delivery apps are the demand of the hour, just like Uber Eats, many entrepreneurs are looking forward to getting an app with smart features. The goal is to make people in Dubai have a convenient life since they hardly get any time to buy groceries cook or fulfill their midnight cravings.
Such apps become handy and since it's quite hot in Dubai, most people prefer buying groceries online.
Ride-booking apps like Uber and other taxi-booking apps are quite in demand. So, nobody in UAE would prefer to walk long distances or to travel by bus in such extremely hot weather. So, taxi booking apps are being developed for their ease.
There are many e-commerce apps in Dubai, but the demand doesn't stop here. You will notice that every other brand in Dubai has an app for their online business. Also, Dubai is a shopping hub, there are many emerging brands as well. So, companies are looking forward to getting an app for their digital business.
It is quite common for Dubai residents to have social media apps that will only work in the UAE. For instance, WhatsApp is almost banned or some of the features are banned. So alternative apps are being developed to make sure that communication is not affected.
Lastly, there is gaming app development that has been the talk of the town. Many gaming applications have been developed over the past years and still with each year passing you see hundreds of games being developed in Dubai.
All the above-mentioned categories of app development can be built by amazing app development companies in Dubai. They have been serving for many years in UAE and have developed hundreds of apps for many organizations and businesses.
Top 10 App Development Companies in Dubai
Let's explore top-tier app development companies in Dubai that can provide you excellent services in terms of mobile app creation.
1. ABTACH DMCC
Starting with the leading app development company in Dubai, ABTACH DMCC is one of the highest names when it comes to developing applications.
The company has some of the finest and most highly skilled developers from all over the top regions. They are always on board to help cater to businesses' needs and to build them digital products. ABTACH DMCC. ae is developing quality and high-functioning apps with smart features.
2. RetroCube
Next is RetroCube, another prominent name in the app development industry. This company has been developing apps for a decade now and has successfully managed to satisfy more than 2500 clients.
Whether it is a booking app, gaming app, wearable app, healthcare app, or any type of social media app.  They have a bunch of highly skilled developers and designers building together applications for all the industry giants.
3. Create App like
Create an app-like company is all set to create exemplary apps for all industries. Whether you have any app idea or want an app similar to any other, they will create exactly the same app with more advanced features.
4. Fluper Ltd
Another Dubai-based app development company that has been serving in the field for many years. Following the best methodologies, Fluper Ltd is developing apps with advanced technology. They have so much to offer from mobile app development to web designing, UI/UX design, Web Strategy, and all the cross-platform applications.
Moreover, they are also offering post-app launch services and ensuring that the client's app is functioning well.
5. The NineHertz
The NineHertz are all set to build applications with the latest technology. They have years of expertise in creating iOS, Android, cross-platform and web applications. Whether you are looking for game app development, blockchain development, or mobile app development, they have skilled developers for all.
Moreover, the company aims to deliver applications that can help businesses and organizations transform digitally. They have all the best business solutions for e-commerce platforms as well.
6. Branex.AE
Branex is a leading name in the IT industry serving for years in the UAE. They can develop any sort of application that can offer you a digital transformation. Also, they are offering website designing and WordPress development as well.
Furthermore, all the applications are built keeping the latest trends in mind. They have a whole bunch of developers all set to deliver apps with advanced features and mobile-friendly functions.
Branex. ae has catered to hundreds of businesses every year leaving behind positive reviews.
7. Blink22
Businesses looking for a smart solution to expand their customer base, then without blinking an eye book an appointment at Blink22.
The company has been globally offering application and software development services. The developers at Blink22 can build apps integrated with AI advancement. So, whether the app is for small screens or large-resolution desktops, the UI design is developed accordingly making sure the clients get the perfect apps.
8. NAAS digital
NAAS Digital is a Dubai-based company that is an expert in the industry. They are developing amazing websites and applications for clients all over the UAE.
Besides the development, they are offering digital marketing solutions as well that can help businesses grow.  NAAS has a bunch of developers that can design and develop apps with top-notch features.
9. Code Brew Labs
Code Brew Labs is offering app development services all over Dubai. They are delivering apps for all the leading industries such as education, health, fin-tech, fitness apps, beauty, and fashion apps.
They can also build custom, consultation, and on-demand apps so that businesses can leverage their growth and sales in their respective industries.
Also, clients can get a prototype of their project before they get the final project. It makes it easy for the clients to make modifications and additions to their plans.
10. Brainvire Infotech
Lastly, there is Brainvire Infotech, which is also a Dubai-based app development company creating apps for years. They have served over 200 brands that have a successful story to share. They are using all the latest technological advancements to build the latest apps meeting modern-day requirements.
Moreover, the company has talented developers and designers for e-commerce development, ERP/CRM, digital marketing apps, and all web solutions.
Some of The Reasons to Develop Apps
There are many reasons but let's focus on the most common ones;
Having an app for a business/organization implies that you can easily communicate with each other. Take an example of an enterprise app, Slack, this app has been developed so that teammates can communicate with each other effectively.
Since the pandemic, working from home become the need of the hour, such communication and video streaming apps helped businesses and organizations to work without any interruptions.
For e-commerce businesses, applications helped them to build a strong customer base. The reason why customers prefer an app is that websites take longer to load and the app is loaded within a few seconds. Also, applications have chatbots that answer customer queries in a second.
In addition to this, it's not always the chatbot, but human assistance as well. This customer support helps visitors with their order and shipping issues. The quicker the reply from the customer representative the happier the customer is.
Seamless Shopping Experience
Another reason is that shopping/buying/ordering/booking through an app makes everything convenient and fast. If you buy/order/book anything from the websites it has to follow a long procedure and some of them, take minutes to load pages.
On the contrary, apps are loaded fast, and adding to the cart becomes easy. Also, these apps have tracking order features as well so that saves some hassle too.
Conclusion
So, this was all about the top app development companies that have been developing apps for clients all over Dubai. Make sure to check their portfolios and client reviews to find the one that aligns best with your needs. Good luck with your app development project.
Why are you waiting? Choose the best app development companies in Dubai, so you can find the perfect partner for your project needs.