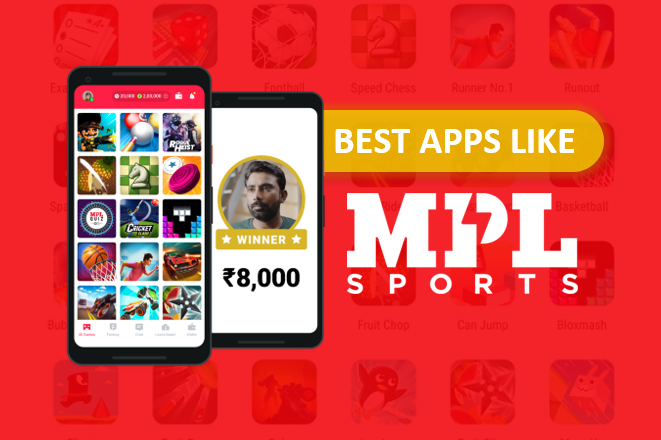 Technology has completely changed our lives. Who could imagine that we will be able to make money by playing games on our mobile phones? MPL or Mobile Premier League is one such application through which people can earn money by playing online games, answering questions and puzzles! But are there any other apps that offer cash prizes? Let us find out in this article. Here we are sharing 20 alternative apps like MPL in India to earn some extra cash!
What is MPL?
MPL or Mobile Premier League is an application for games such as fantasy sports, chess, poker, solitaire, pool, quizzes, puzzles and more! Anyone who has a smartphone and an internet connection and is above 18 years of age can download this app and start playing the games that they like. If you are the top scorer of a game, you can convert your scores into tokens and these tokens can be exchanged for real cash!
You can play a game a few times until you receive a better score and then you can submit your scores. The games are easy to play. You can play one-on-one or multi-player games. You can play more than one game. There is no restriction on how many games you are playing.
Best alternative apps like MPL
Yes, there are many other applications like MPL in India that offer real cash prizes. So, if you are someone who loves to play games on your mobile phone, it is time to showcase your talent and earn some money. Let us check these alternative applications right away!
It is one of the best and most popular online gaming apps like MPL in India. Many cricketers like MS Dhoni, Rohit Sharma, and Shikhar Dhawan promote this gaming platform. Playing on Dream11 is easy. All you have to do is select an upcoming cricket match, create your team, join contests and find a chance to win money. There are different cash contests on this app, most of which have an entry fee and prize money. You can choose the contest to grab a chance to win money. In all, you require strategy and skill to win money in this app. So if you are an amateur player, you must play carefully.
---
This is an all-in-one gaming app designed by Paytm for everyone who loves sports. The app is full of entertainment with over 300 games including card games and tournaments. The best part of this app is that you can start playing for free! You do not have to invest your money. The app is 100% safe and is handcrafted by Paytm which is one of the trustworthy mobile payments and commerce platforms in India. Download the Paytm first gaming app right now and earn Rs. 50 bonus!
---
PPL or Paisa Premier League is another gaming platform where you can earn money while playing games. Just like other gaming apps, this app also requires you to invest some money and then play content, get a higher rank to win the cash prize. One of the good things about this app is that it includes less number of people in one contest so the winners get higher prize money as compared to other apps.
---
You may like: How to invoice your customers from anywhere view>>
This app is for the knowledge bearers and we are not just talking about academic knowledge. Here, you can win amazing cash prizes by answering simple questions on more than 100 topics like Maths, Hinglish, Bollywood, Hollywood, Cities and Capitals, Sports and more. The faster you answer the question, the brighter your chances are to win cash on the spot. The winning prize money pool is distributed between the winners and can be withdrawn instantaneously through Paytm. You can also submit questions of your choice and win prizes if they get approved.
---
Would you like to participate in live quizzes? It is thrilling, it is adventurous and you can win money! Querka pro includes games of skill where success depends predominantly upon the superior knowledge, skill, training, attention, experience of the player. There are multiple games available on this app like ball shooter, candy burst, earth hero, fruit chop, save panda and more. There are exciting quizzes and puzzles to prick your brain. The app has different wallets that will store your money for different types of games like fantasy games and quizzes. There are separate wallets for bonuses, deposits, and coin balances.
---
Times Internet Limited has created this amazing online gaming app where you can play live trivia games, bingo and live poll games to earn cash. You just get 10 seconds to answer in a live quiz so this app requires you to think on your feet. In the poll games, you get 8 questions and you have 10 seconds to answer each. There is a live bingo game every day at 4.30 pm where a player gets 6 seconds to confirm their number. Playing live games can be quite restrictive as you have to clear your schedule. But, it is a fun way to spend your weekends and holidays. Isn't it?
---
This is another exciting online gaming platform where you can play games like rummy, cricket, carrom, pool, metro surfer, stupid birds, fantasy sports and more! There are more than 70 games available on WinZo in different categories like Casual, Card, Action, Esports, Battle Royale etc. An amazing feature of this app is that it is available in regional languages like Gujarati, Marathi, Bhojpuri, Bengali etc. Tournament games of this app are quite popular and people have won many prizes according to their ranks in the tournaments.
---
Are you a shopaholic who loves to explore and try different brands? Do you often spend your day scrolling through social media, watching influencers recommend different brands and developers? With the Task Bucks app, you can earn money for the same by trying different brands and sharing your feedback. You can also play games or complete different tasks given to you to earn cash. Many times it offers free mobile recharges which is not a bad option at all! Try this app today and let us know if you liked it.
---
Are you a rummy fan? Earlier when mobile phones were not that popular people used to spend their time playing cards and rummy was one of the most popular card games. Ace2Three revives the same rummy card game with different variants. You can learn how to play these games through the tutorials present on the app. They are very easy to play. Once you master a tournament you can start winning prizes. The whole idea of playing rummy on the phone seems a little intriguing. Moreover, they have dedicated the app to this game which makes it more compelling to download and play. So relive your old days with Ace2Three rummy!
---
Once pool was a game of the rich and was generally available at sports clubs only. Slowly it became popular and was included in the local gaming centres and shopping malls. Stick pool club is an app that will let you experience this game through a virtual environment. Play online poker, 8 ball pool, 9 ball pool, 3d poker, and call break games with players from all across India and find a chance to win prizes. You have to choose a table of your choice and you can start playing games with other players on this app. This application is free of cost and can be downloaded on Android and iOS. However, there are in-app purchases so one must play attentively.
---
Another fantasy sports gaming app that can make you win cash prizes every day! This app is not allowed in Assam, Odisha, Telangana, Sikkim and Nagaland. You must check whether this app is available in your state before playing. You can play fantasy games like picks and dream teams, card games like poker and rummy, quizzes related to general knowledge, Bollywood and sports and casual games like pool club etc on this platform.
---
This is another gaming app that is popular amongst the young gamers of India. Instead of a contest, this app has carnivals. To participate and play in a carnival, one has to invest money first. However, they also organise free carnivals every day between 5 pm to 7 pm. This is a unique feature that is still missing from many other popular gaming apps. Also, instead of tournaments, this app has Bumpers where many people can participate together and win prizes. If you want to invest more and win more, you can participate in battles.
---
In this gaming app, you just have to guess and you might win cash. A gaming slot runs for 30 minutes where 0 to 9 numbers will be displayed on your screen. You can invest coins (that you buy using your money) in multiples of 10 on any one or all of these numbers and wait until the slot closes. Once it closes, a winning number is displayed on the screen. Those who have invested in that number win double the amount that they have invested and can immediately withdraw the cash. This game is quite risky as you might lose all your money but good for those who love taking chances.
---
If you are looking for a free gaming website then this one is for you. GameZop is a gaming platform that includes tournament gaming like WinZo, BaaziNow and similar other apps that I mentioned above. However, there are a few differences. First, they do not have a mobile app. You will have to play all these games on their website. Second, many games on this platform are free of cost. So you can start playing without any investment.
---
Here is a gaming platform that is available as a mobile app and web app. It has similar features like BaaziNow where you will be asked 10 questions and those who answer all of them correctly will share the winning prize. The prize amount is not less at all. It is generally between Rs. 50,000 to Rs. 2,00,000. Also, this platform has other tournament games like the WinZo app where you can participate and win cash prizes. Live quizzes are free to participate but you might have to invest in entering a tournament.
---
CricPlay is another fantasy cricket gaming app where you can experience the thrill of cricket by creating your teams. This app has two gaming features – Daily Fantasy League and Virtual Betting. In the daily fantasy league, you can select an upcoming match and build your team. You also have to choose a captain and a vice-captain for your team. In virtual betting, you have to make predictions on a match and invest coins. If you predict correctly, you will get multiples of your invested coins as cash rewards.
---
Do you like the idea of live gaming? EWar is a gaming platform where gamers can live stream their game and collaborate with other gamers. This gaming platform also offers cash prizes on EWar Cash Battles. It has 25+ games and some of them are for hardcore gamers. This gaming app is available in more than 8 regional languages of India which is a unique selling point.
---
A gaming app that is also a shopping app? What else should one wish for? Qeeda is a gaming platform where you can play games, shop, join contests and win cashback. They also offer coupons, deals and shopping credits. There are shopping categories like Fashion, Electronics, Accessories and more. The makers of this app also claim that they have the best prices for their products. You can also buy products from the coins that you earn by playing games on this platform.
---
My last gaming app recommendation is this gaming app where you can win cash prizes without investing any money. There are more than 70 games in this app including Lucky games and Wheel of fortune. You need to play the free games on this app to collect tickets. Then you can use these tickets to participate in contests and make money. Compete on the leaderboard and win money! This gaming app is exciting, adventurous and rewarding!
---
Play cricket, soccer, basketball, bulb smash, call break, egg toss, rummy and many other interesting games on BigCash! You can win thousands of rupees and a lucky winner can win up to Rs. 2 crores. Isn't that something exciting? This gaming app is only for people who are above 18 years of age. While the application is legal in India some states have banned it such as Assam, Odisha, Tamil Nadu etc. So you must check whether you are allowed to play this game in your state or not.
---
That's all folks! Now it is your time to take your love for playing video games to the next level. Though most of these apps require some initial investment, the games are very exciting and intriguing. If you have been playing games on any of these gaming platforms, share your experience with us. Now I would like to end my post with a piece of advice. Play as many games as you like but make sure you do not get addicted to them. Video games should be for fun and entertainment. Gaining money out of them is just a bonus!