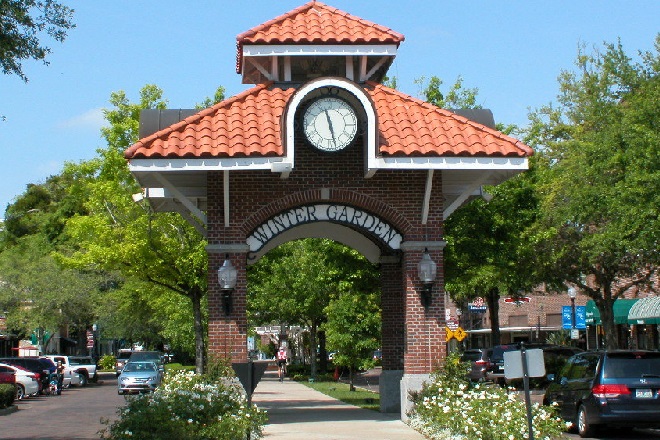 Winter Garden is recognized for many recreational facilities, occasions and historical assets that make it one of the most preferred places to start living or visit. The Historic Downtown, one of the renowned sites registered on the National Registry of Historic Places is popular among the West Orange residents. Winter Garden also makes a desirable place for locals within Central Florida.
Winter Garden is the cultural and commercial capital of West Orange Country with multiple regional facilities such as SOBO Gallery and Art Center, Garden Theatre and the Downtown Pavilion. The farmers market is also known nationally and is among the top regional farmers market across Florida. Winter Garden is located alongside the wonderful Lake Apopka – an earlier citrus town in 1908 and is home to more than 40,000 residents. It personifies a treasure of historic and natural assets.
Top 7 things to do in Winter Garden, Florida
1
Winter Garden Farmers Market
With plentiful sunlight and rain, it won't be surprising that Winter Garden is the country's amplest fruit and vegetable producers. If you are looking forward to all those tempting seasonal fruits and vegetable locations in one place, you would love to check out Winter Garden Farmer's Market. Besides its production, the market comes with several live events, festivities, fairs, and other entertainment options. Situated in the downtown area, the site opens every Saturday from 9 AM until 2 PM.
For all those who don't want to invest their hard-earned dollars traveling to a national retail chain, plan a visit to the Plant Street Market. You will find a perfect antidote! The site is opened throughout the week and is full of diverse vendors selling artsy and bohemian items. The market is renowned for coffee, homemade chocolates, pastries, baked goods, and other health and body items. The quality of products is impressive and you may hardly find this much variety anywhere else. Certainly, a fun place to visit!
Magnolia Park is situated in Apopka which is approximately twenty minutes away from Winter Garden. The beautiful park features wonderful scenery, several trails, and a butterfly garden. The site also hosts many local fiestas and concerts. Get ready to check the schedule as soon as you arrive in town. Yearly occasions frequently include a pumpkin fest, folk music event, hayride, a wildlife festival and an exciting day with Santa. Moreover, the park offers weekly programs such as campfire chat, eco-adventures, and guided walks. If you are looking further to discover the rustic side of Winter Garden, you may want to consider RV camping or tent at Magnolia Park. You will be pleased to see beautiful peacocks wandering the park ground. The multiple facilities and exciting events immediately gain the attention of visitors to enjoy the place of vibrant colors.
Let's move towards the exciting side! Have you ever been locked in a room with your friends and family and looking forward to a way out? The game requires you using your wit and innovation. Well, you can replicate this experience with an escape room. Escape Goat comes with three different rooms for 2 to 6 players. It's time to come with your loved one or a group for a thrilling experience. Every room brings a different scenario. You will be locked in a room unless and until you figure out the right way by cracking some codes, searching hidden keys and moving objects from here and there. What's more? Escape Goat also features a Sherlock Holmes-themed adventure – summer camp and Area 51 room.
5
Tibet-Butler Nature Preserve
Tibet-Butler Nature Preserve is situated down the road in Orlando. The site is a popular destination for all those who want to experience the unique swamplands and pine forests. Not only they are beautiful, but home to an exceptional species of plants and animals. With several trails, the longest route is approximately four miles. The park is a preferred destination for hikers, picnickers, bird watchers, bikers and nature enthusiasts. In addition, you will find a butterfly garden for all those animal and insect loving kids and families. Don't forget to check the welcome center prior to heading out on your own.
6
World's largest McDonald
A renowned vacation eatery for all those who aren't much worried about their calories and struggling to reduce their cholesterol. Your visit to the world's largest McDonald is a must with many unique bits of local American touch. You will find it worth checking out. Apart from being the largest McDonald restaurant, the exterior is designed like a box of French fries. Also, there is a preferred photo-op for lovers of the popular fast-food brand. The famous restaurant can draw many crowds, so don't expect it to be a silent and peaceful place. If you want some traditional food items such as pizza and pasta, you can get it here as well.
Still, looking for more? Orlando Ice Bar is a unique and chilling place that truly stands out. Most visitors may not prefer bringing coats and gloves. Don't worry! You will be provided will all the essentials to be comfy. When the cold air and the coldest drinks get too much, you will want to move towards the next door – the Fire Lounge. The place is known for the latest music, trendy clientele and of course the hot dance floor. What's more interesting is there isn't any cover charge to visit Ice Bar or Fire Lounge. Further, you can enjoy special drinks with a live DJ.
Conclusion
If you have read this far, you might be very captivated to visit Winter Garden. From ancient sites to contemporary buildings and popular eateries, there is something for everyone. Further, the thriving business community comprises of many small businesses. If you are making up your mind to start living here, you may want to see Winter Garden FL homes for sale. You will simply love to visit this charming little city full of life!