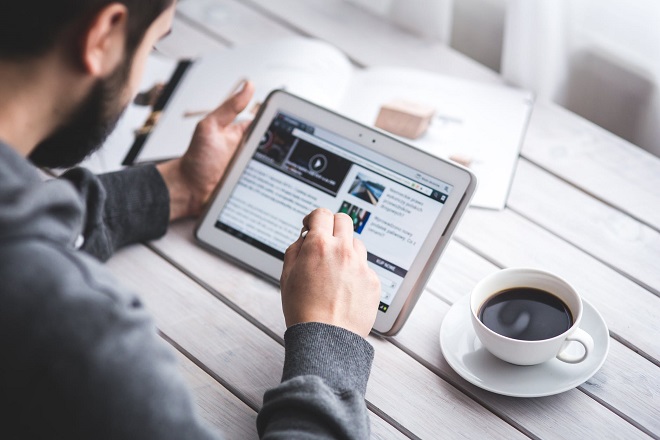 Just a few years ago, not many people would think of distance education as an option – at least not when it comes to higher education. However, studying online has become very popular due to its great potential to contribute to worldwide mobility, great flexibility, and the opportunity to offer everyone an equal chance for international education.
In fact, even though online studies are available all around the world today, the USA is definitely a forerunner when it comes to online education popularity.
If you've been thinking about pursuing an online degree in the States, we're offering some key trends and data you should consider.
Growing Popularity of Online Learning in the US
Statistics reveal that enrolment in online classes has increased by about 5% between 2015 and 2016 compared to the previous three years.
According to a 2018 report by the Babson Survey Research, most American students tend to choose local online degree programs due to the reduced costs and flexibility, but also because they're able to easily reach the campus if need be.
On average, most online learners are in their early 20s, whereas the average age of distance learners is 32 years old.
The vast majority of online students have a job, with 34% of them are looking to advance their career and 36% switching careers.
The Most Popular US Colleges for Online Study
According to a survey from 2016, online course enrollment had increased at a steady annual rate for 14 years straight. As of then, more than 30% of all students in the US (which is more than 6.3 million individuals) were taking online courses.
Of course, there are many other options if you want to apply to an online degree in the USA, with both online and traditional universities offering students relevant online programs.
Check out this list of some of the best online colleges offering distance learning programs that might suit your needs.
Best Online Colleges in California
In California, distance education is rapidly growing in popularity as more universities and colleges begin to offer online degree programs and courses. The reason why the Golden State has so many online schools is related to population growth – California has about 400k new high school graduates and the numbers are expected to rise, so higher education institutions need to find a way to allow more students to complete degree programs.
Some of the most popular online colleges in California include the Loyola Marymount University, the California Baptist University, and the Fresno Pacific University.
Best Online Colleges in New York
NY online colleges offer numerous benefits for people who might not have money or time to attend traditional colleges. They're a perfect choice for recent high school graduates, nontraditional students, and working adults.
The list of NY online colleges includes New York University, Marist College, and Syracuse University.
Best Online Colleges in Texas
Texas has a great high education system which includes multiple liberal arts colleges, public universities, as well as a number of private research universities in the States.
Some of the best online colleges in Texas include Southwestern Adventist University, LeTourneau University, and Texas Tech University.
Why Is Online Learning So Popular
The following are the key reasons why online colleges are becoming increasingly popular in the States.
Flexible Schedule
Online colleges offer students the flexibility they need. Conventional colleges force students to attend lectures in brick-and-mortar classrooms, making it challenging for them to participate in other productive activities or engage in hobbies. Online colleges allow students to attend lectures at the place and time that is convenient for you. For instance, if you like traveling, you can still be learning while visiting another city or country (as long as you have an internet connection).
Cost-Effective
Online studies eliminate the need for commuting in order to attend classes in physical classrooms. Students can access all the learning materials online, which also means saving money they would otherwise waste on buying text-books. In addition, due to the fact that the cost of online education is much lower, learners don't have to take a student loan.
Better Work-Study Balance
For students who have part-time or full-time jobs, conventional college courses are out of the question. Achieving a balance between work and studies can be a big challenge, especially for people who also have families. In many cases, people are forced to leave their jobs in order to concentrate on their studies. Online colleges allow you to work while studying. Due to the flexibility and convenience, you can successfully balance the two activities.
Convenience
Studying online is much more convenient than attending a conventional university. The traditional learning model requires students to commute in order to attend classes (or in some cases, they have to travel from foreign countries, spending lots of money and time). Then, there's the issue of trying to fit in a new environment, which can be especially challenging for introvert individuals as well as international students. With online colleges, you don't have to worry about such inconveniences. You don't have to travel, which means you'll save money and time. Using technological tools enables you to access materials without having to leave your home.
Online Institutions are Accredited
In order to be allowed to carry on their activities, online colleges and universities have to be accredited. Without proper accreditation, they cannot offer courses. Just like all conventional learning institutions, online universities and colleges are valid academically. This means that they have satisfied certain requirements. Therefore, pursuing a degree in an online college is the same as pursuing a degree in any traditional college.
It is safe to say that the main reason why online colleges and universities have become so is the advancement of technology. Educational institutions have recognized the opportunity to leverage the Internet to offer convenient, cost-effective, and flexible learning, whereas learners have started to appreciate the new-found opportunity to study from the comfort of their homes.
Final Thoughts
The great thing about going to college in today's digital age is the fact that college can come to you!
Getting a degree online is gaining in popularity and for a good reason: now, anyone interested in studying can do it without too much hassle, even from abroad! You don't have to worry about obstacles like visa requirements, travel time, and travel costs, which makes online education the next step to a globalized world of education.