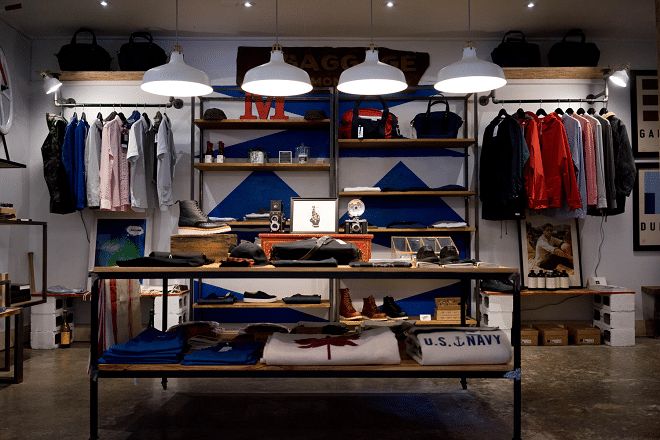 The most successful people in the clothing business have a trained eye for fashion, an excellent entrepreneurial skill set, and plenty of industrial know-how. Know that you will be required to invest most of your time and labor when you first begin.
Unexpected challenges will set you off course and test your adaptability. However, if you believe you have a place in the fashion industry, go all in to make your clothing business a reality.
How to Start Your Clothing Business 101
Starting your own clothing business is a personally challenging task. Organize your business plans, governmental licenses, registration, permits, financing, and investments. Depending on the size of your store, startup costs will range from anywhere between $5,000 $50,000 upfront.
Make a business plan and outline your financing needs. Starting a new business on your own from scratch is never easy, but it is certainly possible.
Start small, with products and designs that you know how to manufacture, are well-received, and require minimal capital expenditure. As demand grows, you can expand your spending and capacity.
1
Know Your Niche In The Market
If you are pursuing a career in the fashion business, you are likely a creative person who has identified the potentials in the local market. By knowing the specific customer group you want your clothing to cater to, you can build strategies to quell your competition and develop unique brand recognition.
Because the industry is notoriously unpredictable, it helps to have original designs that are more or less inelastic in demand.
Even with the apparent erraticism in the clothing business, you need to have at least a rough idea of budgetary spending, labor costs, business taxation, capital, and revenue expenditure.
Having a well-planned business plan keeps you going by setting objective goals and making future plans. This step becomes necessary if you are looking for investors and external financing.
Let your business plan guide you, but remember to be flexible and accept challenges head-on. The clothing business is an intensely personal journey for many; its highs and lows can take a toll on your well-being. Make sure you have provisions in place to take care of your health.
3
Meet With A Clothes Manufacturer
Few businesses can afford to do all the sourcing, cutting, and sewing by themselves, primarily because of high labor costs. So unless you can, find a reliable clothing manufacturer after a thorough vetting process. After all, they are going to be producing items that you will be selling. Consult with a lawyer to ensure that you have a proper legal framework in place to protect your supply chains and other requirements.
4
Curate Items And Services
Curating includes assembling and accounting for every piece of inventory. Are you going to sell only your clothing line, mass-produced items from established brands, or a combination of both?
It is advisable to sell related goods in a store to increase average order value and sales. For example, you can sell fuzzy socks along with loungewear to get customers to stay longer or shop more. If you're selling party wear, you can sell items like makeup brushes or accessories.
In the peak season, selling necessary apparel like wholesale soft shell jackets can prove profitable and attract new customers.
5
Choose An Appropriate Price Point
Choosing a pricing range for your clothing depends on your target audience. For example, lower prices favor younger customers who tend to be more style-conscious and receptive to new, explorative designs. Older or middle-aged customers can afford higher prices but often have a specific style choice.
Few fledgling businesses seldom have strong margins, so do not invest too much energy into worrying about turning a profit. Consult with or employ experienced accountants and other persons knowledgeable in the industry to get an idea about the contents of your balance sheet.
6
Work On Brand Recognition
Building brand recognition involves several components. This step includes designing your very own logo, coming up with a brand/store name, and creating a public profile.
Consumers are more likely to be drawn to brands that have a unique story behind them: so incorporating one into your slogan, logo, and website will have a positive impact, especially among younger audiences. Create a robust online presence to advertise and market your clothing. Make sure your business appears in popular local directories like Google, Facebook, and Yahoo.
Getting insurance for your clothing business is crucial for protection, even if you're starting small. There are many pre-made small business insurance schemes and clothing shop policies available to owners.
After generating brand awareness through the marketing process, it's time to set goals for sales and distribution of your products. Be sure to set realistic and achievable goals that prevent you from overestimating brand potential and make you fall short of your targets.
You can also arrange for tie-ups with social media influencers or business professionals to hit your sales numbers.
In today's technology-driven world, it is essential to make online sales that support growth and allow you to be in touch with your customer base. Create a competitive website with e-commerce platforms the likes of Shopify, BigCommerce, or Wix eCommerce.
Conclusion
Make sure to periodically reflect on core business operations so that you are always prepared to deal with contingencies or quick fixes. Carefully consider your options before and commit to plans of expansion.
Do not give in to external pressure to expand at a pace faster than you are comfortable with or have the capacity. In fact, it is wise to learn the ways of the business before committing to more significant steps.
Make sure to keep learning about new trends, technologies, and strategies to always be at the top of your game. You can also enroll yourself in online classes for the betterment of your or your employees' business soft skills.