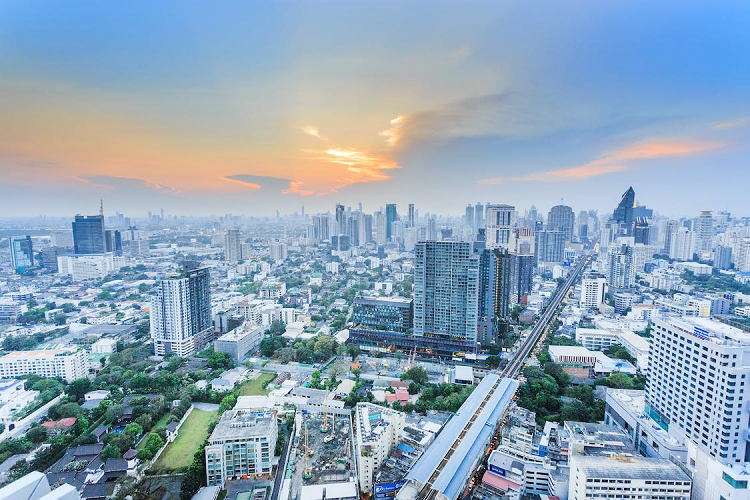 Buying property in Thailand, an apartment or a house – this choice has to be made by many of the investors, and in this article we tried to set out some criteria that may be useful in making a decision. If you plan to buy property in Bangkok, then now may be the best time, because according to the specialists in 2023 there is a spark of interest expected in the real estate market.
Investment potential of Thailand
In Thailand, the city of Pattaya is one of the most popular resorts. Proximity to the capital Bangkok and Suvarnaphum International Airport, the construction of a high-speed Bangkok-Pattaya railway, developed infrastructure, international schools, high-class medical centers and hospitals, shopping centres, yacht clubs, golf courses, developed hotel chains and multimillion-dollar tourist flows resumed after pandemics. All this gives the buyers reason to make investment decisions in favour of the region.
Developers in Pattaya almost did not introduce new projects in 2020-2021 due to covid restrictions, and now buying an apartment at the excavation stage is a confident liquid property in a few years. In January 2023, the flow of tourists from China resumed after the removal of pandemic restrictions. Pattaya real estate prices are expected to increase by 8-15%.
After the activation of the European tourism market in November 2022, the rental yield returned to the level of 8-10% per annum. In addition to the standard rental income, developers in Pattaya offer guaranteed income programs of 6-7% per annum for a period of 3-5 years. This is convenient for buyers who plan to use their property for personal purposes in 3-5 years, with a guaranteed return of 18-35% of the value of their property.
Real estate in Thailand
Without a doubt, living in a private house in Thailand with a private pool and territory is comfortable. And if we compare the cost per square meter of an apartment on the 1-2 lines of the sea and a private house within 1-3 km from the coastline, then the priority of the cost will be in buying a house.
If you have a large family, you need to have 3-4 bedrooms, an office and a guest room. Or you just have a desire to live closer to nature. In a private house, unlike a condominium (according to the law), you can keep pets: a cat, a dog or even a peacock. In a private house, you can use a gas stove; in a condo, only electric stoves are allowed.
The house requires large utility bills per month:
    Electricity. Average check THB3,500 – 5,000.
    Security, garbage disposal, external lighting THB1,500 – 2,500.
    Swimming pool with a volume of 25-45 cubic meters – THB1,500 – 2,000.
    Gardener THB300-500.
It is also necessary to take into account the cost of future periods for cosmetic repairs, which averages from $300-700 per year. Since the house is located in the tropics, there is high humidity, and if you plan the permanent residence in the housing, ventilation, air conditioning, the use of water pumps and electrical systems is necessary.
It is not recommended to leave the house not in a residential condition for more than 3 months. If you plan a short-term departure, it is advisable to pre-treat the furniture with special protective equipment.
You can rent a house, but 90% of the contracts are for long-term residence of a year or more. Short-term contracts from 1-2 months, at a fairly high cost, are possible, but during the high season from October to March.
Moreover, booking villas for rent starts from July-August, and if the management company accepts a deposit for a future period of residence, then it becomes impossible to use your property during this period. There are service companies that can service the house in your absence, the average check is THB 3,000-5,000 per month.
Buying a house in the kingdom involves registering a company – this is a common practice and a professional law firm will complete the transaction safely and efficiently. When making a purchase of a house, you require registering a company. Documents and information required for registration:
Unique name (you have to provide three options to choose from),
 Copies of passports or IDs of directors and shareholders (provided by the law firm at the time of registration),
Company address (your home address),
The size of the authorized capital (depending on the amount of the transaction).
The booking procedure is as follows:
 Company name reservation,
 Signing of the charter agreement and other related documents,
 Payment of the authorized capital, if it exceeds THB5 million,
Registration of a company only with the participation of Thai shareholders,
Change of directors and shareholders to foreigners,
Registration of a company in the tax office.
The annual cost of surrendering the zero balance to the property owner's company will be THB10,000 – 12,000 per year. It is very important when buying a house and registering to have the support of professionals and a Thai law firm. There are legal intricacies in the registration process that must be carefully controlled in order for the property to be fully legal in possession.
Buying an apartment or house in Thailand is a long-term investment with a 10-20 year horizon. If this is your first real estate investment abroad, then we recommend choosing an apartment for purchase.
An apartment in the kingdom can be issued to a foreign citizen in 100% ownership in his own name. At the same time, apartments are not taxed upon ownership and maintenance costs are much lower. You can buy an apartment in Thailand remotely – this is a common practice.
Property for sale in Thailand
Thailand-Real.Estate provides a database of the real estate in Thailand. You can find various types of properties on the website. To find an ideal housing that will suit your requirements, try the search on the website, decide on your budget and start your ownership in the kingdom of the Thailand.