Everyone wants to be at the top of his game and get his business among the top most rated ones in the market.
But over the years, these outreach strategies have changed massively, and things have evolved towards a more efficient manner.
You would be amazed to hear that even google has now become quite demanding for the content and quality links you attach to your site.
For this very reason, you need to opt-in for quality link outreach services from well-reputed companies to obtain strong authority and uphold your content.
One of the most important components of achieving the highest-ranking results is that you need to acquire great content marketing and SEO strategies that can lead you to your objective.
But before we drown into that, let's take a look at some of the basic concepts.
What Is Link Outreach?
If put in a nutshell, link outreach is basically one of the main techniques to deal with link building.
A business can outreach the links in a number of ways, i.e., email outreach, influencer or blogger outreach, and social outreach.
In other words, this process involves reaching out to people for the sole purpose of getting people to click on the links to your website that you've provided them.
It can also include a mention in the content that you have created on some other person's website for the sake of earning quality backlinks to your web page.
These external links pointing back to your website help your web page gain more credibility and attract a new set of traffic as well.
Difference Between link Building And Link Outreach
Though some people might confuse link building with link outreach, there is a fine line describing that distinctiveness.
To clear out any of your chaos, let's find it out below:
In general terms, link outreach and link building are two separate ways in which a business can accomplish its required goals.
Link building is basically a way of generating and acquiring backlinks to your website that can help you gain more organic traffic, higher ranking on google and target your potential clients.
On the other hand, link outreach is one of the ways that a person can generate backlinks.
Yeap, that right! This minimal difference is the basic factor that dist9inguishes both these terms.
Another important aspect that might need your attention is that both these circumstances require your time and patience along the way.
In addition to that, both of these tactics have come to an evolving point6 that they only work well when paired with igneous content.
Types Of Link Outreach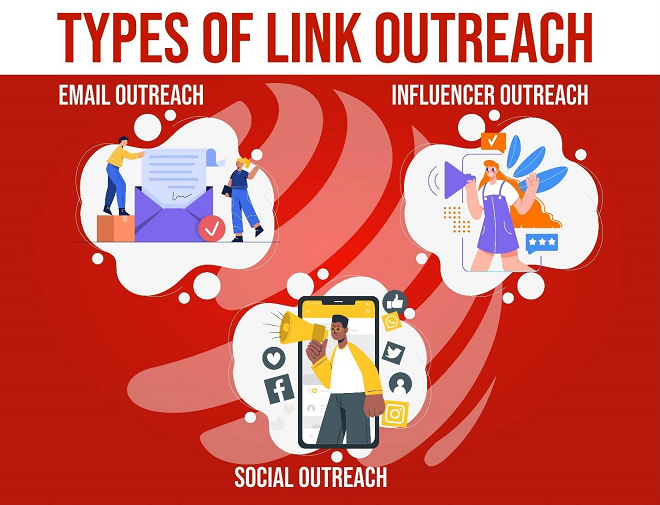 There are several types of outreach that you can opt-in for to get quality backlinks to your website like you have always wanted.
To figure out your most favorite one, let's discuss them below.
Email Outreach
Without creating much suspense, as you can guess by the name, email outreach is straight-up emailing people and asking them to link back to your website.
This helps you direct more organic traffic towards your web page and helps your web page rank higher on google.
This does require your efforts put into research as you can not just randomly email people to generate links.
You would need to find out web admins relevant to your link building purposes, craft a personalized email, and make them a valuable offer to achieve your goal swiftly.
Influencer Outreach
Today in this world of digital marketing, you can find a variety of ways that can help you advertise your business online and create amazing links.
One of these winning strategies includes influencer outreach as well.
Influencer outreach is basically reaching out to bloggers and influencers who match your expertise and offering them to write backlinks to your website in exchange for a quality offer.
Since blogging has taken over the online market widely, initially, you just need to pitch a great idea to a renowned influencer/blogger and wait for them to agree to it.
Once it is done, then voila! You would see how this outreach technique is going to work out quite positively in your favor.
Social outreach
Social media outreach is exploring useful resources in order to build quality relationships using social media to enhance the impact of your content and increase its popularity.
Due to the growing recognition of social media platforms, these are also commendable ways to engage your anchoring audience and allure some latest ones.
You can follow several people, add them to your profile and DM them to collaborate with you or check out your website.
Conclusion
To brief it all out for you, link outreach services are a great beneficial way to get backlinks by working with people of your niche.
It is a manner of crafting out fine content and reaching out to people to promote your content on digital media platforms.
It helps you enhance the exposure of your content and generate links to increase the ranking and traffic of your web page.