Valentine's Day has long been known for gifting those you love with sweet treats and flowers. Personal gifts are always best for reminding those you love that you truly care about them. Finding the right romantic gift idea for Valentine's Day can be stressful. Luckily, we've narrowed down top gift ideas that your special one will surely love. If you're looking for something other than candy and roses, we've got some great ideas for you.
One of our favorites is personalized Valentine's Day canvas art. Find a picture that you know your loved one treasures, and have an artist create a painted portrait from the photograph. It's thoughtful and unique and sure to bring warm memories for years to come.
Personalized Portraits
When David started thinking about anniversary gifts for his first wedding anniversary, he knew that the traditional first anniversary gift is paper. Playing on this theme he decided he would take his wife's favorite wedding day picture and turn it into a beautifully painted portrait. He connected with an artist at PaintYourLife.com and had them create an oil on canvas reproduction of that special image using their photo to oil painting package.
When he presented his wife with the completed portrait she was surprised and delighted. The way that the artist was able to capture the day made her love the image even more. The depiction of color and light, as well as the life like quality of the portrait made her feel like she was reliving that special day over again. It was the perfect anniversary gift!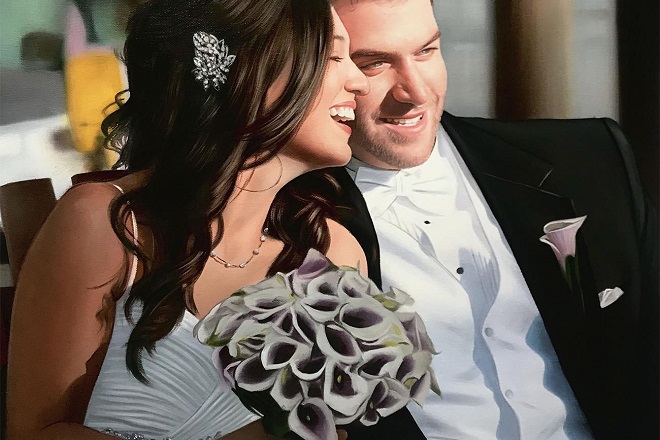 Pet Portraits
Another popular idea is having an artist create a pet portrait. We all love our furry friends. Find your loved one's favorite photograph of your dog, cat, horse or other animal and connect with an experienced pet portrait artist. These can be exceptionally meaningful if the pet has passed away, creating a way to memorialize them for eternity. Portraits can be realistic, painterly, or even whimsical.
Family Keepsakes
One of the most precious and appreciated gifts for a mother or grandmother is a family portrait. It can be a challenge, though to arrange to get your entire family in one place at the same time to take a picture. If you find a highly-skilled portrait artist, they may be able to create a family portrait from separate photographs, giving the appearance of a traditional family portrait.
Don't limit your options to just photos.If you have a special piece of memorabilia, for example a concert ticket to a meaningful event, a program from a Broadway show that you went to together, or a newborn baby's coming home outfit, these are easy to frame in either traditional frames or shadow boxes, providing a way to creatively display something that brings joy to your loved one.
Provide Experiences
Valentine's Day doesn't have to be all about giving a material item, either. Consider doing something that will create special memories for both of you. Dates don't have to be just dinner and roses. You can do a scavenger hunt, a cooking class, a hot-air balloon ride, just to name a few options. Consider getting a group together to do an escape room adventure. You can follow this up with dessert and drinks at a local restaurant,  just be sure to make reservations. Museums are another fun and unique way to spend Valentine's with a date or a group of friends.
If you don't have a significant other to celebrate on Valentine's Day, you can always do something special for your parents or a close friend. A recent upsurge in popularity has been seen in the celebration of "Galentine's Day" where you get together with your girlfriends and celebrate friendship on the eve of Valentine's Day. This takes the pressure off of needing a romantic reason to celebrate this fun occasion. Recognize your girlfriends with special treats and gifts and enjoy spending an evening together.
It's the Thought that Counts
Whether you want to provide an experience or a gift, or celebrate a love or a friendship there are many ways to make Valentine's Day meaningful and go beyond the standard dinner, roses, and chocolate fare that so many associate with this day. Make a list of those you hold most dear, write down the things they love, and come up with an idea or two for each person. It doesn't have to be expensive, but it should come from the heart.