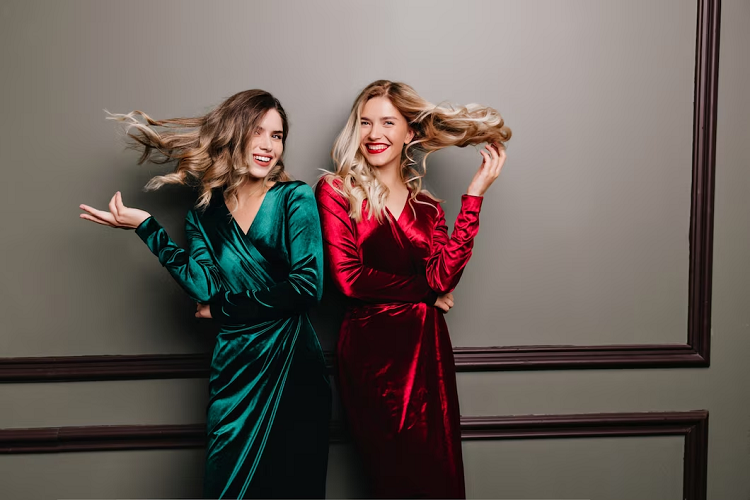 When it comes to dressing up for a night out, party dresses and club dresses offer a plethora of possibilities for creating a unique and unforgettable look. Whether you're heading to a glamorous cocktail party, a chic nightclub, or a lively dance floor, mastering the art of mixing and matching these dresses can elevate your style game to new heights. In this article, we'll explore the key elements of both party dresses and club dresses, and provide you with some inspiring tips to create a one-of-a-kind ensemble that turns heads and sets you apart from the crowd.
Understanding Party Dresses: Glamour Meets Elegance
Party dresses are all about elegance, glamour, and sophistication. Typically worn for formal or semi-formal occasions, they come in various lengths, styles, and fabrics, giving you ample room for creativity. From classic little black dresses to chic A-line gowns, party dresses are versatile and can be adapted to suit your personal taste and the event's dress code.
Embrace Timeless Elegance: Opt for a timeless, well-tailored party dress in a neutral hue like black, navy, or champagne. A classic A-line silhouette with delicate embellishments or lace details can exude elegance and grace.
Play with Statement Accessories: Elevate your party dress with statement accessories. A bold necklace, dazzling earrings, or a glitzy clutch can add a touch of personality to your outfit and make you stand out.
Shoes Matter: Pair your dress with the right shoes. Whether it's sleek stilettos, elegant pumps, or classy sandals, the right footwear can elevate your look and complement your dress.
Experiment with Hairstyles: Try different creative hairstyles to find the one that best complements your dress and overall look. Sleek updos, soft curls, or a sophisticated ponytail can all add to the elegance of your outfit.
Understanding Club Dresses: Fun and Flirty
Club dresses, on the other hand, are all about fun, energy, and flirty vibes. These dresses are specifically designed to be eye-catching and bold, perfect for dancing the night away at a lively nightclub. They often feature shorter hemlines, bold colors, and attention-grabbing details.
Embrace Bold Colors and Patterns: Don't be afraid to step out of your comfort zone and try bold colors and patterns. Neon hues, animal prints, and metallic fabrics are popular choices for club dresses.
Show Some Skin: Club dresses often feature cut-outs, plunging necklines, and open-back designs. Embrace a little skin show, but remember to strike the right balance to ensure you feel confident and comfortable.
Opt for Comfortable Fabrics: Since clubbing involves a lot of dancing and movement, choose dresses made of comfortable fabrics that allow you to move freely. Stretchy materials like spandex blends can be a great option.
Statement Shoes: Club dresses call for attention-grabbing footwear. Strappy heels, embellished boots, or even stylish sneakers can be the perfect complement to your clubbing outfit.
Mixing and Matching for a Unique Look
Now that we have a clear understanding of the characteristics of Party Dresses & Club Dresses, let's explore how to mix and match elements from both categories to create a unique and striking look.
The Glamorous Party Dress with Edgy Accessories: Take a classic party dress, such as a floor-length black gown with a subtle shimmer. Pair it with edgy accessories like studded earrings, a leather cuff bracelet, and ankle boots with metallic accents. This fusion of elegance and edge will make you stand out at any event.
The Fun and Flirty Club Dress with Classic Elegance: Pick a vibrant club dress in a bold color or pattern. Add a touch of classic elegance by wearing a sleek blazer or a tailored jacket over the dress. Complete the look with chic heels and statement earrings. This combination exudes confidence and sophistication while retaining the fun element of a club dress.
The Playful Party Dress with Sneaker Chic: Take a playful and flirty party dress, such as a knee-length A-line dress with a colorful print. Add a twist of casual coolness by pairing it with trendy sneakers and a denim jacket. This unexpected combination shows off your creativity and style flair.
The Refined Club Dress with Statement Heels: Choose a club dress with a sleek and refined silhouette. Elevate the look by wearing statement heels with intricate details or embellishments. This mix of bold and sophisticated elements will create a striking ensemble that's perfect for a night on the town.
The Show-Stopping Fusion Dress: For adventurous fashionistas, consider finding a dress that combines the best of both worlds. Look for a dress that features the elegance of a party dress in the front and the daring design of a club dress at the back. This show-stopping fusion will leave everyone in awe of your style and creativity.
Conclusion
Mixing and matching party dresses and club dresses can be a fun and rewarding way to create a unique and memorable look for any occasion. Whether you lean towards the timeless elegance of party dresses or the fun and flirty vibe of club dresses, experimenting with different elements allows you to express your individuality and style. Remember to keep the occasion and your comfort in mind while exploring new combinations. So, the next time you're getting ready for a night out, dare to be bold, get creative, and rock a look that is uniquely yours!