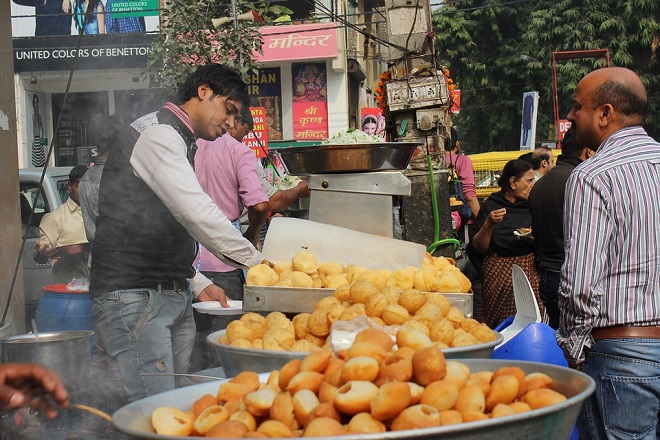 Food is one of the prime necessities of life. No ifs, ands, or buts about it. Be that as it may, it's more than a necessity for the majority of men. It is rightly said that "the way to a man's heart is through his stomach". And if you want to get into a man's heart, all you need is delicious food and you are done. That's a given.
When you give an ear to the name "India", 'delicious food' and 'rich culture' are the words which come into mind right away. There is no denying the fact that you can't get your hands off the Indian food if you are a foodie. Spice-packed, delicious, diversified; everything is just right there, Bang on.
The variety in Indian food is more than one can shake a stick at, it contains a blend of different cuisines. From aromatic curries to tandoori-grilled chickens, sapid and nutritious, Indian food is simply majestic. And if we spend a moment just talking about the Delhi street food, it's one of the best lip-smacking meals that you might ever dream of, no two ways about it. To be brutally honest, Delhi is bee's knees for food lovers, just right in the block hole. Whoa!
Your tour is not going to be futile if Delhi is on your bucket list as a gourmet. Yes, it's a rubber stamp. Is it over garnishing? Alright, let me support my statement and we'll then appreciate your opposition. We have singled out a few must-taste Delhi Street foods that you shouldn't miss out on. Let's get into this:
Chaat
The thing is, spice and rich taste is the tradition of street food of Delhi and Chaat is no exception in this case. There are different types of snacks which make Chaat such as Aloo Tikki, Dahi Papri Chaat, Aloo Chaat, Samosa Chaat, Dahi Bhalla and Papri Chaat. Be that as it may, the common ingredient is Aloo (Potato). It might seem a bit weird to you but Potato is of the utmost importance when it comes to street food in Delhi.
From a hot cutlet or tikki presented with spicy sauces to a major ingredient for filling in samosas, potatoes are a most common street food ingredient. Spicy and yummy, Chaat is going to be fixed in your mind after you sink your teeth into it. No ifs, ands, or buts about it.
And what puts cherry on the top is the thick, tasty sauce and unequivocally, Chaat is incomplete without the sauce. Different sauces used in Chaat include chilli sauce, ginger, garlic sauce etc. Still and all, Chaat has everything to be registered as no.1 street food in Delhi.
Chole Bhature
Chole Bhature is another finger-licking and renowned street food in Delhi and Delhiites just love it. If you are wrangling down the streets in Delhi, it's almost impossible that you don't witness any stall of Chole Bhature. Again very rich in taste and spicy, Chole Bhature is originally a Punjabi dish that must be on your bucket list as a foodie in Delhi. Usually, it's included in the breakfast menu of most of the restaurants across the city.
The dish is comprised of two words, Chole and Bhature. Chole is chickpeas gravy and Bhature is a fried bread made from the Maida flour. Generally, Chole Bhature is accompanied by Lassi and fresh vegetable salad. Do give Chole Bhature a try to excite your taste buds completely. No kidding!
Gol Gappas
Well, we can't miss out on mentioning everyone's favourite Gol Gappas while talking about the street food in Delhi. Most commonly known as Pani Puri, Gol Gappa is another mouth-watering food in Delhi. Spicy and sour in taste, Pani Puri is the combination of two words Pani and Puri. Puri refers to as the hollow balls made of Maida flour which later on filled by the amalgamation of tamarind chutney, chili, chaat masala, potato, onion and chickpeas.
Gol Gappas are served with spiced water made from different powdered masalas. While you are in Delhi, it's impossible not to encounter local stalls of Gol Gappas at every corner of the streets. This flavoursome snack, due to its affordable cost and easy availability has been in limelight from the decades.
Kachori
There is no denying the fact that Kachori is one of the most loved snacks throughout India. You would find stalls of Kachori across the streets of Delhi in abundance. Being one of the most adored snacks in India, Kachori is another mouth-watering street food in Delhi. Basically, Kachori is a deep fried bread made using ground dal along with the mixture of spices and then wrapped into the mixture and baking powder.
Though, kachori was originated in Rajasthan, however, Kachoris are populist throughout the India. It is one of the most loved roadside snacks that can arise your hunger. There are many varieties of Kachoris available on the stalls such as Dal Kachori, Khasta kachori etc. Utterly delicious, crispy low cost, that's what Kachori is all about. Whoa!
Momos
The list of luscious street foods would be incomplete without adding Momos. Yes, you heard it right. Momos is another famous street food in Delhi and you can make the argument that Momos is the king of street food in Delhi from the past decade. The combination of delicious Momos and the chilli sauce is deadliest weapon to win anyone's heart.
Momos are little dumplings packed with the tantalizing stuffing of vegetables or meat, chicken and paneer and presented with the spicy chilli sauce. The chilli sauce gives help to add more taste and that's the thing Delhiites beat the drums for when it comes to Momos.
Jalebi
Jalebi is another street food in Delhi and it has been the centre of attention of foodies from centuries. Made from fermented batter, that's fried in ghee into ropy pretzel-like whorls and then soaked in a hot syrup of sugar. Jalebi is popular not only in Delhi, but all over the sub-continent.
Jalebi is very common sight on the open stalls and sweets shops across the city. Deliciously sweet, hot and fresh, every bite of jalebi is crispy and chewy, full of sugary fluid. Weddings, celebrations and religious festivals are not considered complete without Jalebi in India. Whenever you are in Delhi, Jalebi is something you can't hold yourself back from.
Kulfi
Kulfi is another greatly admired sweet street food of Delhi. Originated from the Indian subcontinent during the Mughal rule, Kulfi is usually called as the Indian ice cream. This traditional ice cream is made with boiled milk, saffron, sugar, pistachio and cardamom. Available in a great deal of flavours, Kulfi is a natural treat made and sold in the streets of India. Generally, Kulfi is eaten in summers at night by majority of people.
Paratha
Well, when you talk about the Indian breakfast, the first word that comes into mind is Paratha. Not only in breakfast, but you can sink your teeth into it any time of the day. You know why Paratha is the most loved street food of Delhiites? It's just because of the healthy plash of butter coupled with the prodigal stuffing inside and out. That's mind-boggling, isn't it?
There is a huge variety of Parathas as per the likeliness of the people. The most popular are Potato Paratha, Lachcha Paratha, Cabbage stuffed Paratha and much more. Every single bite of paratha is going to blow your mind. That's a given.
Biryani
Biryani is one of the most adored street foods in Delhi. In fact, not only in Delhi but all over the country and outside. Straight after that, it is a well-received menu item at the restaurants all over the streets.
Biryani is basically made with highly seasoned rice and meat, fish, or vegetables with arousing spice and served with vegetable salad and sauces. Only imagining this is giving excitement to taste buds, isn't it? The toothsome and scrummy gastronomic street food is a treat to get a thrill out of and is mostly cooked for lunch and dinner jamborees at Indian kitchens.
Dahi Bhallay
Dahi Vada / Dahi Bhalla is another very popular street food in Delhi. Almost all chaat houses and restaurants have Dahi Bhalla on their menu list. It's the composition of two words Dahi (Yogurt) and Bhalla.
Bhalla is soaked in water and then in sweet flavoured yogurt to give a delicious taste. This snack is usually served with date tamarind sauce. Also, mint coriander chutney and some sev. Shedloads of open stalls can be spotted throughout the city where huge crowds wait for their turn. Unequivocally, Dahi Bhalla is a lip-smacking street snack that you shouldn't miss out on while visiting Delhi. I am not kidding really.
Now that you have given the aforementioned street foods of Delhi an overlook, you get to decide how you are going to satiate your taste-buds. All the aforesaid street foods are the meals, people out there fix their gaze on. Which one seems amazing to you? Feel free to just get us your thoughts. Stay tuned for more delicious street foods!