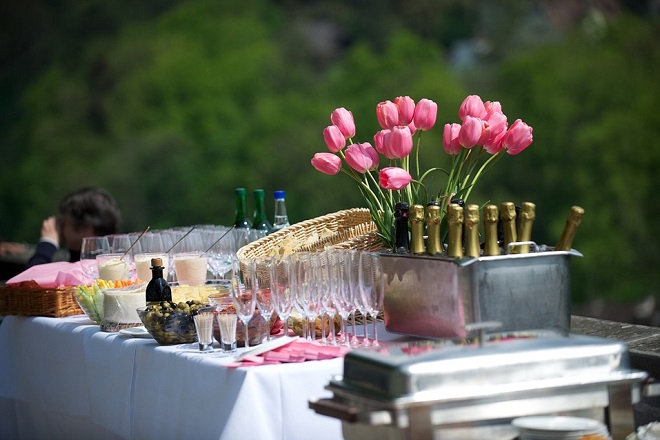 Corporate function encompasses a wide range of events. From the simple employee meeting to the elaborate week-long conference, corporate function can include internal workers, external clients and any other individual or group deemed necessary for a successful business.
Corporate events were once simple affairs – a company picnic, for example. These days, however, the more complex and entertaining a corporate event, the more successful it is likely to be. If you're throwing a corporate event – be it educational in nature or to build morale – the following these brilliant touches below to make it's a huge success.
Promotional Corporate Gifts
Everyone loves to get free gifts, so giving promotional corporate gifts to each attendee is a great way to show your appreciation.
The gift you give should be something useful, and it should include your company name and/or logo (the promotional part). Some suggestions include branded keychains, pens, mugs, or any other item the receiver will use regularly.
Branded Food
This concept is fun, especially when the menu includes foods such as burgers, steaks, pancakes, or bagels. This is a great tactic for inserting a subliminal messaging/advertising into the event without trying.
Stencils can be made ahead of time and used to bake/cook your message into the food being served. Your attendees will be amazed at the creativity, and it'll be the talk of the event.
Scavenger Hunt
If your corporate function is meant as a team-building event, a scavenger hunt is a perfect addition. While each team works together to complete tasks or find objects, they learn to work together, and problem-solve to find a solution. This idea is especially helpful in keeping large numbers of people entertained.
A Photo Booth
If you've ever attended an event that included a photo booth, you already know this is a great idea. Not only will your attendees love taking photos of themselves, but it'll also keep your company and the event at the forefront of their minds every time they look at the pictures.
You can make this a fun addition by allowing the user to choose from pre-loaded backgrounds to customize their photos.
Ice Cream Bar
Everyone loves ice cream! Include a fully loaded ice cream bar at your corporate function and you'll be the talk of the town for weeks afterward.
Be sure the ice cream bar includes both vanilla and chocolate ice cream, as well as a plethora of toppings to suit all tastes. After all, when it comes to ice cream, we're all just big kids at heart!
Outdoor Cinema
If your event welcomes families and children, and you have some outdoor space or a rooftop to spare, including an outdoor movie experience will go over big.
A few weeks before the event is to take place, take a poll to determine the best movie to present. Make it family-friendly so everyone is sure to enjoy the show. Make sure to have popcorn and soda for viewers to snack on while they watch.
While corporate functions were once simple and direct, today's version can be grand and elaborate. The more elaborate and fun, the more successful the event will be. Whether planning a training seminar or a team-building event, try to include at least one of the suggestions listed above to ensure your attendees have a memorable time.