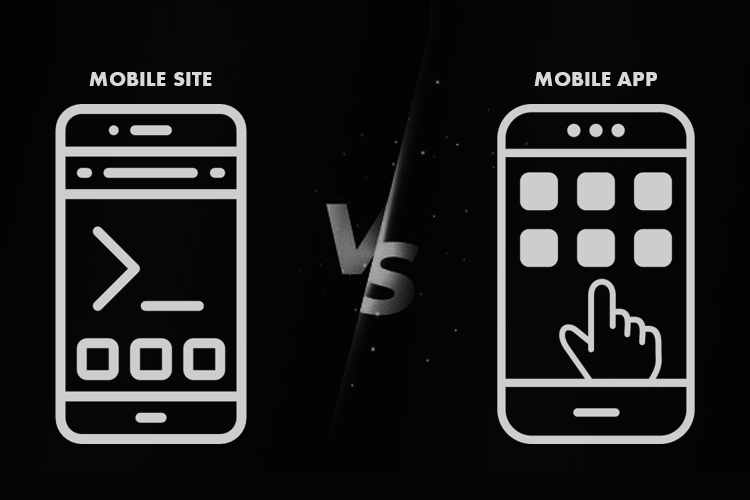 Mobile gadgets dominate the world: more than 5.13 billion mobile device users (approximately 65% of the global population) prove it. This big audience needs to be pleased by top-quality mobile apps and fast working mobile websites.
But not every company can build both solutions for different reasons. This article is prepared to show the difference between mobile website vs mobile app, weighing their advantages and disadvantages for business and helping you make the right choice.
Mobile Website vs Mobile App: What is the Difference?
First off, let's go through the basics. A mobile site is represented as several interconnected web pages adapted for a particular gadget screen and accessible through a browser.
Websites for mobile gadgets deliver data mostly with the Internet connection provided. Compared to mobile apps, sites are not too interactive but more cost-efficient than the applications.
The mobile app is a software product developed for a specific OS, like Android or iOS, and published in a platform-specific marketplace (AppStore or Google Play) to be downloaded straight to the user's gadget.
Determining which one of the above options would be the best for your business will need a complete investigation.
Mobile Website Benefits for Businesses
Not so long ago, people believed that a standard website is a very thing for business prosperity. But times change, bringing new technological advancements, and the mobile traffic share increases every year.
More and more users have started applying to mobile gadgets understanding their convenience. This way, the mobile traffic percentage amounted to 53.98% in 2021, and this mark is expected to grow in 2022. Furthermore, business owners think about developing optimized websites that would be a mobile-friendly alternative to native solutions.
How to create a user-friendly website? Let's consider the most common approaches to website building.
Responsive. Sites built due to a responsive approach can be adapted to every gadget's screen size because their components can change according to the environment. They are also quite cost-efficient as such an approach needs a single codebase and website design.
The adaptive approach uses static layouts, each one for a particular screen resolution or device. Simply put, a website defines a kind of customer's device used to access the Internet and chooses a layout built for a specific screen.
Let's talk more about mobile-friendly website benefits.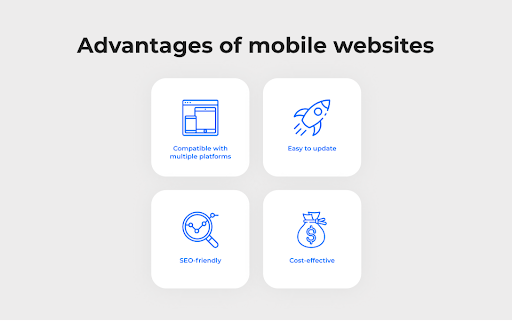 Cost-efficiency
A responsive website needs only one codebase that works on various browsers. That's why their development expenses are lower than those for mobile applications.
Compatibility
It is one of the mobile website's key benefits. Your target audience can use the product regardless of the devices or the operating systems they work in. So, mobile websites bring you a broader audience reach.
Upgrades
Users can get an updated website version when loaded into the server, but this procedure is a little more complex and time-consuming for mobile applications.
SEO
Search Engine Optimization (SEO) attracts more potential clients who are directly interested in your product or service to your website. But keep in mind that the site should be appropriately optimized for such a result.
Mobile Websites' Drawbacks
After discussing the use benefits of a mobile website, it's time to explore the drawbacks and fully cover the mobile site development question.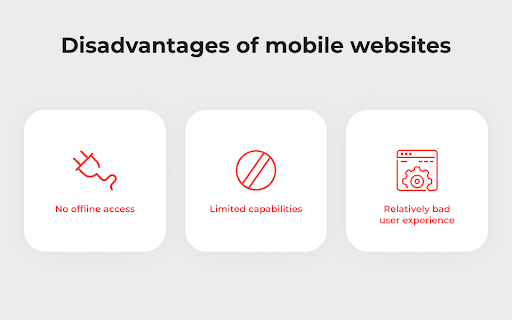 The offline access absence
In this case, users can only read data from previously cached sites without an opportunity to interact with any webpage components.
Limitations of the platform
Mobile webpages can't take advantage of all of the device's features as mobile apps can. It's worth noting that the restrictions of Android and iOS are different, and a feature inaccessible on one platform may be available on the other.
User experience
Mobile websites cannot provide a great UX due to their cheapness and tech restrictions that take place depending on browser functionality limitations.
Mobile Applications' Benefits for Business
Using only a mobile website is not enough for business sometimes. That's why most companies look to mobile applications development. Businesses that have adopted a mobile strategy can ​expect a more significant percentage of engaged clients. So let's speak about the advantages of mobile applications now.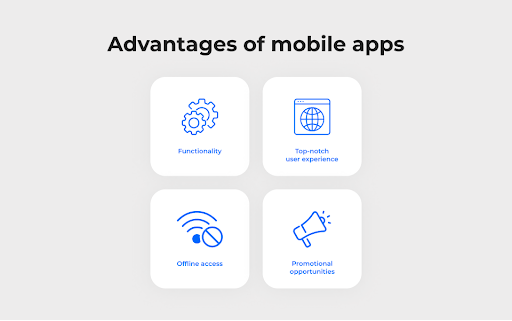 Broader capabilities
Mobile apps are far more functional than websites, allowing even to use the gadget's specific features (accelerometers, for example).
Great UX
Apps were primarily created to match the particular gadget and platform, so navigation and usage become much more straightforward for customers.
Offline access
If your product concept necessitates offline access to a part of its feature set, you might consider developing a mobile app.
Promote Your Brand
Promotional options for your brand involve push messaging. Pushes make sending crucial information (e.g., special offers and discounts) and reminders simpler for business owners.
Mobile Apps' Drawbacks
Every option has its advantages and disadvantages. Let's look at some common drawbacks of mobile apps.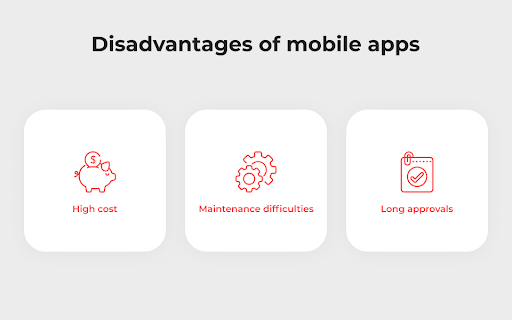 Expensiveness
Developing a mobile app is always connected with high costs. The mobile application should be tailored to the particular OS. However, there's always the option of building Flutter-based hybrid or cross-platform solutions.
Maintenance and update
Mobile apps should be updated on a regular basis to perform bug fixes, upgrades, and other improvements. However, all these actions involve time and money.
Complicated approval process
The approval procedure applies to all mobile applications, regardless of platform. This process takes a long time, both for iOS and Android.
On iOS, for instance, the app undergoes a comprehensive moderation process based on App Store Review Guidelines. App approval takes about four days on average.
The Android version has its own peculiarities. The verification procedure might take up to 7 days or possibly longer. In case of a rejection, you can get acquainted with its reasons and receive recommendations on what to improve.
Wrapping Up
We have considered the significant pros and cons of developing a mobile website or a mobile app. If you need to learn more, you can apply to an experienced software development team. The specialists will tell you more about the preferences of having a site or an app for your business, provide you with precise estimates for each of the options, and assist you in creating a flexible, modern, and competitive solution.