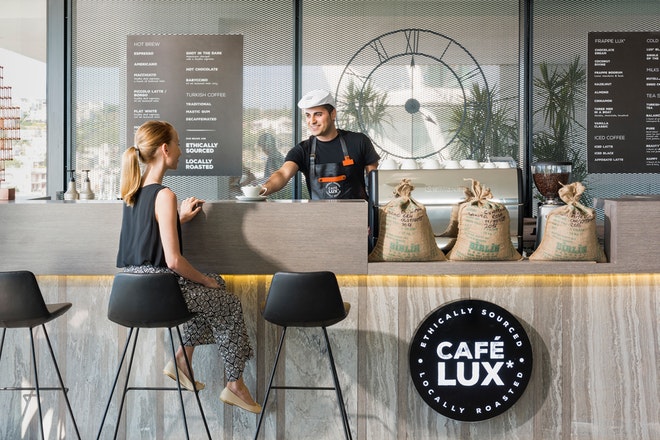 When you close your eyes, you can picture your dream cafe. Customers are sitting at small wooden tables, sipping on cappuccinos, talking with their friends or getting lost in a book. The entire room is filled with the sound of soft music and conversation and the smell of freshly roasted beans. It's absolutely perfect.
If this is your dream, why aren't you making it happen? Opening up a cafe is a brilliant small business plan.
How to Open up Your Cafe
---
Get Funding
Before you start planning factors like menus and interior design, you need to get access to a significant amount of funding. According to Investopedia, you should have approximately $200,000 to $375,000 to successfully open up an independent sit-down cafe. These costs depend on your location. Some locations will come with cheaper opening and operating costs than others. For instance, New York City will have higher rental rates than Cincinnati.
If you don't have a large amount of savings in the bank, you should get in touch with First Down Funding to get access to significant funds to purchase equipment, hire staff and more. The process is much faster than going to the bank to ask for business funding — that can take weeks. You can fill out an application online and find out about your approval within 24 hours. You can get started right away.
Find a Location
You'll need to find a good location. You'll want to be in an area that has a lot of foot traffic, like a neighborhood near a college campus.
Find a Coffee Supplier
The next thing that you need to do is find a coffee supplier to purchase beans wholesale. Before you commit to the first pick, try out their beans and see if you like the coffee. You shouldn't serve coffee that you wouldn't drink.
Make Connections with Local Bakers
You don't have to have a fully-stocked kitchen and a chef to serve food. You can go for the easy-route and offer patrons a selection of pastries and healthy snacks from a nearby bakery. Going local is ideal because you're guaranteed to get fresh, high-quality food — not stale or frozen products.
What Are the Benefits of Having a Cafe?
---
Low-Key Design
Most independent cafes are casual environments. So, the interior design costs can be minimal. Get gently-used furniture. Use chalkboard signs. And if you need some décor and want to save money, put out a call for local artists who want to sell their work. You can hang their trendy art on your walls, and they can get an opportunity to make sales.
Part-Time Staff
Working at a cafe is a perfect part-time job for teens and young adults that are still in school. So, you don't have to worry about dishing out too much money for payroll.
Guaranteed Customers
And, one of the best benefits of owning a cafe is that you're guaranteed customers because people love coffee — 64% of citizens drink at least one cup a day. You don't have to worry about whether there's a market for your business. It's there, and it's thirsty.
Don't sit there and dream about your little independent cafe all day long. Start working on it! Get your funding, find a location, start talking to suppliers and make your dream come true!