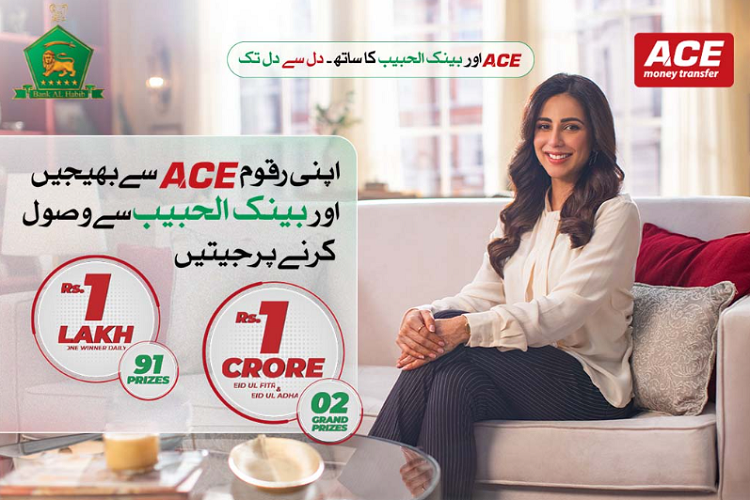 Nothing Can Be More Exciting Than Bumper Cash Prizes – Learn How To Win with ACE Money Transfer and Bank Al Habib
Money transfers have become a regular aspect of our lives, particularly in the current world when cross-border transactions and international communication, especially from millions of overseas Pakistanis living in foreign countries, are growing more common. Whether it's for operating your business overseas, transferring money to family members who live abroad, or making online purchases, digital transactions have become an everyday need. You might get excited to learn that now when you send money to Pakistan from the UK, Europe, Canada, Australia, or Switzerland, you are likely to be the lucky winner of one of the two PKR 1 Crore bumper cash prizes or one of 91 PKR 1 Lac cash rewards.
Several financial institutions and money transfer businesses have developed in recent years, offering a variety of alternatives and aggressive rates in response to the rising demand for online money transfer services. Two well-known money transfer providers, ACE Money Transfer and Bank Al Habib, offer dependable, safe, and practical online money transfer services to Pakistan, with several chances to win massive cash rewards through their joint campaign lasting from April 1 to June 30, 2023.
ACE Money Transfer
Leading online payment system ACE Money Transfer offers cross-border money transfer services to more than 100 nations, including Pakistan. Since it began operations in 2002, the business has built a solid reputation for offering its clients quick, safe, and economical money transfer services.
You can quickly and simply send money online to Pakistan with ACE Money Transfer. You don't need to travel anywhere because the process is easy and clear, and you may transfer money from your home or workplace convenience.
ACE Money Transfer offers its clients quick and dependable money transfer services and thrilling cash awards. When clients use the company's platform to transmit money online, it frequently runs contests and awards huge financial rewards to them.
Promotion- Win big
ACE Money Transfer has recently launched an offer in which clients who send money to Pakistan using ACE's services can win massive cash prizes. This promotion was created in partnership with Bank Al Habib. Customers who transfer money between April 1 and June 30, 2023, are eligible to enter the contest.
Customers must send money online to Pakistan using ACE Money Transfer to any of the 1080+ Bank AL Habib branches during the campaign duration to take part in the campaign. Your chances of winning the cash prize increase with the number of transactions you complete before the campaign ends.
Al Habib Bank
A well-known private bank in Pakistan, Bank Al Habib provides a variety of financial services, including online money transfers. The bank is a practical choice for accepting money transfers in Pakistan because of its extensive network of branches and ATMs.
You may receive money via ACE Money Transfer and other sources worldwide through Bank Al Habib. To give its clients a simple and safe money transfer experience, the bank has teamed with ACE Money Transfer.
You must have an account with Bank Al Habib in order to receive money through the institution. If you don't already have one, you can simply open one by going to any branch of Bank Al Habib or by filling out an online application.
Payout alternatives from Bank Al Habib include mobile wallets, cash collection, and bank transfers. The payout method that best meets your requirements and preferences can be chosen. The two institutions make receiving remittances in Pakistan affordable by providing competitive exchange rates and cheap costs.
ACE Money Transfer and Bank Al Habib provide a thrilling chance for people to win enormous cash rewards while moving money online to Pakistan. Customers may effortlessly send money internationally and globally using their dependable and secure online money transfer services, guaranteeing that their loved ones have access to money whenever they need it.
Customers who use the services of ACE Money Transfer and Bank Al Habib can also find out how to win cash prizes when sending money online. Customers may save time and money with this cutting-edge method of money transfers, and there's also a chance to win significant cash prizes.
To learn more about this exciting promotion, go to the Terms & Conditions of the campaign.