You can set password or pattern to hide incoming call using several applications, so nobody is able to see the name or number, even they cannot pick up your incoming call.
No matter how advanced our phone has become but still its primarily used for sending and receiving calls. But, irrespective of the security our phone is packed with, whenever a call is received, the name of the caller along with its name is flashed on the screen. These details also get displayed even if the phone is locked with a password. Very few of the Android phones have the ability to hide the caller name but still, they reveal the number.  And we all know that how easy it is to get the name of caller once the number is revealed.
Although, in the recent past Android has done a lot to enhance the security of Android devices still there is no such security feature available that can hide incoming call on your phone. So, if you too are concerned about your security and wish to conceal the caller details then please go through this article.
Hide Incoming Caller Details on Android
As discussed earlier Android, by default does not offer any feature to lock the incoming call details. Therefore, you have to take the help of third-party apps that are available on the Google Play Store. These security apps will secure your incoming calls with a password so that no one gets an idea of the incoming call.
AppLock an application developed by Domobile is one of the most popular application on Google Play Store to hide all incoming calls. One can easily get an idea of its popularity that it has more than 100,000,000+ installs and 5,354,530 user reviews. This amazing app takes care of your privacy by providing various security options like the pattern, fingerprint and password.
To get started all you need to download this app and set a password/pattern to lock the app. Once done set an email for password recovery in case you forget the one you have set.  Now to hide the incoming calls from prying eyes, tap on AppLock app, unlock it with the password/pattern you have set. Now click on the padlock icon located in front of the incoming call to lock it. Now once the incoming call is locked, all the incoming calls can only be viewed or attended by providing a password or a pattern.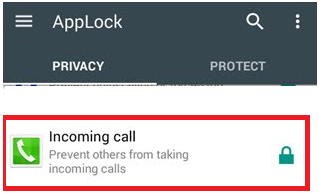 Moreover, apart from securing your incoming calls this application also helps you in locking all your applications like WhatsApp, gallery, Facebook. Also, the app can help you in locking system settings to prevent unauthorized access. With over four hundred million users and support for 40+ languages, this is undoubtedly one of the best applications to secure the incoming calls.
Prominent Features of AppLock:
Lock your incoming calls with a single tap.
Easily locks all your installed as well as system apps.
Hide the AppLock icon.
Automatic locking and unlocking based on the location.
Automatic lock and unlock as per the set time.
Support for 45 languages.
Customization of lock screen background.
Vault for hiding pictures, videos and other types of sensitive data.
Lightweight and easy to use
Incoming Call Lock is another security application available at Google Play Store to lock incoming calls on Android. If you are really worried about someone else picking your incoming calls then this app will help you. Once this application is installed and setup, no one can see the name and number of the incoming caller as it is being hidden by a password protected screen. Some of the salient features of this app are as follows:
Lock all the incoming calls
The user can set a pattern or password lock to lock the screen.
None of your calls will be picked and answered by any unauthorized user.
The call will be automatically disconnected if some tries to input a wrong password (more than three times).
Prevention of Call Lock by the processor.
Customization of lock screen with the images from gallery or 6 inbuilt background screens.
Support for Fingerprint unlock.
Compatible with the latest version of Android i.e. Android 9.
Light Weight and Easy to use.
Conclusion
Maybe in the future, Google may come up with a security idea or feature to hide incoming call details. But until then you can use the above apps to enhance your security and avoid the prying eyes from getting a sneak of your incoming call details.