The winter months can be gloomy at the best of times, and the thought of visiting a gym might not make things much better. However, rather than allowing your health to fall by the wayside, you should look for fun workouts that will get your heart pumping and your body moving.
If you want to ditch the treadmill and make exercise fun during the colder season, find out how to get fit outside the gym this winter.
Take to an Ice Rink
Many ice skating rinks might start to appear near you once the cold weather strikes. If so, it's time to grab a pair of skates and take to the rink to enjoy a fun and effective workout. While you might not be able to perform triple axels anytime soon, ice skating can get your heart pumping once you learn how to skate.
If you want to work almost every muscle in your body, try to skate as fast as you can for 10 meters. Once you have done so, spring back to your starting spot. You can guarantee you'll feel the workout in your muscles the very next day. It will also help you to lose weight, too, as ice skating can reportedly help a 140-pound woman burn 176 calories per half an hour.
Join a Dance Class
If you love to dance, you're probably hooked on Strictly Come Dancing already and will estimate who will be crowned the winner every week. Well, rather than sitting down to watch the show, why not get up off your feet and follow in Ashley Roberts and Stacey Dooley's footsteps by strutting your stuff?
If you dread the thought of going to the gym and want to make exercise fun, dancing could be the perfect activity for you. Whether you want to breakdance, salsa, tango, or jive, there will be the perfect dance class near you.
Workout at Home
It's only natural to want to remain in the comfort and warmth of your home during winter. However, you shouldn't let arduous weather conditions stop you from keeping your body in shape. Simply turn on a workout DVD or search for one of the many aerobic routines available on YouTube. It might also be helpful to invest in some gym management software or home gym equipment, such as resistance bands, dumbbells, a skipping rope, stability ball, or a yoga mat.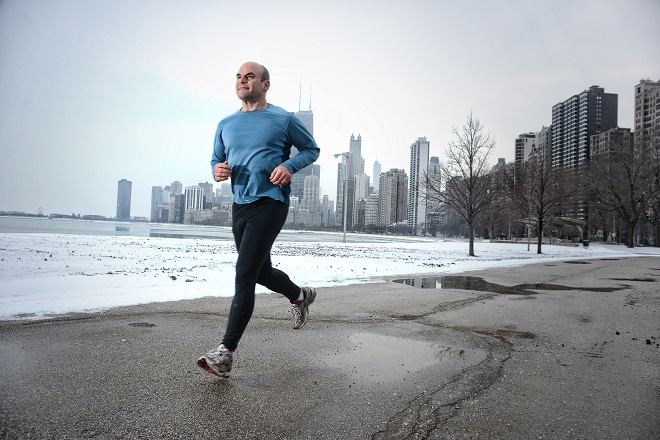 Start Running
If you want to develop a leaner, healthier body, you should put on a pair of running shoes and explore the outdoors. You'll never have felt more alive once you build up your endurance, as you will love the cold sensation of the winter wind that will cool you down during a run. You'll also return home feeling happier and fitter than ever. You could even run with friends or you could join a running group, which could make the exercise a more fun and social activity.
Go Power Walking
It's common for people to feel tired and lethargic during the winter months, as the nights are seemingly longer and daylight is much shorter. However, that's no excuse not to exercise. If you don't have the energy to hit the gym, go for a run, or attend a dance class, you should at least enjoy a spot of power walking. It will help you to burn calories while strengthening your muscles and improving your heart's health.
Try a Fun Winter Sport
While you might not be able to play beach volleyball at the moment, that doesn't mean you can't embrace your sporty side this winter. If you want to have fun while burning a considerable amount of calories, you should take up a winter sport. For example, you could go snowboarding, or you could even attempt to master the slopes by skiing. You'll definitely notice a difference in your body, as moderate downhill skiing can help people burn 400 calories an hour, while cross-country will allow you to burn up to 1,000 calories an hour. Just make sure to wear a helmet!
Don't spend winter on the sofa; instead, keep your body moving which will help you to maintain a healthy weight, develop a stronger body, and improve your flexibility.