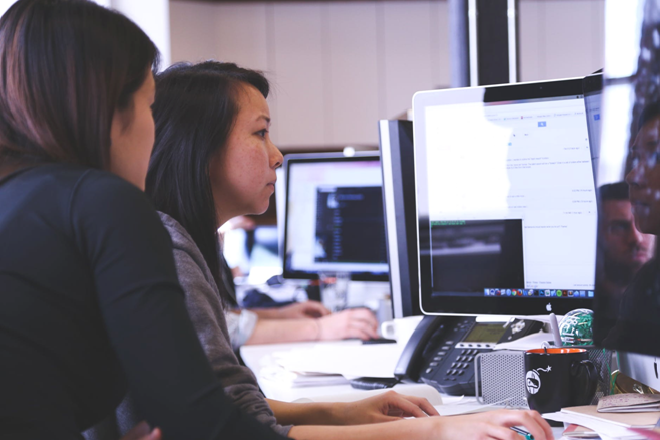 Blended learning has now become a buzz, and is picking up the pace not only in the corporate industries but also in the education industry.
But, how?
Well, blended learning is a learning tactic that combines online learning and classroom learning to help students grasp things (syllabus, lectures) with ease. In this, traditional methods of classroom learning are merged with the online learning tricks to help students can learn swiftly.
Blended Learning Work on Four Different Spectrums
---
Scheduling:  Some e-learning best practices are scheduled in a way that anyone can participate together in the pre-set time. However, some are asynchronous and are not restricted to scheduled learning.
Individual learning or instructor-based learning: Instructor-leading online training is ideal for complex topics, where the in-depth detail f topic is required. However, individual training is more of self-paced as it offers the learner to control when to move ahead with the syllabus.
Participation: Although some training methods aimed at learning in groups, some are geared toward individual participation.
Technology: Technology is a must in e-learning! It is impossible to get online training without using any technology.
Benefits Of Blended Learning
---
Flexibility
Blended learning offers complete flexibility to both students and teachers. While teachers can teach complex topics in the classroom, other subject-matter topics can be put online, offering the ease to learn. Also, it offers convenience to teachers as they don't have to collect test papers and course material all the time.
It's Engaging
One of the biggest challenges teachers face is engaging students in the respective course and keeping them interested in the learning materials.
Why? Because students have shorter attention spans, and they get distracted instantly. Besides, textbooks filled with texts are boring and make students disinterested. However, the online learning features engaging content with graphics and pictures to make learning interesting.
Some courses also have videos, audios, presentations and visually enhanced pictures to make things attractive for students.
Time-Consuming
Online learning and teaching save a lot of time, as students don't have to make notes of everything and teachers don't have to create and check staple and assignments. All they need is to upload file on education platform with topics, questions, assignments, images, and videos to let students participate in them. Moreover, in online learning, teachers can use different tools to design an interactive and engaging test. Physical class programs also restrict time; however online learning is not time bounded.
Enhanced Learning Efforts
Since every student is different and every learner follows a different technique to grasp things, it becomes very important for teachers to meet their needs. While some students will learn from reading books and presentations, others can learn by watching videos and listening courses. Nonetheless, with blended learning, involving different methods and styles become possible; thereby enhancing learning and teaching efforts to make the course effectively.
Promotes Self-Directed Education
Students often get bored and lose interest when they are compelled to study. However, online courses will keep them engaged. Plus, students will love participating in them. Further, they will be able to get the education as per their subject of interest. And since the students will learn and read as per their interests, they will become experts in the field.
Efficient
Blended learning approach is quite efficient, as with well-planned strategy teachers can deliver training efficiently and quickly to the broader section of students. Also, they can help students to speed-up their syllabus to learn quickly.
Learning methods have readily changed in the past few years. If your kid hates learning from textbooks and assignments,  involve them in blended learning approach and help them learn playfully!