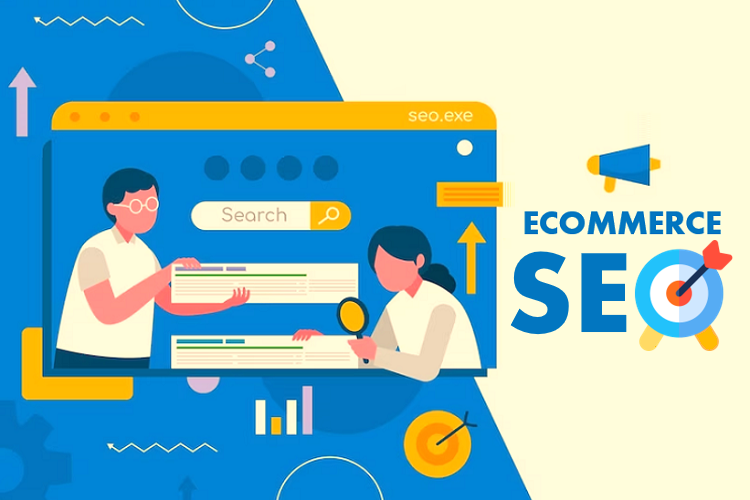 While on-page and technical SEO practices for any website can help it rank higher in search engines, optimizing an ecommerce business adds another level of complexity when it comes to ranking well in search engines. Ecommerce businesses must rank multiple product pages that compete against one another – making ecommerce SEO much more complex than rating blogs or service-focused sites, with specific considerations needed when considering user searches online for particular items.
The good news is that efficient ecommerce SEO tactics are available for boosting traffic, raising rankings, and increasing sales from your online business. We'll go through some of the best ecommerce SEO tactics in this article to assess ecommerce SEO and gauge SEO performance. These techniques have proven their worth over time, fetching some remarkable results for ecommerce businesses. It's vital for companies to employ the best-suited SEO strategies for long-term success.
It's crucial to comprehend SEO best practices if you wish to enhance the SEO of your e-commerce website. In-depth keyword research, making sure your e-commerce website is user-friendly, concentrating more on long-tail keywords, optimizing product pages, avoiding duplicate content and web pages, and many other things may be included. To learn more about the best-suited ecommerce SEO strategy for your business, contact a leading Search Engine Optimization Company in India now!
What is Ecommerce SEO?
Ecommerce SEO (search engine optimization) refers to optimizing an ecommerce website to increase organic search engine results on Google and other engines, including improving its structure, fixing broken links, expanding content, etc. SEO's primary purpose is to increase traffic to your site by ranking high in search engine results pages (SERPs). In online commerce, ranking first-page relevant searches can make a substantial impactful statement about your bottom line.
It's necessary to understand what customers are searching for when they type keywords into Google. Popular terms tend to have high search volume but may also be highly competitive – to achieve optimal results, identify and target long-tail keywords instead. To do so, there are several online tools that provide useful breakdowns of search volume by intent, making it simple to see both search volume and competition level for each. Get the best-suited SEO performance tool for your business now!
At the core of any successful ecommerce SEO strategy lies its navigation structure. Search engines examine both how user-friendly your site is and the links among its pages, so a good rule of thumb would be keeping all product/category pages three clicks or fewer away from the homepage to maximize both UX and link authority. If you want to grow your online business in India and have a significant improvement in your ROI, it's advisable to hire a leading search engine optimization company in India.
Ecommerce SEO Best Practices
Below discussed are some of the effective and best SEO practices for ecommerce websites.
1
Thorough Keyword Research
Keyword research is an integral component of any successful ecommerce SEO strategy. Selecting appropriate keywords will help your site rank higher on search engine results pages (SERPs), attract more qualified traffic and ultimately increase sales. To properly conduct keyword research, begin by recognizing user intent. This refers to what people intend when searching online. Once you have identified user intent, select keywords that best meet it.
There are several online tools available to help you perform in-depth keyword research and fetch the best-suited results for your SEO campaigns. Likewise, examine competitors' ads to understand which words they are targeting. Keep long-tail keywords in mind, too; these tend to be less competitive and can help your page rank higher on SERPs, not to mention being highly relevant to what products or services your offer.
2
Web and Product Pages Optimization
Optimizing your web pages and independent product pages can help you rank your website higher than ever. Product creation is essential, but to reach customers, you also must optimize the website pages and their contents – including titles, descriptions, images, and more – to maximize SEO (Search Engine Optimization). Thankfully, optimizing product pages per your business's best-suited ecommerce SEO strategy doesn't need to be hard or complex!
One of the essential steps you can take to evaluate ecommerce SEO, improve your rankings, and enhance search engine visibility is to include keywords in your title tags and meta tags. Doing this will allow search engines to discover your product pages more quickly. Providing accurate descriptions on every page will also aid with rankings. Ensure your product description includes an identifiable call to action; this will enable more visitors to become sales.
3
Ensure Your eCommerce Site is User Friendly
User-friendly websites are essential in today's online environment, with customers expecting websites to be intuitive and quick. When problems arise, customers can quickly leave, leading you to seek solutions quickly with SEO best practices in mind to maximize usability and increase sales. Ensuring it loads fast is key to its success. Studies have demonstrated that visitors form opinions of your website in less than 50 milliseconds – and slow-loading sites could cause them to click away without ever returning again.
One way to ensure your ecommerce website is user-friendly is by using an effective interlinking strategy. This will enable visitors to quickly move around the website and locate what they need while helping search engines rank pages more effectively. When it comes to the SEO for online stores, never take chances, as ecommerce SEO is comparatively complex and demands professional attention to fetch the desired results and increase usability for visitors while increasing sales conversion rates.
Core Web Vitals are a set of specific factors that Google considers important in determining the user experience of a web page. These factors focus on the loading performance, interactivity, and visual stability of a webpage. Core Web Vitals are part of Google's broader initiative to improve the overall user experience of the web.
4
Focus on Long-Tail Keywords
SEO for online stores aims to ensure that people searching for products or services you offer can find your website. However, this may prove challenging for ecommerce websites due to the many pages requiring optimization; fortunately, there are ways that SEO experts can get more people to view your site. Look for words and phrases that best align with your product/service offerings while ensuring they match searchers' intentions. You can use several online tools to review analytics data and make a decision.
Write compelling, original, and authentic content for product descriptions that is at least 1000 words in length and includes both main keywords and LSI (Latent Semantic Indexing) keywords throughout. Understanding what information you need to share on your product pages is vital. This may include things such as customer ratings and reviews, stock levels, and additional details like dimensions or weight. Hire a leading search engine optimization company in India to get the best for your eCommerce business.
5
Employ a Simple URL Structure
Having a simple URL structure throughout your eCommerce website is highly essential for your website to get noticed by search engine crawlers. Therefore, optimizing your e-commerce website for search engine results pages (SERPs) is important. Traffic to your website will increase if it appears on the top page of Google's SERP. Your URL structure plays a pivotal role in SEO. Not only does it assist search engines in understanding what the page is about, but it can also improve user experience.
Make sure that short URLs with keywords included are used where possible for optimal results.
Doing your best to prevent duplicate content can have a drastic impact on both your ranking and click-through rate, so creating a sitemap with all pages should help identify any duplicates. Seek professional help from SEO experts on how to use simple URL structure for your ecommerce website and get the desired results out of your SEO campaigns.
One of the easiest and least-utilized ways to distinguish your eCommerce site in search results pages (SERPs) is through schema markups. These tiny pieces of code help Google understand what's being presented on your page, making a big, impactful statement when done right. Many eCommerce websites still haven't taken full advantage of it and failed to measure SEO performance yet, but when done right can make all the difference for their visibility online.
Schema markups can be utilized to optimize product listings and create rich snippets that increase CTRs and sales. When searching for specific items, having product images, prices, rating reviews, and availability in search results makes it easier for users to decide if your product fits with them or not.
Breadcrumb trails are another useful feature of schema markup that help visitors navigate your site by showing where they are in relation to previous pages and how they can get back there easily.
7
Avoid Duplicate Pages and Content
Unique content is at the center of any successful ecommerce website, making its importance even more essential than ever. Duplicate pages and content can damage SEO efforts in multiple ways, including lower search engine rankings and traffic reduction. Furthermore, the same pages created by other websites or scrapers may still have negative repercussions for SEO efforts. As part of your ecommerce SEO strategy, plan to reduce duplicate pages and use only fresh unused content throughout your site.
Alternately, noindex meta tags on duplicate URLs could prevent them from being indexed by search engines – however, this could present other problems, such as restricting users from finding what they need, as well as failing to stop search engines from crawling the different versions of the same page which could result in lost ranking opportunities. To deal with this, it's highly advisable to hire a well-experienced SEO consultancy for eCommerce business.
8
Link Building for Ecommerce
Ecommerce websites provide more than products; they're also resources. One powerful way of doing this is creating infographics based on research and data; such graphics often get linked back to and can drive lots of traffic. It's vital to evaluate ecommerce SEO for your website and plan the best-suited link-building strategy. An effective link-building technique for ecommerce stores involves finding content with unlinked brand mentions and reaching out to its creator or editor to add your link to it.
There are several online tools that allow you to discover unlinked brand mentions and valuable backlinks by showing what pages link back and filtering by link type (dofollow/nofollow) or domain. You can also use platforms like HARO and Sourcebottles to get in touch with journalists and writers who work with reputed news companies. By having a backlink from their websites to yours, you will be able to earn branded backlinks that matter. It will also help you build authority in your industry.
Ecommerce websites that make it simple for their consumers to share purchases on social media boost brand awareness and sales. Compared to paid advertisements or other forms of advertising, SEO is also one of the most affordable marketing techniques available. SEO yields both short-term and long-term results.
One technique to improve SEO on your ecommerce website is to optimize the user experience. More people will buy and suggest your goods and services the more social media shares they receive.
A website must load quickly. Your eCommerce site must load fast for long-term success. If your website or any of its pages isn't loading fast or making visitors wait for long, your business may lose a potential conversion and sale just because your website was too slow. To speed up your site and reduce load times, try reducing images, using CDN services or upgrading hosting plans, eliminating unnecessary scripts, or switching image sizes for better load times.
10
Fresh Content for eCommerce
eCommerce SEO involves more than simply keyword research and link building; it requires an understanding of how search engines function and what drives consumers to buy products online. Using the best SEO performance tool and implementing effective SEO tips and strategies for eCommerce websites will allow your business to increase organic traffic and sales exponentially. One of the most effective ecommerce SEO tactics is optimizing product page content.
It's advisable to create clear and descriptive product descriptions, outlining in-depth specifications, listing pertinent keywords, as well as including customer reviews and calls-to-action that convert potential buyers to actual ones. UGC (user-generated content) can also play an integral role in your ecommerce SEO efforts, helping build brand recognition and attract new customers. UGC comes in many forms, such as photos, videos, and customer tweets showcasing your product or service.
Why is SEO important for Your eCommerce Website?
Internet information is vast, yet accessing it requires only searching engines – the best way of tapping into this wealth of knowledge lies within search engines' results pages, where you can find precisely what you need. SEO (search engine optimization) for ecommerce websites has become essential; without it, visitors would struggle to discover their way onto your page and convert into customers. SEO for eCommerce businesses is important to not only survive but also flourish in this competitive market.
eCommerce SEO stands out as an economical and return-on-investment marketing tactic compared to social media and email marketing, providing a greater return for less. Though long term, its value cannot be understated as SEO could potentially transform your business in ways other tactics simply cannot. SEO is essential for ecommerce businesses because it helps them connect with potential customers more effectively than any other medium can.
SEO increases brand recognition, builds trust with visitors to your site, and drives more traffic towards it – even helping to boost sales beyond conventional marketing techniques. With more people than ever purchasing online, it's critical that you implement an SEO strategy to promote your products and services. Traditional forms of promotion – print ads and direct mail – no longer suffice; with such competition online, it is vital that your eCommerce website stand out.
Conclusion
An essential factor of successful ecommerce SEO is ensuring your site is accessible, optimized for key keywords, and contains quality content. Although this may be a difficult feat, remember the goal of SEO for ecommerce websites is to bring qualified visitors who are interested in your products or services onto your website – by targeting specific keywords with high-quality writing, more visitors will visit and convert into customers resulting in increased sales revenue for your business. To get the best of ecommerce SEO, reach out to a well-versed search engine optimization company and get the best results from your SEO campaigns.