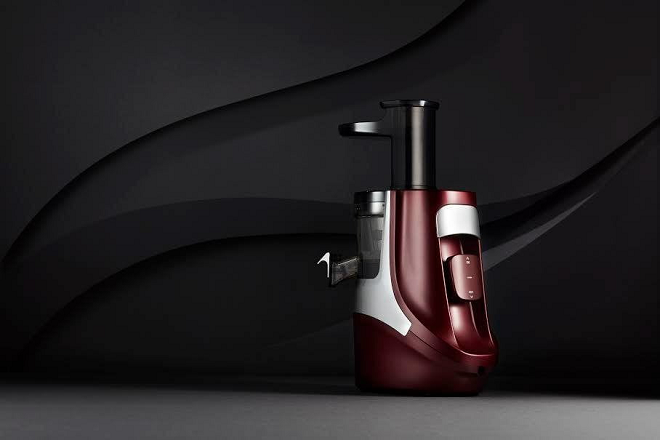 Hurom H-AF Juicer is a famous juicing brand that forms part of the larger Hurom family. It is considered as one of the juicer innovations that combines ultimate machinery designs and slow-paced juicing technology. In addition, the casing itself is a work of perfect design, having been inspired by Giugiaro Design, a world-class automotive design firm, a marker of production, and concept cars for Ferrari, Maserati, and more.
Engineered to merge the concept of superior design and nutritional capability, H-AE's dynamic design raises the bar on user-friendly attributes. Ideally, the whole design and engineering that inspire the slow pace are user-friendly for everyone.
Hurom H-AF Juicer Features
---
In the future, this piece is an elaborative insight into some of the features that define this superior innovation.
Supercar-Inspired Design
The Hurom H-AF  Juice features a prominent and intuitive power button for simplified ease of use and, in turn, recalls and automotive experience. Interestingly, the contrasting diagonal color scheme works to visually divide the control area from the section of the machine that extracts nutrient-dense juice. What makes the cold-pressed juicer design amazing is that it takes the inspiration of luxury vehicles; even so, the streamlined design of the model reinforces its durability.
Slow Squeeze Technology
The Hurom H-AF Juicer rotates at a speed of only 43 revolutions per minute to mimic a hand squeezing juice motion. With this, the patented slow squeeze technology ensures the juice stays fresh in its most natural state.
Taste & Pull Control
Advanced developments on the slow juicer are inspired towards giving a personalized user experience. Juice created from Hurom H-AF Juicer is fresh, unprocessed, and pure. It also comes with a control lever, an elegant and coarse filter that allows users to control the amount of pulp that suits their taste.
Easy To Clean
The ease of cleaning capability of any juicer is a concern to everyone. That is why, for Hurom H-AF Juicer, during juicing, the inner spinning brush rotates to clean the chamber and strainer simultaneously. With that, it reduces clogging and increases juicing efficiency. In addition, the ability to quickly and assemble and disassemble allows for a faster cleaning process.
Quality
With the impact-resistant ABS plastic body, the Hurom H-AF Juicers are extremely durable. The heavy-duty Ultem strainer and auger are eight times stronger than traditional plastics. As such, the juicer cannot be compromised easily by physical discomfort and, in turn, assures years of daily use. The quality of juice is a concern as well. The low-speed auger squeezes every drop of juice resulting in the bone-dry pulp that, in the end, ensures desirable yield.
Versatility
The Hurom H-AF Juicer works perfectly on fruits, cruciferous vegetables, leafy greens, nuts, and soybeans to create extensive nutritious cold-pressed juices, milk, tofu, and more.  It also can create healthy ice cream straight from the chamber.
Works Quietly
With its near-silent AC motor, it works efficiently using just 150 watts of power. That, in turn, means it ensures a silent operation base without causing noise that other traditional juicers and blenders do best.
Safety
A duplicate safety sensor allows the unit to operate only if the chamber is assembled entirely and accurately at the base. By this, a built-in cooling system with integrated heat vents prevents overheating.
Best for Quiet Juicing
---
Hurom H-AA Slow Juicer
Like the now-stopped Hurom Elite Slow Juicer (which we recently highlighted at this gathering), the Hurom H-AA Slow Juicer is a top-of-the-line machine deserving of its sticker price. Despite how it's anything but a sluggish speed juicer, it's amazing and practical. The "moderate" assignment is about the way that the drill turns gradually. One of our number one characteristics about this juicer is that it's peaceful during activity, regardless of how rapidly it works.
When our commentator tried the gadget, she noticed that the mash from her leafy foods was scarcely soggy, so she realized she was getting however much squeeze as could be expected. The juice compartment has estimation markings in ounces, up to 35, and in milliliters up to 1,000. This machine additionally accompanies a few embellishments, including a squeezing chamber, coarse and fine squeeze sifters, a frozen yogurt sifter, a turning brush gathering with silicone "brushes" that swipe the compartment to ensure everything is getting prepared, a drill, and a container with a pusher and a cover.
Hurom's Alpha arrangement incorporates the same, marginally more costly treated steel model that includes the equivalent "essentially quiet" engine as the H-AA that we tried. The Hurom HZ likewise accompanies a tofu press and citrus squeezer if you're hoping to make significantly more with your cold-pressed juicer.
Omega Cold Press 365 Juicer
The Omega Cold Press 365 Juicer thinks outside the box for chewing juicers. It's anything but a decent measure of force into a more modest, lighter, more agile machine with a moderate sticker price to coordinate. The cold-pressed juicer has sufficient capacity to juice everything from carrots to apples to salad greens, and it's easy to use. Our analyzer was intrigued with its force, calling it "little, however powerful."
This juicer doesn't accompany numerous extra highlights, which keeps things basic and proficient, given the cost. You will not have any desire to push enormous amounts of food down its throat and little feed tube, yet it can deal with most entire carrots and celery stems. For easygoing juicers and those with space requirements, this model is a champ.
Cuisinart Pulp Control Citrus Juicer
This Cuisinart juicer is top in class for squeezing heaps of natural citrus product quickly. If you've endeavored to crush your orange or grapefruit squeeze at home previously, you realize it's anything but various citrus natural products to get a glass of new squeeze. Squeezing all that natural product with a handheld wooden reamer or press can be tedious, chaotic, and wear on your hands.
This Cuisinart juicer (model number CCJ-500) is extraordinarily planned with an all-inclusive without BPA plastic reamer that can fit more modest lemons and limes and bigger navel oranges and grapefruits easily. The reamer includes an inherent mash of the executive's framework. Pick between low, medium, and high settings to control how much mash goes through with the juice. The reamer consequently turns around bearing to augment juice.