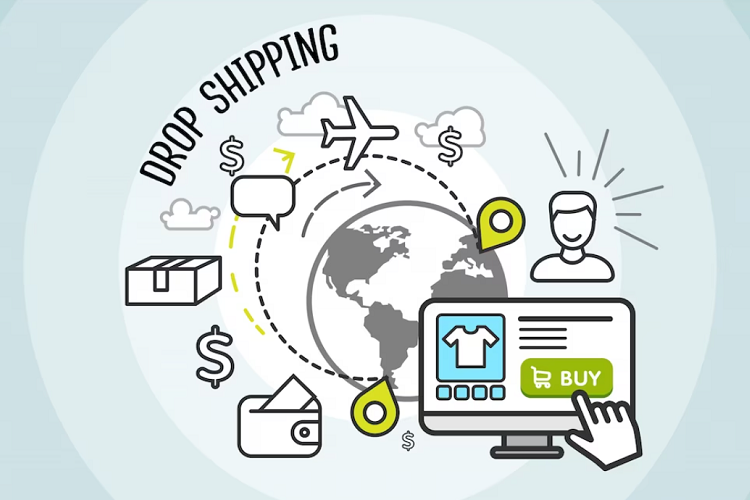 Dropshipping is the e-commerce method that allows online store owners to sell products without keeping them in inventory. Instead of doing everything from the traditional selling process, the dropshipping can help merchants to sell products, give orders to dropshipping suppliers who are in charge to package and ship to customers.
Shop owners can start with Shopify as it has fully functional tools that you need. However, the most challenging part of this entire process is managing the backend of online businesses like sourcing quality inventory, keeping track of stock from suppliers, and communicating with them. You can learn more things through best new dropshipping courses.
Shopify Dropshipping apps appear to answer these challenges for admins. This blog will bring you an overview of the top 10 best Shopify Apps for Dropshipping.
What is Shopify's dropshipping?
Dropshipping allows business doers to sell their items without having to store them as inventory. Customers place orders on your e-commerce store. Then store owners will check and forward this information to the dropship suppliers which are in charge of delivering the order directly to customers under the merchant's name.
Top 11 best Shopify Apps for Dropshipping
In the Shopify apps store, there are various dropshipping solutions. However, 10 apps below are indispensable tools for your Shopify dropshipping store.
Oberlo is a popular dropshipping app which is owned by Shopify. Store admins are able to access an extensive collection of products that you can choose, such as electronics, clothing, apparel at different prices.
With a well-designed user interface, this app helps you facilitate the process of managing the products and require little work. However, it is built specifically for Shopify so that it can be used to dropshipping from Aliexpress only.
There are three pricing plans of Oberlo: the Starter plan, which is entirely free, the Basic plan with $29.90 per month, the Pro plan with $79.90/ month.
Spocket supports store admins to build up the inventory of high-quality products and connect to dropshipping suppliers based in the US and EU. This app has improved the drawbacks of the dropshipping model like return policies, shipping guidelines by creating the standard procedures for both merchants and suppliers to follow.
Besides the significant advantages, this app still has a small disadvantage that suppliers are based in the US and EU, so the price of products might be higher than other dropshipping items from different parts of the world.
Thanks to Printful – a dropshipping app, shop owners do not need to create their own products. They offer products like apparel, accessories, and homeware goods, then deliver them to your customers. The only thing that you need to do is bring them your order, and they will help you fulfill the rest of the process for you. To have an overview of how the dropshipping app Printful works,  you can have a look at their Print Order Lifecycle.
SMAR7 Express is a comprehensive dropshipping solution that offers you a large collection of products. It allows you to import products, fulfill orders just one click. Their unique function is that you can choose your favorite supplier among different ones to complete the rest of the process after you have an order.
Teelauch can help you with a simple process. When customers place orders on your website, Teelauch will print the products, package them, and deliver directly to your clients. All business doers can start using Teelauch as this app is entirely free. You only need to pay for products that customers place orders with you. It offers various types of products include apparel for men and women, jewelry, pet products, tote bags, and many more.
Gooten app offers you more than 100 products for print and dropship. There are various collections of items that you can choose, such as kitchen & bathroom products, home decor items, cards, wall arts, apparel for men and women. This tool will be in charge of product making, inventory keeping, and product fulfillment. You only need to do one thing is getting the purchase orders.
Dripshipper is a particular dropshipping app. Their focus is only on one single product, which is coffee. With Dripshipper, you can build your own coffee brand with your private label on the packaging. It means that all the coffee that you drop ship will have your brand name and logo on it.
The disadvantage of this app is that it is only applied for coffee product and the shipping time outside the USA are long.
Inventory Source app provides the inventory management system and connects shop owners to their 180+ dropship suppliers network. With this app, you can simply manage stock and dropship products by automating several parts of a business's operation process like product uploads, inventory management, and more. This app has a flat-rate incurring monthly fees.
NotifyVisitors is an email marketing app for shopify that makes it easy to capture email leads and generate more sales opportunities with email campaigns. With NotifyVisitors' powerful features, businesses can create email campaigns that target exactly the right customers at the right time, so their emails are timely and relevant. 
It offers various features such as A/B testing, Drag and drop content editor, In-depth analytics and so on.
Plus, it has an intuitive dashboard that takes the stress out of marketing campaign planning and makes sure everyone on the team is on the same page. Ultimately, NotifyVisitors makes email marketing easy and efficient for shopify businesses of any size.
10
Pillow Profits Fulfillment
Pillow Profits Fulfillment is the app that specializes in drop shipping shoes and several other accessory products. This app allows merchants to dropship different types of shoes and styles of accessories with their own brand logo printed on their products.
The various types of shoes can be from sports shoes, faux fur boots, high heels, flip-flops, etc.
Besides, this app can supply accessory products like handbags, socks, and bedding products.
Modalyst app offers a wide range of products from independent, strong brands from various regions around the world. Modalyst's suppliers have their authentic brands themselves and ensure the high quality of their items.
They tend to work with their close shipping partners so that they are well equipped to handle the shipping for you. This app offers different types of products such as men's and women's shoes, bags, cloth, homewares, beauty products, and accessories.
Final words
To sum up, with the list of best Shopify apps for Dropshipping, we hope that you can select the suitable one for your own store. Dropshipping is worth and remains an interesting choice for store owners, especially for the newly established shops. It does not require starting from scratch with significant investment.