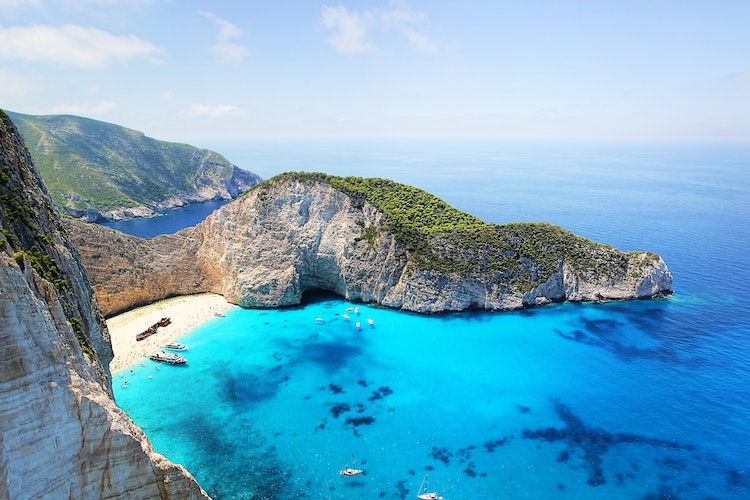 Whether it's their first time on the water, or a regular cruiser, people are taking to the water in 2022. One of the best and popular ways to travel this year is on a catamaran charter while in Greece. With companies such as BorrowaBoat making it easier than ever catamaran cruise holidays have become very popular, especially when you have the flexible options of a crewed or bareboat catamaran to suit your travel preferences.
With so many beautiful destinations, it can be hard to know which one to choose for your yacht holiday. Places like Italy, the Balearic Islands and Croatia are popular, but Greece is a favorite.
Sailors have been drawn to the Greek Islands for thousands of years. Imagine scenic cliffside villages and whitewashed homes, then add freshly caught seafood and the local tipple, raki for a perfect recipe.
One of the main reasons that Greece is a great place for a yacht holiday is the number of islands. There's an estimated 6,000 islands in the country, but only 227 actually have people living on them.
This makes it wonderful for exploring, as you can drop anchor in a deserted cove. Having these incredible places all to yourselves is remarkable.
With so many islands you can tailor a unique itinerary and still see some incredible sites. Hiring a catamaran with a captain allows you to enjoy every moment of your Greek escape.
Top Places to Visit by Catamaran in Greece
There are endless places to go to in Greece on a catamaran.
There are so many different places to visit in Greece that it can be hard to pick just one. The good news is that with a catamaran, you don't have to.
However, if you don't want long days of sailing, it can be good to pick a particular archipelago and stick to that. Here are some ideas:
Some of the top Greek hotspots are located in the Cyclades including Mykonos and Santorini. Therefore, if these are on your list, you should plan a trip to these islands.
You don't have to be in with the crowds though, there are smaller islands such as:
Kynthos
Kimolos
Iraklia
Donoussa
Koufonisia
The island of Amorgos, in the east of this area, has a fascinating Byzantine chapel, the Monastery of Panagia Hozoviotissa. Climb up 300 steps to see this 9th century house of prayer.
In Loutra, you'll find a safe shelter from the winds that prevail here. There are also hot springs nearby to have a refreshing dip.
The area is also famous for its tasty produce. Try a tomato paste on fresh bread in Milos, or the thyme honey sweets on Tinos.
Goat casserole is the speciality on Sifnos, and you'll find a full-bodied local red wine to wash it down.
The azure waters of the Ionian Islands are beautiful for sailing any time between April until the end of September. They are located to the west of the mainland and include islands such as Crete and Lefkada.
The other large islands are:
Kefalonia
Ithaca
Paxos
Zakynthos
And there are many more smaller islets dotted throughout the waters of the Ionian Sea.
History buffs will appreciate the many ancient sites here. Lovers of legend will learn that this is where Odysseus hails from.
A walking tour of Corfu's Old Town is a pleasant way to spend a day. Marvel at the vistas from the town's two forts, then pass the Palace of St Michael and St George.
Drop anchor at Skorpios, a haven for the rich and famous, just for a swim in Jackie Onassis' favourite spot. See the bright white sands of Myrtos Beach on Kefalonia and check out the shipwreck on Navagio Beach.
Hike through the cypress forests of Corfu and feel the romance of Paleokastritsa, where Odysseus met Nausicaa.
Keen sailors may want to attend the International Ionian Sailing Week in early August. There are several races open to all cruisers.
Advantages of a Catamaran
There are so many benefits to hiring a catamaran for your holiday.
First, you and your group have your own space, not staying at packed hotels in the high season. You can also change your destination every day, sailing somewhere new.
Living on a catamaran with your friends or family for a week is a great bonding experience. While you are sunning yourself on deck, you can chat more without the crowds.
Another advantage is that catamarans can go where big cruise ships can't. Stop at tiny sandy coves, dive off for a swim in crystal clear waters and explore mysterious caves.
Catamarans are very stable too. There is no chance of keeling over in the water, so you are very safe.
They have two hulls, which gives them more balance in the water, letting you walk around easily. This is particularly good if you have anyone unsteady on their feet in your party, whether very young or older.
Catamarans have spacious living and sleeping quarters. If you desire that bit more space than a normal yacht, then a catamaran is a good choice.
Fun Things to Try
Water-lovers may also want to try a range of watersports when on board a catamaran. It's easy enough to drop anchor and swim in the unspoilt waters but you can be more adventurous.
Bring a snorkel mask and check out the underwater life in an unspoilt cove. Experienced divers will find plenty to discover in Greek waters, from ancient turtles to tropical fish.
You can also try:
SUP (Stand up paddleboarding)
Kayaking
Boogie boarding
Banana boat