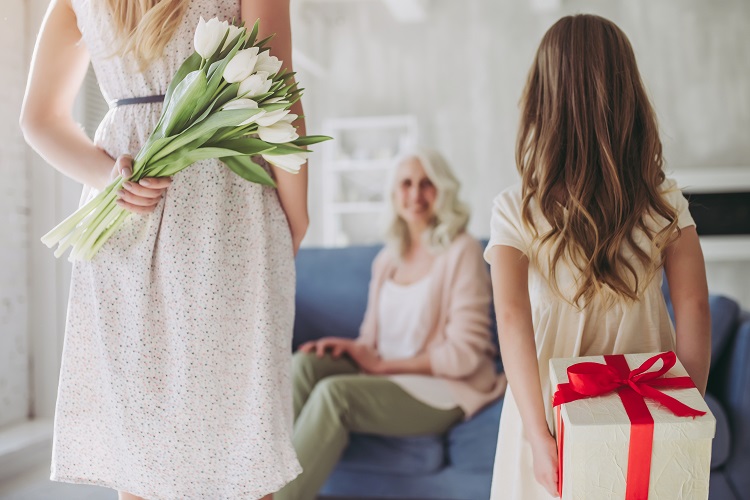 Grandparents are some of the most special people in our lives and deserve to be celebrated. They have been around to cheer us on through all of life's adventures, and showered us with unconditional love.
Showing your grandparents how much they mean to you can be done in a variety of ways—from taking them out for dinner or giving them a heartfelt card, to something more tangible like a gift.
Grandparents are special in our lives and it is always a pleasure to give them something special. Whether it is a birthday, Christmas or any other occasion, picking the perfect gift for your grandparents can be quite challenging. We have compiled a list of the best gifts for grandparents that will make them feel loved and appreciated.
From personalized gifts to home decor items, these gifts will show your grandparents how much they mean to you. Let's take a look at some of the best gifts that you can give your grandparents this year!
Thoughtful & Best Gifts to Give Your Grandparents
Here are some best gifts for grandparents that will surely show grandpa and grandma just how much you care!
Sentimental Gifts for Grandparents
Photo Frames and Scrapbooks
One great way to show your grandparents how much you appreciate them is with an old-fashioned craft project! Create a photo frame or scrapbook filled with pictures of your favorite memories with them.
You could include photos from past holidays, family vacations, or even funny candid shots from over the years. Not only will this help keep those memories alive, but it will also remind your grandparents just how special they are to you.
Personalized Family Cookbooks
A personalized family cookbook is a great way to connect with your grandparents! You can collect all of your favorite recipes from them and other relatives, add pictures, and make it into a beautiful e-book or hardcover book.
This will be a treasured gift for your grandparents that they'll be able to use time and time again. Not only will it remind them of the memories you've created together, but they'll also be able to recreate their favorite recipes whenever they want—making it a truly thoughtful and delicious gift!
A homemade clothing item is a great way to show your grandparents how much you care. Pick out some fabric in their favorite colors and patterns, then spend an afternoon creating something special for them.
Whether it's a blanket, scarf, or pair of slippers—your grandparents will be sure to love this thoughtful gift! Not only will it be a reminder of you, but it will also be something that they can use and enjoy for years to come. Plus, with all the time and effort you've put in, it's sure to show them just how much you care.
Creating homemade clothing as gifts is an easy and creative way to show your love and appreciation for someone special. With a few simple tools, some fabric of their favorite colors, and some time and effort, you can make something unique that they'll cherish forever.
Start by selecting the type of clothing item—from blankets or scarves to slippers or hats—and find a pattern. You can find patterns online or in sewing and hemming catalogs at fabric stores.
Once you've gathered all of your supplies and materials, start cutting the fabric and sewing it together following the instructions in the pattern. With enough patience and care, you can craft something that's perfect for your grandparent or any other special person in your life.
Finding the perfect gift for your grandparents can be a challenge, but music is something that everyone will enjoy. Whether it's classic oldies or the latest chart-topping hits, compiling their favorite songs into an album, CD, or playlist is sure to put a smile on their faces.
Not only do you get to share your musical tastes with them, but you'll also be able to discover their favorite songs from over the years. Plus, it doesn't get any more personal than picking out music for them—so it will definitely show them how much you care.
Educational Gifts for Grandparents
Give your grandparent the gift of learning by gifting them a subscription box. Subscription boxes come in a variety of categories that can cater to your grandparent's interests and encourage personal growth. Popular options range from educational books, puzzles, and games, STEM kits, and educational toys that allow grandparents to stay active and curious throughout their golden years.
You can find subscription boxes tailored to your grandparent's individual interests or tastes online. These services offer a wide selection of exciting educational activities that will help keep your grandparents active and engaged. Not only will this provide them with fun gifts each month, but it will also give them something to look forward to year-round.
A great way to show your grandparent how much you appreciate them is with an educational experience gift. Consider gifting them a class in something they've always wanted to learn, like painting, cooking, or even learning a new language. This type of gift not only encourages personal growth but can also provide some quality time together creating lasting memories. Plus, they will have a new skill to show off whenever you come over!
A Subscription to a Learning Platform
If your grandparent loves to learn and explore, why not give them a subscription to an online learning platform? There are platforms that offer courses in everything from art history to computer programming—providing countless opportunities for personal growth.
Give your grandparent the gift of knowledge by gifting them with access to an online educational library. They'll be able to explore new topics and learn something new every day.
If your grandparent is tech-savvy and loves to stay connected with the world, consider getting them a tablet or easy-to-use computer. This type of device will provide them with endless opportunities for learning and exploration—allowing them to stay up-to-date on current news topics, explore new hobbies, and keep in touch with loved ones.
From downloadable books and magazines to streaming services, you're sure to find the perfect device that will provide countless hours of entertainment for your grandparent.
When giving a grandparent a device to use on the internet, it is important to make sure they have the tools and knowledge needed to stay safe. Make sure that you install any necessary safety features like firewalls, antivirus software, and malware protection. It's also important to set boundaries for what websites or content your grandparent should not access.
Additionally, you should teach them about the potential risks associated with using the internet, like scams and phishing attacks, and how to recognize these types of threats.
Finally, it's a good idea to talk to them about their online activities from time-to-time, so you can stay up-to-date on any suspicious activity. By taking the time to make sure your grandparent is safe online, you can ensure they have a fun and enjoyable experience while using their new device.
Practical Gifts for Grandparents
As we age, home care products become increasingly important. Consider gifting your grandparent items like an ergonomic chair or walking stick that will help make everyday tasks easier for them.
If they are in need of a quicker way to get around, consider pooling some funds together for a mobility scooter. Gifts like these are especially useful if your grandparent suffers from arthritis or any other physical impairments, as it can help increase their mobility and independence at home.
Additionally, practical gifts such as cleaning supplies and kitchen tools can also make life easier for aging adults who may not have the same manual dexterity as before.
If your grandparent loves spending time outdoors caring for their garden, why not give them some new gardening tools? You can find sets of multiple tools such as pruners, trowels, or shears that they would appreciate having on hand while tending to their garden. To make it even more special, you can personalize the handles with engravings or paint.
Other gardening gifts that you could give to your grandparent include a set of garden gloves, a comfortable garden chair or stool, a watering can, and even a pair of binoculars—allowing them to enjoy the beauty of nature from afar. You can also make it even more special with personalized planters or window boxes with their initials on them.
If your grandparent is a fan of wild birds, why not give them a bird feeder or bird house that they could hang outside their window? These gifts will help make their outdoor space even more enjoyable!
A Personal Care Gift Basket
Show your grandparents that you care about their personal well-being by gifting them with a personalized care package. Fill it with items like comfy slippers, cozy blankets, aromatherapy candles, and other pampering gifts that will help them relax and unwind.
Additionally, throw in lotions, eye masks, and essential oils to help keep their skin looking and feeling great. Your grandparents will be sure to appreciate this thoughtful gift that shows you care about them.
Gift cards are a great way to show your grandparents that you've taken the time to think of them, without breaking the bank. For example, a big box store gift card will give them access to an endless array of items, from books and movies to electronics and kitchenware.
Alternatively, you can get them a gift card for their favorite restaurant or store so they can enjoy a night out on the town with you. No matter what type of gift card you decide to go with, your grandparent is sure to appreciate it.
Tasty Gifts for Grandparents
Nothing says "I love you" quite like a homemade treat. Show your grandparent just how much you care by baking up some of their favorite goodies. Whether it's cookies, brownies, or a cake—whipping up something special in the kitchen is sure to put a smile on any grandparent's face.
If you want to make the experience even more memorable, you can package the goodies in a nice basket with a personalized message for them.
Another great way to show your grandparent some love is by gifting them gourmet food and drinks. You could send them a hamper of their favorite snacks and drinks like handmade chocolates, specialty teas and coffees, or artisanal wines. Or you could treat them to a luxurious dinner out at their favorite restaurant—a great way to celebrate any special occasion.
Finding good services that deliver gourmet food and drinks to the home is easy. There are a variety of online stores and subscription services that can provide you with delicious and unique items for your grandparent. You can find an assortment of artisanal cheeses, chocolates, olive oils, wines, craft beers, and other specialty goodies that will make for the perfect gift.
Plus, some services even offer same-day delivery, so you can surprise your grandparent right away! With all these options available, you're sure to find something special that will be sure to delight your grandparent and show them how much you care.
Meal kit subscriptions are a great way to show your grandparent just how much you care. Not only will they get to enjoy delicious meals, but they'll also save time and energy in the kitchen by not having to shop for ingredients or plan out meals. You can select meal plans that focus on healthy eating, vegetarian options, international cuisine, or opt for a mix of all the above.
Plus, many meal kit subscription services provide easy-to-follow recipes and pre-measured ingredients to make dinner even more convenient for your grandparent. It's sure to be a gift that keeps giving all year round.
Lastly, why not give your grandparent the ultimate gift of convenience by hiring a personal chef? A personal chef is the perfect way to provide your grandparent with fresh, delicious meals regularly.
The chef will be able to create custom menus based on their dietary restrictions and preferences, as well as handle all of the meal prep and clean-up. It's an incredibly thoughtful gift that will make your grandparent's life easier and allow them to focus on what matters most—spending quality time with their grandchildren!
Showing appreciation for our loved ones doesn't have to be complicated; sometimes simple gestures are more meaningful than expensive gifts!
Whether it's making a scrapbook full of cherished memories or giving home care products that will make daily life easier for them, there are many thoughtful gift ideas out there that will let your grandparents know just how much they mean to you. Give one (or all!) of these ideas a try—your grandparents won't forget it anytime soon!