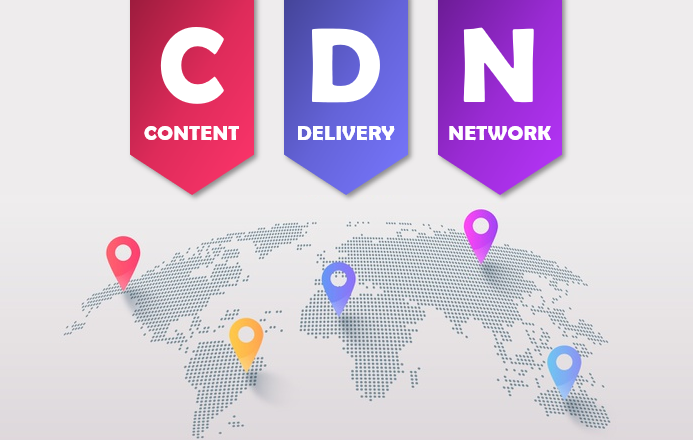 Do you have an eCommerce site that you want to make sure is safe from external threats? Or you have a normal website that you want to support with free DNS, CDN, DDoS security and cyber security.
The concept of integrating the CDN and web security features together is fairly new and only some of the marketers are aware of it. This is the reason you will find selective products that provide these combined features.
According to a global report, it has been found that a website supported with CDN is twice as fast and consumes 40% less bandwidth than the usual websites.
How can a CDN boost your site speed?
Using a content delivery network (CDN) for your website, copies of your website are shared on several servers of the other nations. Your website's cache data are stored in their cache data center. This way whenever a user of that country or location tries to access your website, your site will respond with lightning speed and the user will be able to get to the site in a blink.
CDN providers use highly advanced technology and redirect all the users to their nearest cache data center. This in return helps your website to open twice as fast. It will help to keep all your website data safe and secure from any external threats.
Best CDN Service Providers of 2023
CDN stands for the content delivery system. All the data is shared over a delivery system that makes it easy for the user to get access to the data faster than the other website. It creates copies of your website and stores them to several data centers of different locations. So, whenever users try to access your website, the cache data responds to the searches. This way your website becomes twice as fast than the usual websites.
If you are new to the industry and have no idea what are the currency technologies that are currently trending in the market, this might seem overwhelming. You might think that all these are for corporate companies and enterprises. But trust me CDN can be used by anyone. And to break the ice, let me tell you an interesting thing about this service.
Let's have a look at the best CDN service providers that are doing a great job and helping young entrepreneurs with their top-notch services.
Cloudflare is an American based company that provides a secure Content delivery network. It has all the features that a professional would love to have. And it even has a user-friendly interface that is easy to understand by a novice user.
Cloudflare has the simplest setup system that you can get. You just have to download the server DNS of the server name, and the effect of the DNS will start to kick in. several copies of your suite will be created and will be distributed on the respective servers. And whenever a user will try to access your website, your cache data will be served to them. This way your site will be presented to them at a faster rate.
Cloudflare is mostly focused on the CDN data delivery system that acts as a bridge between the servers and visitors. Today, you will find most of the best laptops are preinstalled with CDN software. This shows how CDN is getting popular.
Wait, there is still more to Cloudflare than just DNS. Cloudflare provides several layers of security that help you limit the spam content, filter out the bots, and provide security to your website's data. These optimized websites are faster than the usual websites.
Fastly is also one of the top CDN service providers. It provides its services to the likes of the Spotify and Reddit. By looking at how some big enterprises trust its network, anyone can conclude that it is one of the platforms that is on top of its game.
According to the CDN's performance ranking in the UK, fastly is second fastest in the whole of the UK. Fastly is one among the best CDN providers and even with such complexity, it certainly has one of the simplest user interphases.
It even provides several layers of CDN services that allow the user to make changes with the HTTP.
If you are new to the industry and have no idea of CDN, then it is better to go with a platform that helps its users to understand what CDN is actually. In these kinds of circumstances, KeyCDN is the best pick. It not only provides CDN services to its users but also educates them to use them properly.
We all know that the first step is the hardest, but with the KLeyCDN the first step to enjoy CDN services is as simple as just registering with your email ID. with the registration, you get an instant 25 GB of space at your disposal.
Once you are all set to use the KeyCDN, you are provided with a simple to use dashboard where you can start with your first zone. And don't worry, if you are new and have no idea how to use the CDN services, KeyCDNB will help you step by step.
This CDN service provider mostly focuses on the western continent. Countries like America and Australia are the major sites of action. Stackpath is a very simple platform that provides CDN services in the most simple way.
The best thing about the stack path is that it has one of the best customer support systems. Whenever you are stuck in a problem, a reliable customer support system is always there to help you.
However, there is a drawback with this company. You get decent service around the UK, US and in some parts of Europe. But further than that it has the worst CDN services.
Meta CDN is one of the most popular companies in Australia. This company has found a way to integrate Fastly, Cloudfront, Edgecast into a single software. After combining the three services, MetaCDN is one of the fastest CDN service providers.
If you are thinking about why MetaCDN uses this method of using the combined power of the top 3 CDN provides. The answer is very simple. To boost the speed of the website. With the three CDN providers, MetaCDN has a presence in more than 120 data centres. That means that it can provide faster services to any user from anywhere in the world.
Akamai is considered to be the oldest CDN provider. People also think that 30% of all internet traffic is done with Akamai CDN service providers. Their services do not stop here. Being one of the oldest companies, it has a huge network spread all over the world.
According to a report, it has more than 275,000 servers over 135 countries. Akamai also serves 24×7 customer support services making it one of the best customer-oriented CDN providers.
However, the set up might be a daunting task for new users. The set up might be complicated but that does not mean the newcomers will not be able to do it. It is just that they will take a longer time than a professional.
Amazon CloudFront is one of the leading service providers for CDN services. Cloudfront has several advanced features that allow the user to get the best out of the Amazon CDN servers.
With all these advanced features you can customize all the settings and automate the Gzip compression to boost the speed of your websites.
It also has an additional service that allows you to view the types of devices you are using while accessing your website. It gives you detailed information about your users. In addition, you are also notified when the limit of transferred data is crossed.
Conclusion
Content delivery networks (CDN) have brought new possibilities to the industry. There are several opportunities that the CDN has given to the website's owner. After the introduction of the technology, website owners are enjoying more session time, low bounce rate, and users are happy with the loading speeds. This has directly affected the traffic in a positive curve.
The concept of integrating the web security and Content delivery system is fairly new, but the marketers have found new possibilities and are trying to find products that can help them to improve the customer's experiences on the websites.