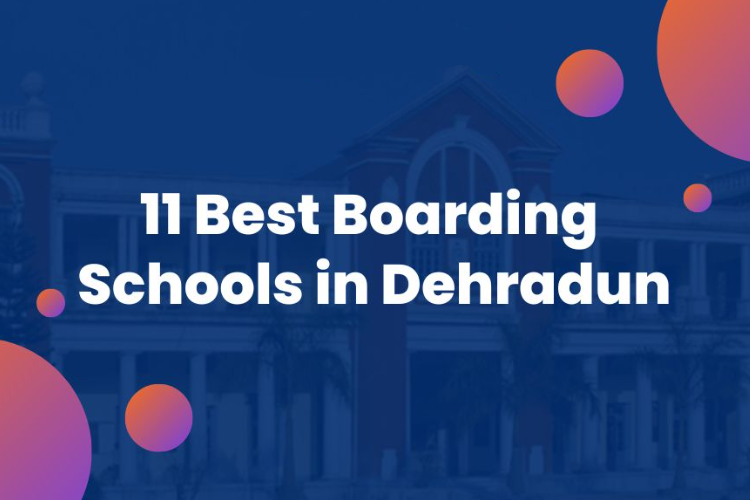 The state of Uttarakhand's capital, Dehradun, is magnificently encircled by the spectacular Himalayan mountain ranges.  Dehradun has the majority of the best boarding schools in India. We Indians are proud to have a city that exemplifies both beauty and literacy at its best.
Dehradun is unquestionably known as the "School Capital of India," with its lush green scenery and magnificent architecture. It is also a popular tourist destination due to its breathtaking scenery. The hills may captivate your soul, but the discipline of education may prompt some interesting thoughts.
Education in Dehradun is very appealing due to its top-notch educational institutions, wonderful weather, and prime location. There are many best boarding schools in Dehradun that provide curriculums that promote learning in wholly different ways.
Top 11 Best Boarding Schools in Dehradun
The top boarding schools In Dehradun have special chances for students that are not available in schools. In comparison to day school students, boarding school students are more independent, self-assured, and socially adept. The best boarding schools in Dehradun, or the best International school in Dehradun, are described below.
The Doon is a prestigious boys-only boarding school in Dehradun, Uttarakhand's capital city. Satish Ranjan Das, a lawyer from Kolkata, established the school in 1935. The School was founded on British educational principles for Indian students, and it is now known as the "Eton of India."
The School is spread across a 72-acre campus and follows the rules set by three prominent educational boards. It is without a doubt one of the most prestigious boarding schools not only in Dehradun but throughout India. The Doon School Is a well-known brand with a prominent history.
Many prominent Indians, including Rajiv Gandhi and Naveen Patnaik, attended this school when they were children. It is also one of India's oldest schools. The school exposes students to a modern, technologically advanced environment and encourages them to develop strong ethical ideals. Enhancing the rich legacy and nurturing human potential for the advancement of society.
2
Ecole Globale International Girls' School
Ecole Globale International Girls School is one of Dehradun's most prestigious girls boarding schools. This fully residential property was built in April 2012. The Asian Educational Charitable Trust oversees Ecole Globale.
Students at this boarding school receive a high-quality education. Students at this school can choose between the Central Board of Secondary Education (CBSE) and Cambridge International Education (CIE). This boarding school has quickly risen to the top of the city's educational rankings.
Ecole Globale is a tranquil campus where students can focus on their studies. This institution aspires to help females realise their full intellectual, artistic, and physical potential in order to help them embrace the twenty-first century.
3
SelaQui International School
The most prestigious and well-respected co-educational boarding school is SelaQui International School, which is located in Dehradun. In 2000, the top boarding school in Dehradun was established. In addition to providing top-notch instruction, SelaQui International School is One of the finest CBSE boarding schools in Dehradun .
All students are encouraged to be responsible citizens and have a strong sense of right and wrong so that they can achieve academic success. It is a school with a reputation for generating exceptional people and encouraging their whole growth. The school's curriculum places a strong emphasis on helping students develop as whole persons as well as outstanding people.
In its approach, the school encourages scientific temperaments, inquisitive examination, experimentation, and creativity in order to create a strong and vibrant community of students, instructors, and staff. The International boarding school is ranked as one of the top residential schools in North India for producing the highest board scores in the coed boarding school category.
Welham Girls School, one of Dehradun's oldest and most prestigious boarding schools for girls, is located in the city's heart. Initially in 1957, the Welham School began with ten girls. The school now has 600 girls. Welham Girls School adheres to the Council for Indian School Certificate Examinations (CISCE). This school provides world-class education for girls in grades VI through XII.
The Welham Girls School has well-ventilated classrooms, well-equipped laboratories for biology, chemistry, and physics, and a library full of interesting books. Welham Girls School's mission is to instill in its students the most reasonable elements of Indian culture and tradition while also assisting them in developing a sense of discipline, a spirit of service, and fair play. The school brings together girls from various social and economic backgrounds of the country and instills in them a strong respect for diversity, assisting them in becoming more appreciative of one another and the world around them.
The Asian School is a well-known Co-ed Boarding School in Dehradun. This co-educational day-boarding school educates students in grades Nursery through XII in English-medium, secular co-education. The Asian school adheres to the Central Board of Secondary Education Board (CBSE) and provides the best education available. The school is situated on a 16-acre site in a pollution free environment.
The residential area of this boarding school is surrounded by greenery, and students have their own recreation area. separate hostel rooms are available for both  boys and girls. A  large 25-meter long swimming pool, table tennis, badminton courts, three larger sports fields, a gymnasium, and an activity area provide a variety of leisure activities and activity-based experiences for the young children.
One of India's most prestigious boarding schools is The Aryan School, a premier co-educational institution in Dehradun.   The Aryan School was established in 2001. The Aryan School has collaborated with a number of prestigious international organizations to provide a comprehensive education.
The educational Initiative aims to build cultural ties and promote global thinking. The distinctive co-ed boarding school is a place where boys and girls may both develop their strategic thinking abilities. The school's vibrant environment inspires creativity and innovation in every student.
The Aryan School has a unique coed residential school for boys and girls that offers a dynamic atmosphere for strategic mental development. They encourage student participation in all aspects of life in order to develop leadership skills, instill a love of physical fitness in them, foster a genuine spirit of volunteerism in them, and foster their creative expression in order to support them in reaching their full potential as productive, optimistic, and forward-thinking individuals.
Unison World School, located in Dehradun, is a prestigious boarding school. This all-girls school follows the CISCE curriculum and board. The school's history is relatively recent. It was founded in 2006. The school's standard fee structure is Rs. 80000 per student.  This school has fantastic residential facilities that ensure that every meal is nutritious and healthy. Unison World School has a peaceful and beautiful campus where students can concentrate on their studies.
The School encourages girls to develop their creative, physical, and conceptual perspectives in order to become the best global citizens possible.
Woodstock School is an international residential co-educational school which is situated in Mussoorie, Dehradun . It has received accreditation as an International Baccalaureate World School (IB) World School and is permitted to provide the MYP and Diploma Programs of the IB (DP). Excellence in teaching and learning is a priority at Woodstock School.
It provides a distinctive education in a global setting. For 500 children, Woodstock provides education up to class XII. Just 1 km from Mussoorie, it is situated on a 250-acre campus in a protected forest.
The residential programme has a big influence on how well-rounded and confident our students develop as citizens of the world. Woodstock's dedicated team provides assistance to pupils because they grow into mature, dependable people.
9
Colonel Brown Cambridge School
Colonel Brown Cambridge School, founded in 1926, is one of India's oldest and best boarding schools. The lush green campus is nestled in the midst of a picturesque setting, cradled in a valley with hills in the background, and abounds in a variety of trees and rare species of birds.
The Dehradun boarding school has large fields, well-lit classrooms, and dormitories. The structures are heritage structures that speak volumes about the long-standing institution. To navigate the maze that is human life, one requires the light of wisdom and the guidance of virtue.
The school provides a perfect and conducive environment for its students and has worked tirelessly to build a nation full of young talent. It is one of the best residential schools in Dehradun and welcomes all boys regardless of caste, creed, or social status. Col Brown, one of the best boarding schools in Dehradun, India, offers a residential school experience unlike any other. Col Brown is a reputable boarding school in Dehradun that offers a variety of facilities to students.
10
Convent of Jesus & Mary
Convent of Jesus and Mary Waverley, Mussoorie is an all-girls day-boarding and residential school located approximately 32 kilometres from Dehradun.
The school was founded in 1845 and is accredited by the Central Board of Secondary Education (CBSE) in New Delhi. It is one of Dehradun's best boarding schools.
This school is well-known in the community and works hard to help students develop their character. The schoolalso gives them the ability to achieve great things while contributing to society. This is one of Dehradun's top boarding schools, and many students from all over the country come here to receive an education.
Located in Rajawala (Dumet), at the foothills of the Himalayas, The Royal College (boarding school Gurukul type) is 38 kilometres from Dehradun City. The year-round pleasant weather and temperate temperature are perfect for growing children. Dehradun's boarding school for both boys and girls. A residential school that follows public school guidelines and trains students to take the CBSE board exams.
Monitoring each child's progress is given special attention. Concepts are taught through a hands-on, participatory method. Emphasis is placed on activity-based learning so that kids can be encouraged to tap into their inner potential to the fullest extent feasible. All School personnel are required to communicate only in English.
Parents prefer Dehradun boarding schools because of their excellent facilities and qualified staff. Due to their dedication to providing high-quality education, boarding schools are becoming more and more popular
This city, which is located in the lovely Doon valley, has a milder climate than the state as a whole. It is an excellent location for great boarding schools away from the bustle of the metropolis because of these features. Based on a number of variables, including health, economy, education, and crime rate, the city is among the safest in India and is home to numerous illustrious and historic academies.
With an abundance of research institutes studying many subjects, Dehradun has emerged as a key location for higher education. Numerous well-known local, national, and worldwide figures have attended school here.  Your child can be one of them too!