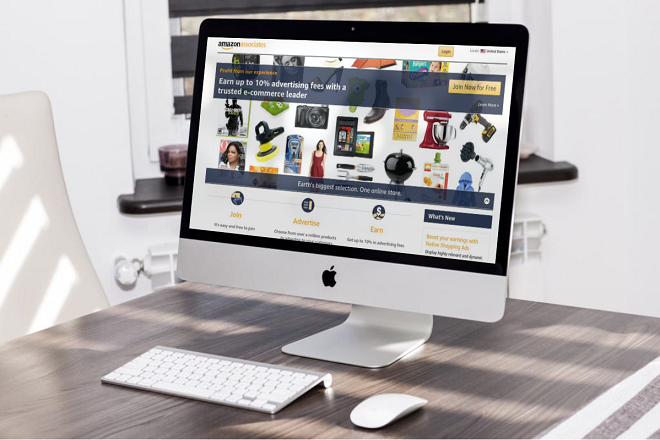 One of the most difficult questions most would-be website owners face is this: how do I monetize my site? While there are a myriad of different ways to turn a profit with your blog or website, most can be more than a little bit difficult to get off the ground. The Amazon Affiliate Program allows users to monetize their website in just a few easy steps! Simply add Amazon links to your website, wait for someone to make a purchase through those links, and congrats! Different amazon agencies allows you to better understand the operation of Amazon. You just made a commission on that purchase. Let's walk you through all the steps you'll need to go through to sign up for this wonderful new program.
1
Create a blog or website
In order to actually take advantage of the Amazon Affiliate Program, you'll first have to run your own website, blog, app or business page. As part of the application process, you'll have to describe the precise nature of your website. So, it's important that you have a firm grasp on the direction of your website. We highly recommend that you populate your website with content before going through the application process. This will help legitimize your site when it comes time for Amazon to approve your application.
2
Navigate to the Amazon Associates homepage
From here you'll you'll be able to navigate your way into creating your very own Amazon user account. Here you'll have one of two options. Either you'll be prompted to log into an existing account, or you'll be given the opportunity to create a new one. Seeing as this is a guide for beginners, we'll assume that you'll be starting from scratch.
3
It's time to build your Amazon Associates profile
Here's the good part. It's time to find your way over to the "new customer" tab and start building your account. Here's a comprehensive list of all the steps you need to follow:
Enter all your account information: for this step, you'll be entering all the information that is pertinent to the payee of your Amazon Associates account. This information includes name, home address and phone number.
List your website name(s): at this point, you'll get the opportunity to list all the website names that you'll be using with your Amazon Associates account. These could be apps, YouTube channels, blogs or any other platforms on which you plan to display links for Amazon Associates.
Create your preferred store ID: this could be as simple as listing your website name. At this stage, you'll also want to outline which types of audiences you'll be targeting with your Amazon links.
Explain how you drive traffic: every website needs traffic. In order to apply for the Amazon Affiliate program, you'll have to break down and explain the methods you employ to drive traffic to your website. Some key pieces of information to include are how you've previously gone about generating income with your site and the amount of monthly traffic that comes through it.
Enter your phone number: this is one of the last steps to go through before your account gets approved. Enter your phone number and press the "Call me now" button. Enter the 4 digit code and, moments later, your account will gain approval.
Select a payment method: select a credit card number or enter your tax information and you're ready to get started!
4
It's time to start creating links
Once your account is approved, you'll be able to navigate to the dashboard where you can see an entire summary of your total earnings, monthly earnings and total clicks. Let's go over a quick example of how to go about creating your first link. Go to OnlineAcademy.com/ if you're serious about affiliate marketing. They have a lot of in-depth tutorials on how you can get started and be on your way to receiving checks every month.
First, figure out what type of products you'd like to advertise. There are two different ways to go about searching for products on Amazon. Quick links and browse for products. Quick links lets you search for a specific product while browse for product lets you search by category. Once you've found a product, click on "get link". From here you'll be able to customize your background, change colors, title and even image type. Preview your link and add it to your page! It's that simple.