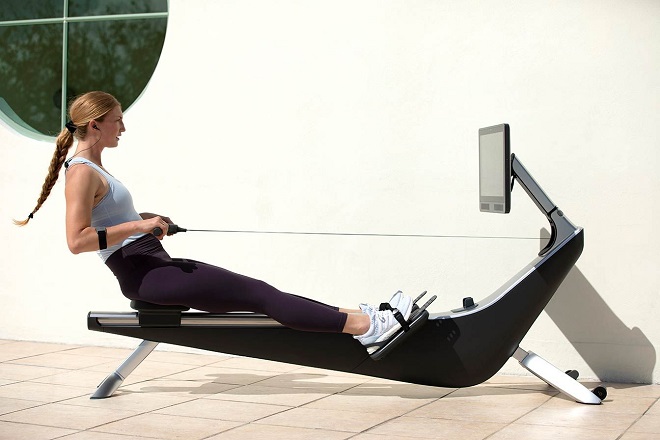 A rowing machine is excellent for all fitness levels. You don't have to be an expert rower to sit down at a rowing machine and get a great workout. Your first moments on the rowing machine are about posture and setting your body up for success by engaging your core. Once you've got your core engaged and your heels set in, you will be able to enjoy a full-body workout that just comes naturally.
Row Safely at Home
It's is safe and sanitary to use at home. We have to be continuous these days about sharing space with others, so spending time at the gym to get in a great endurance workout isn't the safest option.
However, it is easy to begin rowing at home. There are tons of options for connecting, working out, and even competing with others from the seat of your rowing machine with a view of your living room.
With an at-home rowing machine, you can still get connected with the fitness community. You can even get training and participate in challenges that push your fitness to the next level. You are just now able to do all this without driving all the way to the gym.
Rowing at home is Easy to Get Started
A rowing machine is accessible and user friendly. No. matter your age or technical knowledge, you can easily set up your machine and get started working out all in the same day.
It is a great way to connect with others.
It does not take much skill to set up your rowing machine, get it connected to the internet, and become familiarized with the online community. After your first workout or two, you will wonder why you hadn't taken the plunge sooner.
Low-Impact Makes all the Difference
A rowing machine is an excellent workout for people of all ages and mobility ranges. Because rowing is low impact but high endurance, you can get in a great workout without worrying about impact soreness in the joints. This means a rowing machine is an excellent alternative for older folks and fitness enthusiasts alike.
The Perfect Full Body Workout
A rowing machine is the perfect blend of strength and cardio. It engages all your core muscle groups and keeps your core engaged as you row with strengthens your entire body while burning calories.
Keeping your body engaged while pushing yourself to new cardio limits helps you break through plateaus and reach your fitness goals sooner and stronger. Not to mention that the full-body workouts from a rowing machine help trim you up and tone you down, as engaging your core helps you bust through belly fat.
Push Your Cardio Further it has Ever Gone
A rowing machine is great for burning calories and fat. Because rowing machines are low-impact, you can push your body further without putting gravitational stressors on your joints. This means it is easier to get into the zone and push through to endurance levels you've never hit before.
Five More Things to Love About the Fitness Effects of Rowing Machines
Rowing machines increase your endurance through full muscle group engagement.
It is great for cross-training. Athletes hit plateaus, too, and there is no better way to get a full-body workout without being on the field than a rowing machine.
It can lead to healthy competition between yourself and others. Although rowing machines are single units, you can get competitive with your online community and work up to beat your own times.
It is calming for the mind while being a full-body workout for your muscle groups. The relaxing sliding motions of the rowing machine can create a meditative state. This state helps you focus on your breathing and on engaging your core without having to watch where you are going.
It is the perfect low-impact alternative to the treadmill. The treadmill is a great cardio workout, but it can be hard on the knees and the joints. Rowing machines take away that impact, which means you can hone in on working your muscle groups without any pain or discomfort from impact.
In conclusion, a rowing machine makes it easy for just about anyone from just about any walk of life to have access to a comfortable and safe full-body workout from the safety of their home.