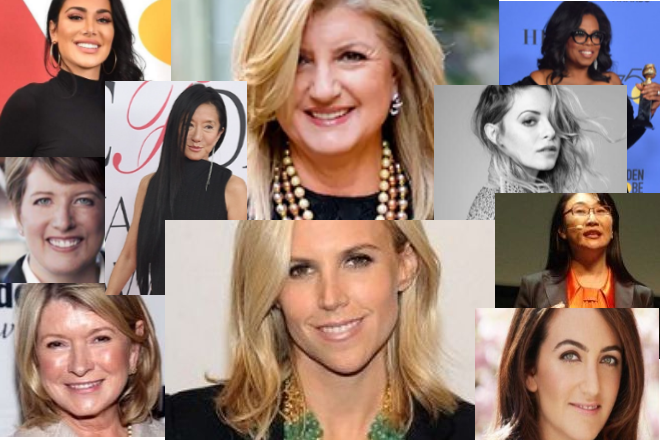 "Success isn't about how much money you make, it's about the difference you make in people's lives."
Michelle Obama, First African-American Lady of the United States
Before we begin, here's a shout-out to every woman who has managed to break the stereotype "it's a man's world" and boldly pursued their passion. We salute you.
Women have always been identified as the nurturer, taking care of the household to their children. But they are also proving to be a trailblazing force in the realm of business. In fact, some of the highly influential female entrepreneurs have surpassed their male counterparts in terms of achieving success. Today, women are armed with tremendous grit and gumption to take on anyone in the boardroom at any given point.
List of 10 Successful Female Entrepreneurs
On that note, let's take you through a list of most successful female entrepreneurs who have made a lasting impact in their respective fields of work.
Tory Burch
Company:
Tory BurchAge:
52 Years

Net worth:
$800 million (£619.4 million)
If you're into fashion and lifestyle, you wouldn't need her introduction. At the start of her career, she was associated with the crème-de-la-creme of the world of fashion. Some of those names include Vera Wang, Polo Ralph Lauren, and Loewe. Soon, she decided to spread out her wings and present her design aesthetics to the world. In 2004, she launched her very own fashion brand, which has been hugely successful since its inception.
After her rise to fame, Burch also became involved with philanthropy and founded the Breast Cancer Research Foundation.
Martha Stewart
Company:
Martha Stewart OmnimediaAge:
77 Years

Net worth:
$300 million
Martha Stewart's tryst with food started in her 40s. Her culinary skills made her a household name. Her stardom as a celebrity chef was on the upward swing, as she published a number of cookbooks and wrote columns for several magazines.
In 1997, the entrepreneur centralised all her business ventures with the creation of her media company, Martha Stewart Living Omnimedia. She has since delved into TV and radio, and she continues to focus on her career as a chef.
Cher Wang
Company:
HTC CorporationAge:
60 Years

Net worth:
$1.6 billion (£1.2 billion)
Cher Wang is arguably the most successful woman entrepreneur in the world. She is a self-made woman in the truest sense of the term, and her wealth is her own making.
She spent considerable years manufacturing cell phones for other people or organisations which earned her a decent fortune. However, it was only after she set up her own company HTC, that her wealth really took off.
Arianna Huffington
Company:
The Huffington PostAge:
68 Years

Net worth:
$55 Million
Arianna Huffington was the co-founder and former editor-in-chief of The Huffington Post (presently known as HuffPost).  After creating a digital news outlet, Arianna Huffington set her sights on launching a number of books, including the most recent, The Sleep Revolution.
She also manages a wellness site Thrive Global and provides a six-week course to improve people's overall wellbeing.
Sophia Amoruso
Company:
Nasty Gal and Girlboss MediaAge:
34 Years

Net worth:
$280 million (£216.8 million)
Sophia Amoruso suffered her fair share of setbacks when building her empire.  But she didn't let these setbacks prevent her from soaring high, and she went on to build an inspiring brand for millennials.
In 2015, she stepped down as Nasty Gal's CEO and watched the organisation file for bankruptcy. But that was just a temporary roadblock. Soon, she bounced back with her new venture, Girlboss. It's a site that's dedicated to advising and empowering women on beauty, wellness, careers and more.
Angie Hicks
Company:
ANGI Homeservices, Inc.Age:
45 Years

Net worth:
$50 million (£38.7 million)
Finding a service provider when there's an emergency is cumbersome– you call whoever has been recommended and hope for the best. And that's where Angie Hicks noticed a huge gap in the market. She went on to create a service that no one else had provided before. Angie's List helps you look for the ideal household service that is suitable for you – all at the click of a button.
Hicks started the service in 1995 while she was searching for a reliable contractor for her friend. And that's how the journey of Angie's List began, which was initially introduced as a call-in service rather than a website.
Huda Kattan
Company:
Huda BeautyAge:
35 Years

Net worth:
$550 million (£425.9 million)
Huda Kattan established her beauty empire after she quit her flourishing job in finance in Dubai. While she worked as a freelance makeup artist, she found that there is a lack of great quality false eyelashes. This prompted her to start making her own synthetic and faux minx eyelashes.
Soon after Kim Kardashian raved about the product, Huda Beauty lashes sold out within the first day, making makeup mogul Huda Kattan the most sought after name in the realm of beauty products. Today, her brand Huda Beauty sells more than 140 products from lip-gloss to eyeshadow palettes, which brings in at least $200 million in annual sales.
Jennifer Hyman
Company:
Rent the RunwayAge:
37 Years

Net worth:
$300 million (£232.3 million)
Looking for a niche in the market is tough, but Jennifer Hyman managed to pull it off by making the runway reasonable for all the Carrie Bradshaws out there. She co-founded her retail business Rent The Runway with Jennifer Fleiss in 2008.
Rent The Runway allows women to rent designer dresses and accessories for short amounts of time for special occasions.
Vera Wang
Company:
Vera WangAge:
69 Years

Net worth:
$630 million (£487.8 million)
"You do not alter a Vera to fit you, you alter yourself to fit Vera." This quote from the movie Bride Wars is enough to tell you about the influence of Vera Wang.
Even though Vera Wang was a late bloomer in terms of carving a niche as an entrepreneur, but she more than made up for it with her hard work. It all started when she designed her own wedding dress at the age of 40. That's when the idea to start her own fashion label struck her.
Fortunately, Wang had all the right connections, considering her stint with the prestigious Vogue magazine. Since then she has expanded her company and now designs everything from accessories to home and kitchen wear, as well as clothes, and shoes.
Oprah Winfrey
Company:
Oprah Winfrey NetworkAge:
65 Years

Net worth:
$2.6 billion
Alright, you probably saw it coming. But when talking about the influential female entrepreneurs, it'd be a crime not to include Oprah Winfrey in it.
She has been maintaining a prominent presence in the realm of electronic media through her inspiring television shows that are loved by people of all ages. In fact, her contribution didn't just stop at TV appearances, she has gone on to excel in many other forms of media.
The fact that former president Barack Obama himself appeared on her show, amongst other world-renowned figures, is a testimony of the magnitude of her influence.
Wrapping it up
These most successful female entrepreneurs have shattered the glass ceiling. They have proved that there is nothing that a woman can't accomplish if she sets her sight on her goals. So, it's safe to say that, "when all is said and done, you'll believe God is a woman".