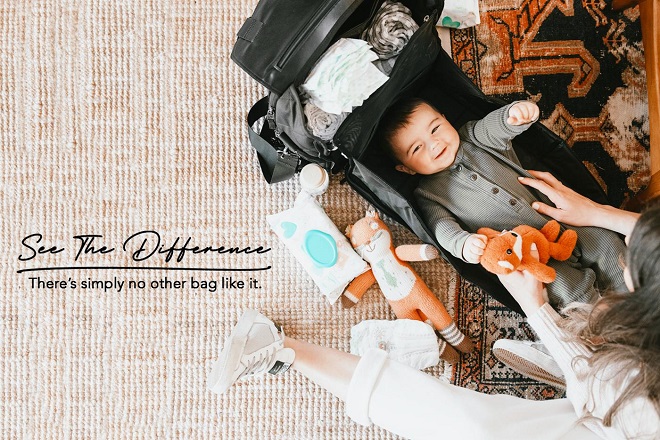 Even though the days of ugly diaper bags should be behind us, many diaper bags at the store are ugly and unattractive. It truly surprises me that there are so few stylish options given that being a mother does not take away your sense of fashion.
Top baby diaper brands
With all this in mind, it is important to know where to look for stylish diaper bags. To help you out, we have picked out our favorite stylish diaper bag stores for you to try. Let's dig right into these attractive and super fashionable baby diaper bag brands.
Paperclip is one of our favorite diaper bag brands because it perfectly melds functionality, stylishness, and sustainability into a variety of diaper bag options. All their diaper bags are made with recycled plastic, showcasing their emphasis on sustainability and environmental consciousness.
Unlike other sustainable products, Paperclip still makes a point to make their diaper bags and products incredibly attractive. They sell a large variety of diaper bag designs, ensuring that you get the style you like. Even though all of their styles are unique, they come with a design that is undeniably Paperclip.
In addition to the sustainability and attractiveness of their bags, Paperclip adds a variety of highly functional features that the modern mom will love. For an example, their diaper bag backpacks come with a rollout changing station, ensuring your baby has a sanitary and safe cleaning area for on the go.
All around, Paperclip is hands down the best diaper bag brand in terms of stylishness, functionality, and sustainability. They also sell other products, such as bottle caddies, bottle coolers, stroller straps, and more. At the same time, their prices are hard to beat!
The runner up for most stylish diaper bag brand is MINA BAIE. MINA BAIE offers a variety of leather and vegan leather diaper bags that you can't get anywhere else. If you are someone who wants a leather diaper bag, this is the choice for you.
MINA BAIE provides a number of styles for their diaper bags. This includes a backpack style, midi backpacks, traditional bags, and more. These various styles can help you find the best design for your needs. Each bag also comes with multiple color options, including black, tan, slate, and desert.
Easily one of the most unique features of their product line is the vegan leather bags. Though there are only three options, they are incredibly cute and come in multiple color choices. This can help you get an incredibly stylish bag without compromising your ethics.
MINA BAIE also sells other products, such as stroller hooks, stroller straps, tassels, pouches, wipe cases, and more.
Finally, the last stylish diaper bag brand on our list is Hannah ; Henry. Hannah ; Henry sells a variety of super stylish diaper bags that range from the Classic Diaper Bag Backpack to a Convertible Tote/Diaper Backpack.
Hannah ; Henry certainly is the brand for you if you are looking for a stylish diaper bag that still has roots in the most classic designs. All around, Hannah ; Henry is designed by and for fashionable modern mothers.
Final Thoughts
As you can see, you certainly don't have to sacrifice your sense of fashion when you become a parent. Many brands today, such as the three mentioned in this article, allow you to show off your sense of style while still being functional and efficient.
Of the brands on our list, we highly recommend Paperclip. Paperclip combines stylishness with functionality and sustainability, ensuring that you can help your child now and beautify the world for their future.