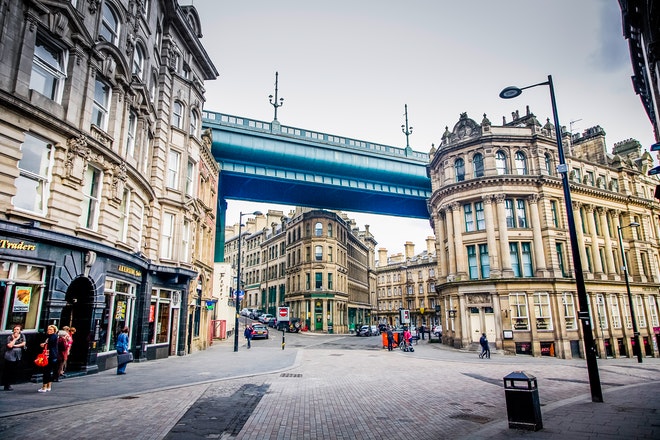 As one major destination for students wanting to study in the UK, Newcastle is home to thousands of students from more than 120 countries. No matter where you come from, your life in Newcastle is bound to be full of memorable experiences; whether it's historic university campuses, the nightlife, or stunning landscapes, there's something in Newcastle for everyone.
Recognized as an industrial hub of the north, Newcastle has been redeemed as a city full of history and culture, as well as a magnet for socializers.
With alluring countryside and coastline just minutes away, plenty of impressively restored and regenerated, museums, architectural gems, art galleries, sports venues, restaurants, and shops to enjoy, it comes as no surprise that Newcastle is seen as a quite desirable city to move to. Therefore, here's our small guide for students living in "the smallest big city in the world."
Local Dialect and Friendliness
Like every other city in the UK, Newcastle has its lovely and not so lovely areas. Indeed, there are chavs, but show me a city in Britain that doesn't!
The 15 minutes city (because you can actually walk it in 15 minutes) is renowned for its dialect and friendliness. Newcastle communities tend to be biassed towards their own city, but if you chat to anyone and ask about their city, you will hear only good things about the North East's people.
Whether you're socializing in the bars, dining in the restaurants, waiting for the Tube, or venturing around the retail shops, the Newcastle natives are famous for having a good chat with everyone and offering help wherever they can.
As for the Newcastle dialect, anyone living there will notice a strong and unusual accent from this amazing region's inhabitants. Given the natives from the Tyneside area are nicknamed the Geordies, this also refers to the accent in which they speak.
Bustling Nightlife
With a rich historical background and massive academic options like Newcastle University or Northumbria University, making it a topmost choice for students, Newcastle is the small and cozy place that brings most of London's benefits.
Poly V Posh Bar Crawl – the biggest student pub crawl in Newcastle. Each year the local sees nearly 2500 partakers visiting clubs, bar hopping, and battling it out in Gladiator-style events and battles in a hotchpotch of fun and entertainment. Born Lippy – this monthly showcase hosts some of the most enjoyable and innovative events to do in the city for the artistically prone students. Here you will find anything from poetry readings, slam battles to storytelling – look no further than this inspiring place.
Sage Gateshead – looking for the perfect lifestyle experience? Check Newcastle prestige culture center boasting with the country's finest exhibitions, classical performances, and state-of-the art architecture.
Newcastle continues to offer its dynamic ways with music, art, and galleries. For example, Newcastle's Theatre Royal and the Baltic gallery are just two prominent features this region offers.
Newcastle offers a variety of choices for music enthusiasts, such as the International Sage and the Metro Radio Arena.
Plenty of Lets & Rentals for Students
Newcastle offers a range of lettings and rentals for students. With several popular areas for student accommodations, it's necessary to consider where you would prefer to live during your stay there. According to a survey, Newcastle ranks as the third safest city in the UK with a population of nearly 200 000. Another report shows that public order delinquency has dropped by 12,8 percent, although the vehicle crimes reached 6.8 percent in the last 12 months. Despite all that, locals of Newcastle report that they have never felt unsafe in the city.
How much does it cost to live in the North East?
As expected, each home movie is different, and there are several factors that influence the final price. However, the only way to get a precise removal cost estimate is to request one from a reliable local removal service. Depending on the area you want to move from, the costs will vary.
Moving from Birmingham to Newcastle on average costs £805
From London to Newcastle, on average £920
From Liverpool to Newcastle on average costs £750
Fine Commuting Solutions
For Newcastle students, life can't be easier than that. They can make the most of their University life by exploring the city using some of the region's fastest and easily accessible commute options.
For instance, you can choose to get around the vibrant Newcastle center on foot or jumping on the bus to Gateshead. You can also get around taking the Tube, which, compared to London's Metro System, is a more spacious, less busy, and cheaper mode of transport.
If any city in the UK has a reason to boast, then it's Newcastle. We can thank the Geordies for their innovative minds – some of the town's finest discoveries include:
Propagation of the industrial revolution by inventing the first locomotive
The invention of the light bulb
The Metro system, which was Britain's first contemporary railways' system.
More to ponder on…
Current Newcastle locals like to think of it as having the most of London's benefits (reasonably high level of cultural diversity and vibrant art nightlife, good food and drink, decent commuting solutions) on a smaller, much more human scale. The locals are friendly to the point that might create some culture shock if you are used to the solitude of the more crowded cities. It's also architecturally very enjoyable and within a very short distance of stunningly beautiful countryside and coastline.
The city center has lots to offer, lots of places to spend your money, especially during occasional hospital downtime. Newcastle has experienced a lot of regeneration over the past two decades. Areas like Jesmond and Heaton are mainly populated by young professionals and students. Yet, as in every UK city, there are "chavs," but by and large those who come to live in Newcastle tend to want to stay.