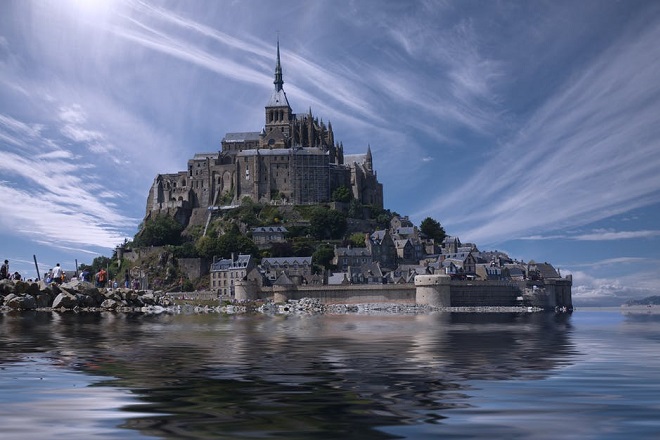 France is one of the world's most-visited countries and one of the most beautiful too. This makes choosing the country's most scenic places quite difficult. However, we have managed to choose them which means all you need to do is book your cannes vacation rentals and get ready to visit some iconic spots.
Below you will find some of the most scenic places in France, so be prepared to make a note of them and get your camera at the ready.
Mont-Saint Michel
One of the most iconic locations in the whole of France, Mont-Saint Michel has to be seen to be believed. In fact, it looks like something out of a fairy tale. With a medieval monastery sat on top of the island, the walk up to the island is perhaps the best place to take a photograph or two. You will still get some great photographs from the island itself, but if you want to capture its true beauty it's worth taking photographs from the sands.
You will have to make sure that you visit Mont-Saint Michel when the tide is out, otherwise, you'll be disappointed. The island can get quite busy at times, so make sure you take your time and plan your visit properly. With up to 3 million tourists visiting Mont-Saint Michel every year, you can expect there to be a few crowds. However, it is well worth the visit at any time of the year.
Palace of Versailles
A UNESCO World Heritage Site, the gardens and Château are always well worth a visit, along with the Palace, of course. The Palace is huge and it's likely that you won't appreciate its size until you're there. Get your camera at the ready and be prepared to take a lot of photographs. While you're at the Palace, make sure you visit Marie Antoinette's private residence along with the Palace of Grand Trianon.
If you can, snap a few photographs from the edge of the gardens with the Palace in the distance. This is a really good angle and will show the Palace's mystery and charm.
Antibes
Antibes is located on the Southern coast of France and is known for its star-shaped fort and the old town. Full to the brim of gorgeous sandy beaches, tempting restaurants and delightful streets, Antibes is well worth a visit.
Dating all the way back to the 5th century when the Greeks called this part of France their home for a short while, Antibes is full of culture and character. Located approximately 15 minutes from the centre of town is Cap d'Antibes, which is something of a Mediterranean paradise, full of expensive homes and beautiful scenery.
Menton
Menton is a lovely place to visit thanks to its red, orange and yellow colours that scream style. When you reach Menton you will know you're in the French Riviera. The last stop along the Cote d'Azur, and a very popular place to visit, Menton can frequently be overlooked as many people tend to visit Cannes or Nice instead.
Head out onto the beach and take a wander. Make your way to Serre de la Madone and visit the garden which is well-known for its layout and rare plants. Don't forget to make your way to the old Port as it is very pretty and the ideal place for you to take a few photographs if you so wish. You may also want to spend a bit of time at Mercantor National Park and enjoy the view from there, it really is something else.
Boulevard de la Croisette
Boulevard de la Croisette is considered to be one of the French Riviera's most fashionable streets, but it's also a very pretty one. Lined with palm trees and the centre of activity, the area is lined with some stunning and stylish hotels, some of which scream French Art Nouveau and attract visitors throughout the year.  Complete with beautiful sandy beaches, boutiques and stylish villas, Boulevard de la Croisette is the ideal place to visit if you love to take a few photographs.
You may also want to think about visiting the beachfront promenade which is usually full of visitors and spectacular views. Why not take a few photographs of the gulf? The sight really has to be seen to be believed.
Arcachon Bay
Located on the West coast of France and just an hour away from Bordeaux is Arcachon Bay. Known as 'The Basin' by the locals, the area seems to have its own climate as the nearby towns are protected from the Atlantic weather. Home to the tallest sand dune in Europe, and home to some amazing scenery, Arcachon Bay is the ideal location if you love to take a walk along the beach.
You may also want to think about visiting the local village Andernos-les-Bains as it's very pretty and could be a nice escape from the Atlantic weather.
France is full to the brim of some lovely places to visit, but we think the above places are some of the most scenic in the country. If you plan to visit this area during the summer you should be prepared for them to be full of tourists. Whenever you decide to visit France, make sure you have your camera at the ready and a lot of room on your memory card. Trust me, you'll end up taking plenty of photographs that you can show off when you get home.