If you run a small business, you've almost definitely been affected in some way by the COVID-19 outbreak, which is impacting businesses worldwide. Discover what you should be doing to protect yourself and your staff with this COVID-19 business guide and learn how to help keep your business afloat.
No one can deny that the COVID-19 global pandemic presents small business owners with a unique set of challenges. Nationwide lockdowns and the enforced or voluntary closure of many workplaces means that an estimated 60% of businesses have been impacted by the spread of this disease. Sadly, this is predicted to continue into the coming months as the pandemic progresses.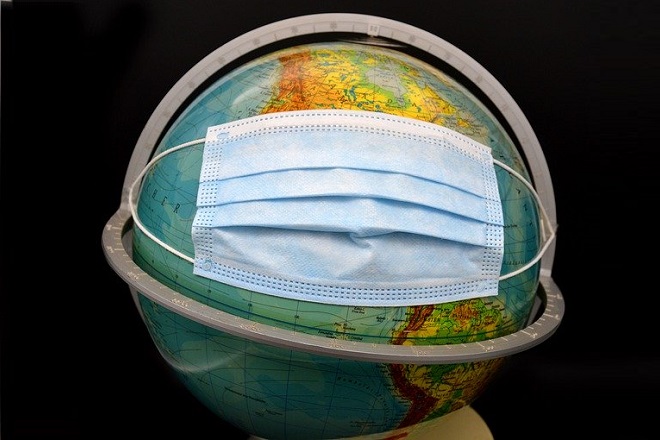 COVID-19 Small Business Guide
Employers must balance the health and safety of their staff and customers with their ability to pay wages and to keep their businesses functioning in a way that is profitable. This small business guide offers advice on how to adapt to shifts in work culture in the face of COVID-19 and includes suggestions on where to find financial support.
1
Stay up to date on Government Protocol
With new information about COVID-19 being announced every day, it's vital for small business owners to keep themselves informed. Ensure that you are aware of any mandatory or advised changes to workplace protocol by regularly checking national news bulletins or reading announcements on government websites.
COVID-19 is a new disease, and the CDC and WHO are continually discovering new things about the way the illness spreads and who is most at risk. While the success of your small business is, of course, a huge priority, it's also crucial to follow government guidelines to reduce transmission and protect the population.
You never know when you might have to enforce some new distancing measures among your staff and customers. Make sure you're getting information from a reputable source and contact your local authorities for specific guidelines.
2
Switch to Working Online
If your small business is not customer-facing or is not an essential service, technology, and video conferencing software presents plenty of opportunities to take your business online. Hosting meetings via video calls or relying more heavily on email communication can reduce the health risk to your staff while allowing the business to continue remotely.
Encouraging employees to work from home also reduces their need to travel and can prevent congestion on public transport, which can help minimize the spread of COVID-19. If possible, purchase or provide company-wide software so that your employees have the necessary small business tools to get by.
Organizations like Milton Keynes business centre offer virtual offices and workspace packages to ensure that you and your colleagues can stay connected throughout the COVID-19 crisis.
3
Enforce Hand Washing and Social Distancing in the Workplace
Not all businesses can be run online, and many essential services require a certain number of staff to keep things operational. If you're running a vital service, or rely on an in-office skeleton staff, create and enforce an effective social distancing policy so that you and your employees are protected at work.
Steps taken can include placing hand sanitizer at the entrance of your small business and encouraging staff to wash their hands frequently throughout the day. Make sure that any in-office employees sit at least two meters apart (in line with government social distancing guidelines) and clean cubicles and desks regularly and thoroughly.
COVID-19 is highly infectious, and employees should be asked to self-isolate if they, or any member of their household, displays COVID-19 symptoms.
4
Communicate Frequently with Staff
Remember, these changes don't just affect you – your employees may also be struggling to adapt to all this change. As their employee, it's your responsibility to understand the government's small business guide to the COVID-19 pandemic and to communicate with staff, so they know exactly what's expected of them.
Draw up a small business report on how you plan to enforce social distancing practises and check in frequently with staff to ensure these measures are being taken. If you're moving to remote operations, be sure staff understands when they should appear online and your protocol for online meetings.
Keep work deadlines and schedules in place to motivate staff, but remember to be flexible. Employees may be dealing with large changes in their lifestyle. For example, they may have to balance working from home with parenting or be worried about the health of vulnerable relatives. Try to be compassionate.
5
Let Your Customers Know About Any Changes
It's not just your staff you should be reassuring – now is a crucial time to communicate with your customers. Need to set a limit on the number of customers in your shop at one time? Running low on certain products? Use social media to keep your customers informed.
Believe us, they will appreciate you saving them the trip. It's a chance to show customers that you are taking their health and wellbeing into account. It's also an opportunity to share any additional services you do have available.
If, like many restaurants, you're able to convert to a takeaway service, use your platforms to let people know. It's a sure-fire way to drum up custom and can allow you to retain some paid staff rather than relying entirely on small business grants while the company is closed.
6
Talk to Your Insurance Company
Of course, many small businesses have been hit hard by the pandemic. Small business owners who cannot afford to wait out the pandemic may be wondering what they can do to weather the economic storm. If this describes you and your business, now may be the time to discuss things with your small business insurance provider.
Depending on your provider, you may be eligible for business interruption insurance to cover a period in which you are prevented from trading through no fault of your own. If you've booked and paid for a work-related trip, your small business travel insurance may cover this.
7
Look into Financial Support
If your small business is struggling, it's worth looking into all your financial options to get through an extended period of closure or reduced earnings. The impact of COVID-19 on businesses, employment levels, and the economy is likely to be severe and, if you own a small business, you may be eligible for funding.
Governments around the world have implemented a range of small business loans, to help business owners continue to pay staff. You can also enquire about temporarily freezing certain loans or outstanding debts that you cannot currently afford to pay. Contact official organizations like the Small Business Association (US) or universal credit schemes to find out what you're entitled to. You could also contact your suppliers and find out if there are ways to postpone payments or space them out in smaller chunks.
If you can acquire government help or you can afford to downsize, think about some business plan ideas for how your small business can reorganize throughout the COVID-19 pandemic.
If you're a food shop or restaurant, work on expanding take out or delivery services. If you're a high street retailer, draw up a marketing plan for small business ideas and think about developing online stores and delivery options. Investigate the current market (taking into account any potential shortages or supply chain blockages caused by COVID-19) and stock up on products you think will sell.
Online shoppers can boost sales and help bring your products to new customers. Remember, small businesses can help support and promote each other as well as compete. Connect with other local businesses and community services and see if you can cooperate or fill any gaps in their current business model.
Final Call
Do you run a small business which has been hit by COVID-19? What part of your business has been impacted most severely? What innovations have you put in place to get around this? Let our readers know in the comments section!