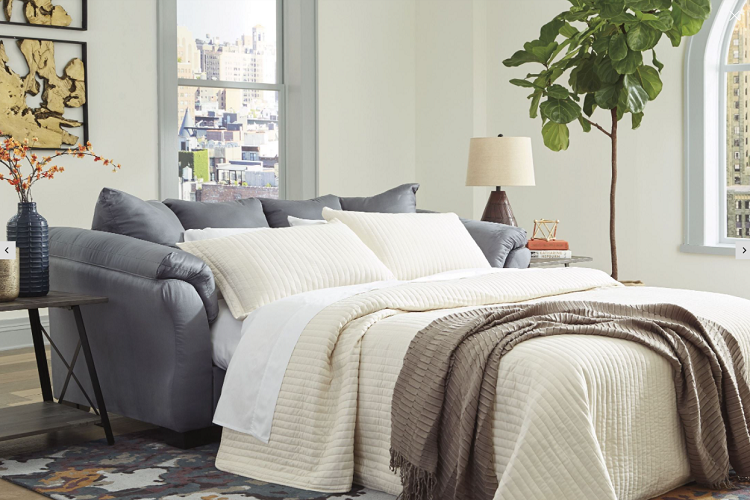 Sleeper sofas come in handy when unexpected guests arrive and need to stay overnight. It's a quick solution if you don't have an additional guestroom for them to use. But when we think of sleeper sofas, we don't consider style when shopping. The function is more important, and the design is usually a second thought.
That doesn't have to be the case, as many modern sleeper sofas have an updated trendy design that is sure to work in any home. You no longer have to sacrifice style for function; now, you can have the best of both worlds. But before you begin the search for the perfect sleeper sofa, there are a few things to keep in mind.
Do you want a sleeper sofa, or would a sofa bed work better in the space? Are you unsure of the difference? Well, a sleeper sofa's design resembles a traditional sofa and typically has a built-in mattress. If you will use the bed frequently or long-term, this is your best choice. They come in a wide variety of styles and colors.
However, they are heavy pieces that take up a good amount of floor space. They tend to be more expensive than their standard counterparts, and transforming them into a bed can take a bit more effort than expected.
In contrast, sofa beds don't have built-in mattresses. The back of the sofa folds down, creating a flat sleeping surface, much like a futon. It's great for smaller rooms as they are much more compact and start at a lower price-point than sleeper sofas. One drawback is that they don't offer as much length to sleep as sofa beds. Another downside is finding bedding for your sofa bed, as they typically have non-standard measurements.
Daybeds are another type of sleeper sofas. Much like a sofa bed, there's no mattress to pull out. They also come with a trundle option that offers additional bedding for multiple guests. Daybeds are versatile and can easily be moved to fit in with any room in the home.
You can find stylish sleeper sofas in each of these categories at 1StopBedrooms. Take a moment to think about your lifestyle and which option best fits your household's needs. If you host guests regularly and don't have a guest room, then a sleeper sofa would be the way to go. Or, if you have a guest staying with you for an extended period of time, a sleeper sofa or daybed would be the most comfortable and durable option.
If you don't frequently have overnight guests, then a sofa bed would best fit your needs. If you have young children who have sleepovers from time to time, a sofa bed is a terrific choice because it's lightweight and smaller in size.
Be aware of the sleeper sofa's placement as you have to remember to leave extra room for the bed. Whether you're pulling out the bed or pushing the back down to transform the sofa, there needs to be enough space for the full size of the bed. That isn't a concern if you're using a day bed unless you opted for a trundle.
Also, depending on who will use it, you want the correct size mattress. Traditionally, sofa bed mattresses range from twin to queen-sized. You want your guest to be comfortable, and providing a mattress they can easily fit on will ensure their stay will be a pleasant one.
Do you have a strict budget with no wiggle room? Don't fret; you can still get the sofa bed you need for the price you want. Once you visit the website, you'll see discounts of up 75% off sofa and sleeper beds. While sleeper sofas tend to be a bit pricier, you can still purchase one by taking advantage of the financing offered.
Free shipping is also available to help offset the price of your order. The coupons on the site can be applied for a further discount, so there are definitely options for the budget-conscious shoppers. There's also a price-match guarantee, so if you happen to find the same piece with a competitor, contact the customer service department. They'll be able to adjust the price of your order so they can maintain their low-cost guarantees.
Now that we have the business side out of the way, it's time to choose a style. You are likely to find a sleeper equivalent for any style sofa you're interested in using in your home design.
If you're looking for a futon-style sofa bed, the Grey Sofa Bed may be the right choice. Its pillow-top seating and high-density foam provide a comfortable sleeping experience. The G140 Sofa Bed is a sleeker faux leather option with cupholders hidden in a drop-down console.
The Oakman Italian Leather Sleeper Sofa is a more formal style sofa wrapped in the finest Italian leather. The nailhead trim really helps this piece stand out and make a statement. If you're looking for something a little less fancy but still formal, the Apolo Sleeper Sofa might suit your tastes. It also has beautiful Italian leather draping its frame and comes in classic black, brown, and gorgeous ivory to complement any home's décor.
There are striking two-toned sofa beds like the G136 Sofa Bed and timeless pieces like the Black Fountain Day Bed. If you're having trouble deciding which one is right for you, contact one of the design professionals and receive a free consultation. They'll listen to your needs and ask questions to help determine which sleeper would best fit your lifestyle.
They don't work on commission, so you can rest assured that their recommendations are solely based on the information you provide and their need to ensure your satisfaction with the purchase. Purchasing a sleeper sofa doesn't have to break the bank, and it doesn't have to be less appealing to the eye than traditional sofas. So don't wait; visit the website today and find a stylish sleeper sofa to complement your room's design.