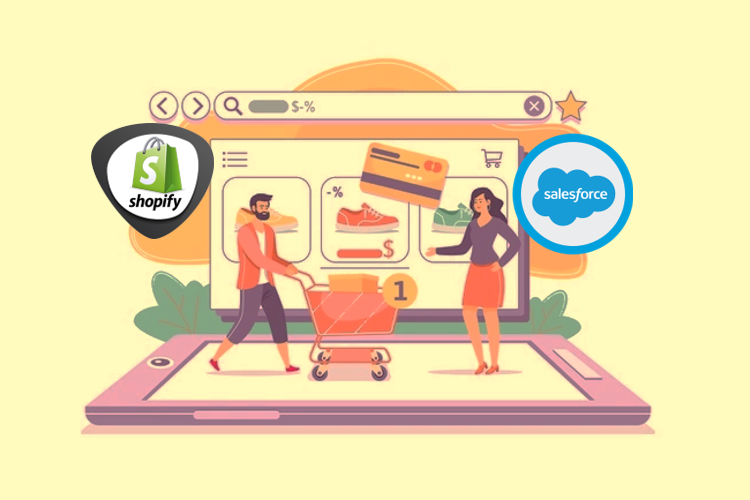 The internet's capabilities have enabled a revolution in online business. With the capacity to establish, operate, and grow a multimillion-dollar online business without leaving the house, dozens of new eCommerce platforms have developed up, each offering to help fuel your legacy. Today, we will compare two of these most popular SaaS platforms, Shopify and Salesforce Commerce Cloud, to help you choose which robust platform is the most excellent fit for your business.
More than an essential pro/con list is needed when choosing a platform to host your shop. Instead, entrepreneurs need to balance a comprehensive analysis of their company's roadmap with the platforms' capabilities.
Therefore, let us begin by examining the good features that both Shopify and Salesforce Commerce Cloud have. Then, we will compare the differences between Shopify vs Salesforce.
Shopify vs Salesforce Commerce Cloud — Similarities
Both eCommerce systems are SaaS (software as a service) based solutions. This implies that consumers have to pay a membership charge to access the software through the internet (rather than installing it and maintaining complex soft- and hardware on their own.)
Shopify and Salesforce Commerce Cloud have exciting product roadmaps that cater to businesses of all sizes, from small to big, start-ups to enterprises, and beyond.
Both systems are built with an intuitive, simple user interface to facilitate business-side operations management. All plans include real-time dashboards and built-in reporting.
Both Shopify and Salesforce Commerce Cloud provide built-in SEO editing tools and modules for automated optimization as needed.
Reasons to Choose Shopify for Your eCommerce
Shopify is an incredibly robust platform that powers some of the most well-known brands in eCommerce, including FitBit, Hyatt Hotels, and Whole Foods Market. Now, take a closer look with us at some of the platform's best features.
Here are some interesting stats about Shopify that can help you make an informed decision.
The average visitor spends over 3 minutes on Shopify and visits more than 3 stores and the average Shopify conversion rate is 1.6%.
2,297 million active websites are using Shopify in 2021.
Shopify users include famous brands like Pepsi, Gymshark, Unilever, WaterAid, Redbull, and Tesla Motors.
More than 80% of Shopify retailers use third-party apps, and 25.8 million apps have been installed.
Online shoppers are twice as likely to purchase a product with a 3D model over a flat image.
Shopify's total platform sales around the world are estimated at $200 billion to date.
Set-Up & Investment
Shopify's self-proclaimed "all-in-one, out-of-the-box" setup procedure is straightforward and quick. Users with little to no coding experience may choose from a large selection of optimized, visually attractive themes, or for a customized store setup.
(Salesforce Commerce Cloud needs custom programming since the platform does not offer themes or templates.) Due to this, every shop setup needs coding expertise.
In terms of price, Shopify is much less expensive than Salesforce. Salesforce Commerce Cloud costs are based on a percentage of sales. On the other hand, Shopify provides price tiers based on subscription service levels, not on shop revenues. Additionally, when additional costs like hosting, license, development, integration, and other third-party expenses are included, Shopify consistently proves much more cost-effective.
Features & Integrations
Shopify offers a plethora of other options. A significant focus of the eCommerce giant is consistently updating integrations to bring users the best-in-class choice for each feature. While Salesforce Commerce Cloud has shown a commitment to improving the business side of its platform, Shopify aims to improve your capabilities by offering the most efficient, powerful, and up-to-date integrations available.
Shopify users can easily integrate with thousands of third-party apps to add valuable features and functionality to their stores.
Shopify works efficiently with hundreds of major payment gateways and digital payment alternatives like Apple, PhonePe and Google Pay. Plus, the platform prioritizes safety and compliance for its users, so all sites are automatically Level 1 PCI DSS compliant — just another aspect of business that Shopify takes care of for you.
Growth & Scalability
Every company benefits from a well-thought-out strategy. Shopify offers a range of tools that can assist you in facilitating growth for years to come, depending on your particular roadmap. And, with big businesses such as Gymshark and Kylie Cosmetics thriving on Shopify, the platform's scalability, robustness, and security have all been proven.
Shopify can assist you in reaching new consumers by providing native support for over 20 sales channels (including eBay and Amazon). Another excellent growth feature is the well-documented API. It enables you to offer a more customized user experience to your consumers. Additionally, we cannot overlook Shopify Flow, a tool that automates merchandising and eCommerce. Utilize this intelligent assistant to automate repetitive activities and operations, thus saving time and minimizing human mistakes.
Shopify consistently proves its dedication to growing strong online businesses. For instance, just a few years ago, Shopify introduced many new features to assist companies in strengthening their existing architecture. The platform debuted ground-breaking features such as API extensions, multi-currency compatibility, enhanced 3D and virtual reality capabilities, and a national fulfillment network comparable to Amazon's. By contrast, Salesforce Commerce Cloud launched a new visual site editor at the same time – a capability Shopify has been selling for years.
Reasons to Choose Salesforce Commerce Cloud as Your Ecommerce Platform
Shopify vs. Salesforce Commerce Cloud is a close comparison. However, depending on your company's objectives and requirements, the latter choice may prove to be the superior fit. Take a deeper look with us at some of Salesforce Commerce Cloud's most compelling features.
Customization and Compliance
As previously stated, Salesforce Commerce Cloud does not provide pre-built templates or "click and fill" functionality. However, forcing companies to create their themes results in an entirely distinct, fully personalized look. Often, this results in a more elevated design, allowing your shop to fulfill your consumers' requirements better. This customized development may be more costly.
Marketing and Plugins
Another source of pride for Salesforce Commerce Cloud is its world-class marketing. With highly customized marketing, hyper-targeted audiences, and a tightly connected CRM, Salesforce Commerce Cloud simplifies the process of acquiring new customers.
While Salesforce Commerce Cloud's plugin library is much less than the competition's, the platform enforces some rigorous certification requirements to guarantee you're installing only the finest. For example, one of these certificates includes performance criteria, ensuring that no software slows down your shop.
Multi-Store Growth and AI
Salesforce Commerce Cloud is very well-positioned in terms of international commerce. For instance, their multi-store design is more user-friendly than Shopify's solitary product catalog. Additionally, Salesforce solutions provide a more sophisticated omnichannel experience for big companies who are serious about expanding outside their own country's boundaries.
In Short
Consider the technical knowledge you have. Are you capable of managing the platform independently? Then Shopify is your best choice. Is hyper-personalization the only viable option available to you? Then ensure that you have Salesforce experts on staff or on speed dial, such as cynqed.
Consider the level of personalization required: how many brands do you sell? How many retail locations do you require? Are you satisfied with pre-designed templates? Then choose Shopify. Is personalization critical to attracting and retaining your audience, and do you want advanced capabilities such as A/B testing and artificial intelligence all in one place? Consider first Salesforce Cloud Commerce.
Consider the professional scope of your enterprise. Are you a business-to-consumer (B2C) seller? Then Shopify is your best choice. Are you in need of sophisticated elements to cater to the requirements of B2B customers? Then we suggest that you use Salesforce Commerce Cloud.
Consider the accessibility and trustworthiness of your platform and data. Salesforce Commerce Cloud centralises data storage and enables authorised users to access it from anywhere via the same interface. Shopify is only compatible with third-party software plug-ins, which necessitates additional work to comply with standards such as GDPR.
Consider the global reach of your eCommerce. Are you selling internationally and require a more customised solution to comply with regional laws, such as custom checkout fields?
Final Words
Finally, when we compare differences between Shopify vs Salesforce Commerce Cloud then both platforms are powerful competitors. By balancing each platform's functional requirements and logistics against your business roadmap, you can make an informed choice — regardless of which platform you choose. Shopify and Salesforce Commerce Cloud have both helped numerous businesses in establishing themselves as household names. Will you be next?
Are you ready to start an eCommerce business journey or believe that re-platforming your business will propel it forward, do not go it alone: schedule a consultation with Shopify development company. Whether you are looking for assistance by chatting with Shopify experts or start a long-term project, they can help you at every step.