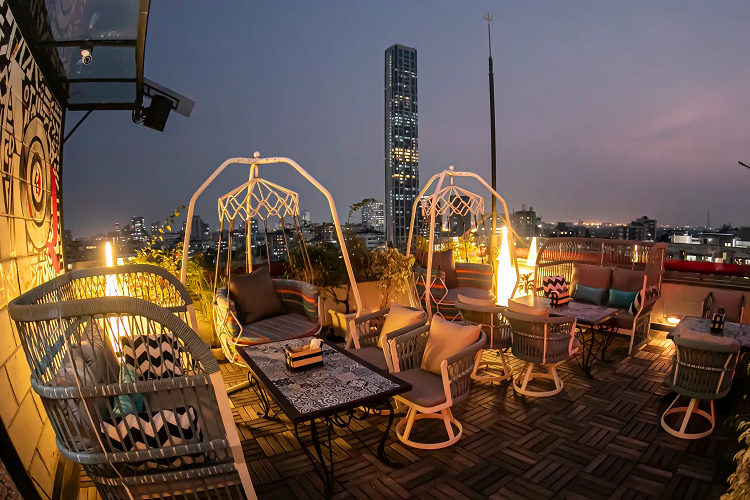 Kolkata, being a non-vegetarian paradise, houses many non-vegetarian restaurants. Up until a few years ago, there weren't as many vegetarian restaurants in the city. However, the city, known for its maachh-bhaat, biryani, and Tangra Chinese, has gradually found room for vegetarian food. Here are a few veg restaurants in Kolkata you absolutely must go to, including some newcomers and some stalwarts.
7 Best Veg Restaurants in Kolkata
SpiceKlub, boasting an extensive menu with more than 100 items, is renowned as the go-to spot for those seeking to savour molecular cuisine and is one of the most popular veg restaurants in Kolkata. This establishment specializes in presenting a fusion of North-Indian culinary delights. They take ordinary, everyday recipes and street food classics and transform them into visually captivating dishes that are as pleasing to the eyes as they are to the palate. Whether you're indulging in the Bombay Pav Bhaji Fondue, the inventive Gujarati Deconstructed Dhokla, the flavorful Delhi Papdi Chaat, or the Northern Chole Kulcha, each creation is an absolute must-try.
It's all about nostalgia in this area when you visit this one-of-a-kind. Time has stopped in Jyoti Vihar while the city's culinary landscape is rapidly changing. And that's why we adore this location. The menu, quick service, and, of course, the food's quality are all the same. It is a must-see for tourists who come to Calcutta as well. Even ardent non-vegetarian admirers are drawn to Jyoti Vihar because of the range of flavorful chutneys in addition to the authentic South Indian meals.
Situated on Harish Mukherjee Road, The Flaming Bowl is a charming establishment and one of the well-known veg restaurants in Kolkata that offers a diverse culinary experience featuring dishes from nine different Asian countries. Delight in an array of flavours from Singapore, Vietnam, Thailand, Malaysia, Japan, Korea, China, Burma, and Indonesia, along with a selection of exotic beverages to tantalize your taste buds. Be sure not to overlook the unique Exotic Cream Cheese dumplings, creatively shaped like carrots, the flavorful Claypot Rice, the wholesome Buddha's Delight, the delectable Thai Dragon Noodles, and the enticing Phad Stew. For dessert enthusiasts, keep an eye out for the Thai Tender Coconut served inside a coconut shell (daab), which is truly a treat worth savouring.
Indian and Chinese cuisines are waiting for you at one of the best veg restaurants in Kolkata. Customers can get precisely prepared kacamak, dal makhani, and cannelloni at Casa Kitchen. Don't be hesitant to try the delectable ice cream, brownies, and chocolate custard that will be served to you. Waiters provide tasty cordial, beer, or wine depending on the visitors' preferences. It's time to have a cup of tea, juice, or chocolate frappe with an extremely affordable price range. For the convenience of its customers, this establishment also offers food delivery. You can also wander while taking in sights of ISKCON Kolkata and Sri Sri Radha Govind Temple after dining here too.
All customers enjoy this restaurant's selection of Chinese and Indian dishes. Invite your special someone to join you in enjoying perfectly prepared pizza Margherita, baked lasagne, and mushrooms. In this restaurant, you may get delicious chocolate cheesecakes and gulab jamun, among other things. Fly Kouzina is conveniently located, making it simple to find. You can order a delectable strawberry mojito, cordial, or a traditional mojito here. The most popular drinks here are lime juice, mint lemonade, and good iced coffee. The friendly crew puts in a lot of effort, never loses their enthusiasm, and makes this location amazing. The success of this location is greatly influenced by the prompt service, which is a strong quality.
If you want to eat after visiting Sri Sri Radha Govind Temple in ISKCON Kolkata, go to this eatery. Reserve a spot at Bombay Shiv Sagar and try the menu if you've never had Indian and Chinese food. Don't forget to sample the excellent bhaji pav and coconut chutney at this location. Nothing is more enjoyable than indulging in delectable ice cream sundaes, falooda, and fudge. This location is an excellent option if you want to sample some delicious wine or superb liquor too.  One can also come here for fantastic fruit juice, fresh juices, or milkshakes.
This restaurant serves tasty Chinese and Indian cuisine. The excellent fusion of multiple dishes of both cuisines is the secret to its success. Starting from delicious brownies, multiple flavours of ice cream and chocolate fondue will be available to help your cravings, along with many vegetarian dishes. The atmosphere of the restaurant is quite unique, which will allow you to immerse yourself in a different dining experience, and thus you should not miss out on going to one of the best veg restaurants in Kolkata.
Final words
Never has a remark been more accurate than "the food in Kolkata is good." However, due to Bengalis' strong bonds with fish, most people mistakenly believe that the city exclusively has excellent non-vegetarian cuisine. While that statement is accurate, a significant number of vegetarian restaurants have been providing the city with wonderful vegetarian food for some time, and new, diversified vegetarian options are constantly emerging.Yet, one cannot overlook the symphony of flavors in the famous Bengali sweets, an integral part of the Bengali culinary legacy. Therefore, these veg restaurants in Kolkata are a must-try if you're in Kolkata and enjoy indulging in vegetarian treats.
Why should you order from Swiggy in Kolkata?
In Kolkata, ordering food from Swiggy offers a convenient and varied dining experience. With a vast selection of regional and international cuisines, quick delivery, and an intuitive app design, Swiggy makes it easy for you to order your favourite meals from the best veg restaurants in Kolkata in the city and have them delivered right to your door.