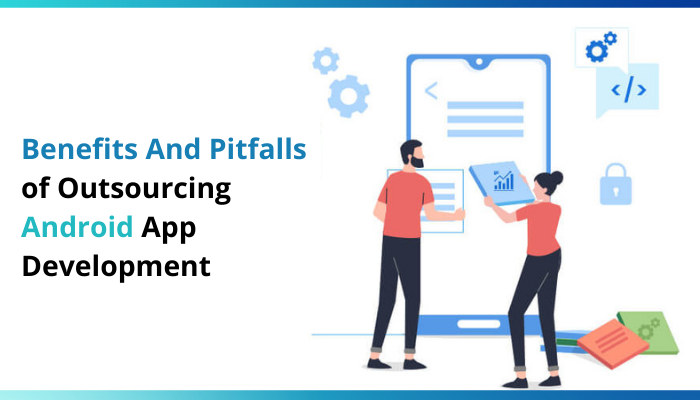 It is essential to choose a software development company who can offer a unique, customized product that works well for your business. But, outsourcing Android app development is a business decision each with its own pros & cons. Outsourcing does have its benefits. It can offer better pricing, better quality, & adherence to a timeline. You could end up with some costly pitfalls if you don't know what company you should be working with.
This blog will assist you in understanding the benefits and drawbacks of outsourcing Android app development company to your start-up venture. This blog will provide you with the information and strategy necessary to select the right developer for all your needs. But we will first begin with a brief overview of Outsourcing and move on to the merits & demerits of Outsourcing Android app development.
What is Outsourcing?
Outsourcing refers to bringing in services from outside vendors into your own company. Small businesses that don't have much IT experience can outsource to someone who is skilled in the technical aspects.
Outsourcing development also involves hiring on-demand developers to do the development work. The outsourcing team will, for example, be responsible for implementing features while your in-house team is focusing on creating and testing hypotheses.
Pros of Outsourcing Android App Development
Cost Efficiency
Outsourcing your IT needs to a company can help you save money. Outsourcing Android app development is cheaper than hiring several developers (iOS and Android), business developers, UI/UX professionals, or other related staff members. Outsourcing allows you access to the expertise of others while also saving money on overhead expenses such as software & equipment.
A Wider Talent Pool
India has a large talent pool with some of India's best app developers. Therefore, it is an attractive option for outsourcing app development. Many of them are highly skilled professionals who have previously worked on international projects, so they are well-versed in the standards required for global projects.
This compares to in-house staffing. This is costly and requires large company resources for hiring, training, and interviewing. You can also delegate app development work to a US software firm. This would amount to approximately $150 per hour for iOS apps and just a fraction for Android apps.
It can take 2 to 3 months to create a basic application, while complex functionality may take 6 months. The cost can spiral quickly. This compares with offshore rates. A Ukrainian developer would charge about $60 per hour while an Indian programmer would cost between $20 and $40 per hour.
Saves Time
Your most valuable resource when running a business is time. By outsourcing IT, you can save both time and effort by not having to spend as much on finding the right developer. This allows you to put more energy into your core business functions. You can improve customer relations by creating new services that boost the customer experience.
Development Process Transparency & Control
Once you sign the contract with an outside mobile app developer company, you'll be able to reap the benefits of full transparency in all that the company does, as well as complete control over the entire mobile app development process. Many companies outsource to you various tracking tools that can help you track the progress of each job. This can lead to a better understanding between the parties and a business relationship that is mutually profitable.
Expertise at your Fingertips
An outsourcing company can help increase your productivity and provide you with access to expert talent. It is important that you outsource software development, or some of its components, to senior professionals so they can fill in the gaps and provide insights whenever and wherever they are needed.
For employing maximum benefits of Android App Development, you must look for outsourcing a top Android App Development Company with high-level expertise.
Cons of Outsourcing Android App Development
Privacy of Data
The responsibility for protecting your data rests with you. External agencies may have the potential to compromise the confidentiality of your data if you decide to outsource your mobile application development. You can find many freelancers that will help you develop iOS & Android apps. They also care to keep your information secure. You can avoid this major mistake by having a Non-Disclosure Agreement, (NDA), in place before you assign the project.
Communication Issues
Communication problems can arise from time differences, cultural differences, or language barriers. Communication channels between the client and outsourced team are vital for the successful completion of the project. To have a successful partnership, you must respect and appreciate cultural differences.
Language barriers can be most difficult to overcome. If your requirements aren't understood, it can cost time & money to rectify. You should look for software companies that can communicate in your language.
Lack of Control
The process of developing iOS & Android apps can be difficult to manage. While outsourcing allows you to spend less time on app development, it also means that you have less control over how and when tasks will be completed. You may not be able to set the same standards for your company.
You might feel the project is not going according to plan. This is fine, as long as the deliverables you receive are satisfactory. Be on the lookout for code quality issues or unimplemented tasks during demo presentations.
The Bottom-line
After considering the pros and cons of working with an outsourced firm to build your mobile app, you should avoid some operational flaws. These flaws are easily eliminated by conducting a detailed analysis of the android application development company and its reputation in the market. Also, you can find customer feedback online via blogs and reviews. Moreover, you can also enquire about the company for references to help you choose the right one.