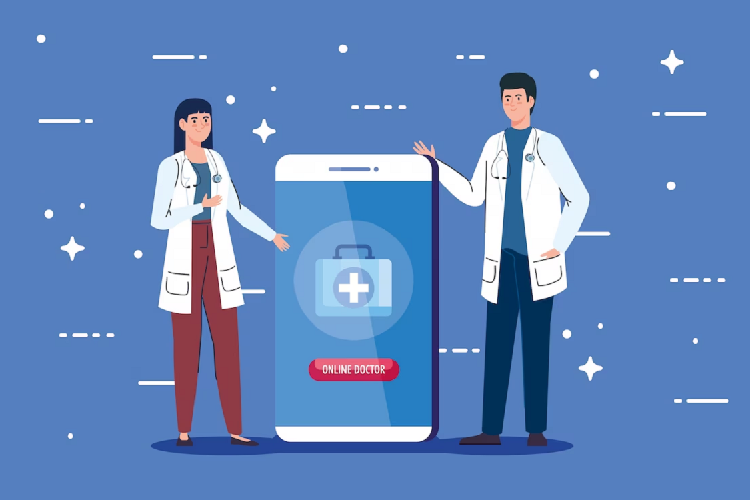 With the rise of technology & the increasing need for convenience, the healthcare industry is now tapping into the rising development of on-demand healthcare apps. They cater to patients' healthcare needs & requirements without having to visit a healthcare facility personally. The creation of these health applications is not without challenges. It requires a deep understanding of this healthcare industry & an in-depth knowledge of the current & modern technological trends.
The demand for on-demand healthcare apps continues to rise as patients are seeking faster & easier access to medical care & providers are searching for a way to meet patient demand. But with that demand comes challenges. In this article, we will take a deep dive into the challenges & growing opportunities of on-demand app development for healthcare.
Challenges of On-Demand App Development for Healthcare
Here are the challenges that arise with the On-Demand App Development for Healthcare. Read below to know more.
1. Security & Privacy Concerns
Data breaches & privacy breaches pose a significant threat to healthcare applications. On-demand healthcare app development requires ensuring the highest levels of security & data protection compliance. It can be challenging as the on-demand app development company & its app developers need to comply with complex regulations in the healthcare industry such as HIPAA, HITECH & GDPR.
2. User Experience Considerations
When it comes to healthcare apps, user experience is an essential consideration that cannot be ignored. Healthcare apps should be user-friendly, accessible, and easy to navigate & reassure patients that they can trust the application's information.
3. Integration with Healthcare Ecosystem 
To ensure seamless connectivity with healthcare providers, healthcare apps need to integrate with the existing healthcare ecosystem. App developers must understand the importance of integrating with electronic health record systems & application programming interfaces (APIs) while ensuring the user experience is not impacted.
4. App Testing & Quality Assurance
Quality assurance guarantees healthcare apps are working as intended & meet users' requirements. App testing throughout the development process is crucial in ensuring an application is bug-free, functional  & meets the desired user experience.
5. Scalability  
As healthcare providers gain more experience using on-demand healthcare apps in everyday practice, the demand for such apps will increase. To be successful, on-demand healthcare apps should be scalable & future-proof, able to handle vast amounts of data & users.
Identifying Opportunities in Healthcare App Development
Healthcare is an industry ripe for disruption, & on-demand healthcare apps present numerous opportunities for entrepreneurs & developers alike. Healthcare apps have already been developed to provide innovative telemedicine services, appointment booking, medication reminders, nutrition tracking & more. 
Plus, in a post-COVID-19 world, healthcare & telemedicine have exploded, presenting a wealth of untapped potential; from out-patient monitoring to assisted living & wearable technology. Moreover, giving rise to the market of front-end development services & the app industry. There are several benefits to on-demand healthcare apps, including:
Increased Accessibility

: Users can access healthcare services from anywhere & at any time, even in remote areas. 

Lower Costs

: Users can avoid costs such as transportation, childcare & time off work or school, resulting in an overall reduction in healthcare costs. 

Better Outcomes

: On-demand healthcare services provide patients with the tools & access necessary to manage their health on an ongoing, preventative basis. 
Best Practices for Healthcare App Development
Successfully developing on-demand healthcare apps requires a deep understanding of the factors involved. These include an in-depth analysis of the intended user base, technical details, patient privacy & security, & crucial factors such as rate of accuracy, patient engagement & user-friendly interface. 
Combining healthcare professionals, developers & end-users is crucial to achieving success. The importance of working towards compliance with HIPAA regulations or any local & national health regulations should always be stressed. Moreover, thorough testing & debugging can be a potential guarantor of the app's success.
Examples of Successful Healthcare Apps
Several healthcare apps are leading the way in transforming patient outcomes, increasing accessibility & reducing costs associated with traditional healthcare. For telemedicine, Teladoc, MDLIVE, Amwell & Doctor on Demand are among the major players that provide medical consultations, prescriptions & lab results through their apps. 
Omada Health, Livongo & MyFitnessPal are examples of apps that help with chronic disease management, including personalized coaching, healthy living reminders & nutrition tracking. Also, there are apps like Zocdoc, Doximity, etc. that aid appointment scheduling & make it easier for patients to see a doctor.
Final Thoughts
Developing on-demand app solutions for healthcare comes with unique opportunities & challenges. Modern technology & software holds the potential to improve patient experience & engagement, while also providing organizations with invaluable data that can be used to shape future strategies. However, it is important to carefully assess these opportunities since the cost of entering this sector can be challenging.
With expertise in application development, your organization has the necessary support to take advantage of the tremendous potential that an on-demand app solution for healthcare promises to deliver. Their experienced team of developers has years of experience in designing tailor-made solutions for different settings, helping you provide the most efficient & effective solutions available in the market.