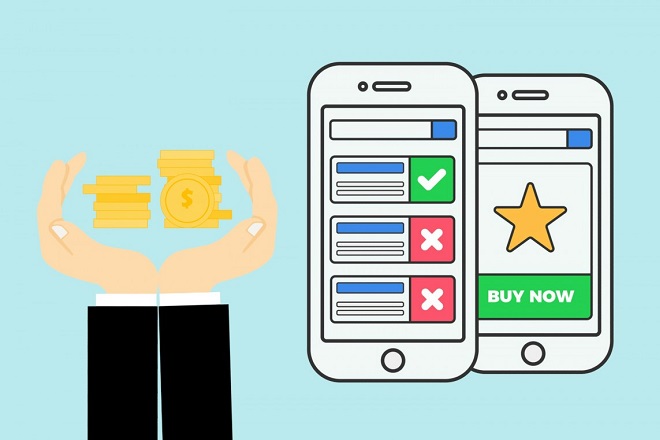 The popularity of online shopping has seen a steady increase over the years, but it saw a drastic increase when the pandemic made online shopping the only option for most.
Even now, with in-store shopping once again an option, mobile innovations like augmented reality and other advancements facilitating a more personalized shopping experience have made digital shopping the preferred choice. These innovations are challenging more and more retailers to focus on their digital solutions.
"Digital-first mobile retail solutions are no longer a nice-to-have, but a need-to-have, especially since the onset of the pandemic," explained Kundan Joshi, CEO of TheAppLabb, in an article penned for Forbes.
Consider the ways that mobile innovations have not only changed, but improved how people are shopping, and show promise of more personalized, seamless shopping experiences for the future.
Integrated Mobile Checkout Experience
Nowadays, shopping isn't only cashless – it's often card-free too. With digital wallet apps, people are changing how they are shopping and paying for their purchases, and businesses are adapting and responding with innovative digital payment options.
Apps are now integrating best-in-class payment providers to help make the payment and checkout process more seamless for customers.
Click and Collect
Mobile apps are not only changing the mobile shopping experience. They are changing the brick-and-mortar shopping experience as well.
With curbside pickup being instant, contactless, and convenient, people leverage retail apps to order items and pick them up from the store directly. This removes the need for workers to assist in finding items or place orders at cash registers when there's a line of people ready to pay. It also prevents the dreaded situation of driving to a store, only for the desired item to not be in stock.
With the click of a button, people are ordering items for pickup and driving to brick-and-mortar stores to have their desired item passed off to them in minutes. Pickups can be made on the way from one destination to another and remove the need to add to store capacity and checkout lines as some people return to shop in stores.
Target, for one, has innovated this process. The Target app allows customers to view their catalogue of products, place an order and, once they arrive, the app's location technology allows customers to be automatically checked in and notify delivery teams in store for a more streamlined checkout process. Even more recently, it's been reported that the company will be rolling out a new app for easier holiday shopping experiences.
Personalized Experience
In his Forbes article, Joshi shared the importance of scalable apps that adapt to customers, are inviting and intuitive, and provide a personalized experience.
These apps cater to personal use, allowing users to have a more intimate, catered shopping experience by digitally signing up for subscriptions, adding to wishlist, and sharing items with a few taps.
Augmented Reality
The most prominent challenge people face when online shopping is being unsure of the fit, material, and other elements of their desired products that can be hard to display via a product image. To solve this problem, retailers are leveraging augmented reality in their apps to include try on features.
Makeup brands have shade-matching tools to help users identify their right shade, and glasses companies are including virtual try on features so that users can have a better idea of how the product will look on their face.
Instant Promos
Even when advertised, promotions can often be forgotten or unnoticed, which is why more and more retail apps and e-commerce sites utilize automatically applied promos to help customers save on products, which can often influence a higher average basket size and foster customer loyalty.
The Future of Mobile for Retail
eMarketer reported that there were 14.4 million downloads of shopping apps in the US between March 29 and April 4, in 2020 alone, marking a 20% increase from January of that year.
Online shopping isn't going anywhere, as app innovations already being implemented by retailers are making the digital shopping experience not only easier, but more rewarding and efficient for users.