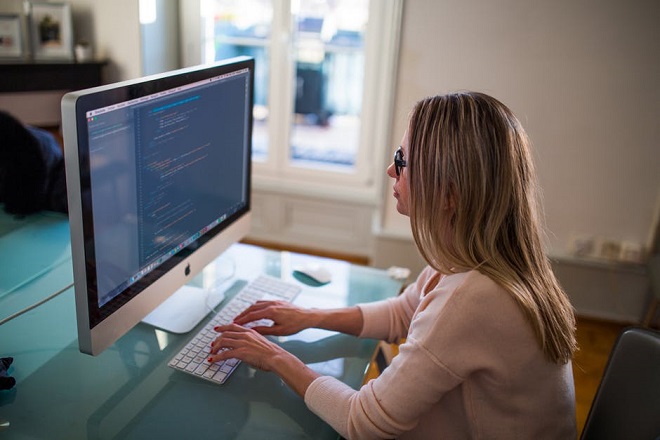 Professional or enterprise developers who get a hold of low code and no code new generation platform can suppress the timeframe required to build an app or create a website. The Low code and No code Technology crack the equation of – IT is only limited to the IT personnel.  
What is low code and no-code technology?

 
Low code technology-oriented platform allows citizen developers and professionals to build apps within a less time frame, with minimal coding knowledge. Whereas, No-code technology does the same job, but requires absolutely no coding knowledge. 
Low code and No code Technology are a visual automated process of creating applications. Citizen developers, who have little to no knowledge of coding can now master in application development. It gives people like business analysts, office administrators, small-business owners, and others a chance to create an application, run it and also test it. The secret recipe to this technology is tools that leverage API catalogs, prebuilt templates, and automation to the fullest extent. 
If you're to look at the framework of this technology, it lets you join bits and pieces of the application and create mobile apps. There's more to Low-code and No-code Technology than it lets you rack up. The process of writing each and every code, line by line, goes up in thin air. This development solution scatters up enough time for you to take a quick vacay or focus on complex projects. An IT company runs multiple programming errands every single day, and this technology would only make it easy for developers and the company. 
What is the need of having this technology?

 
Scratching up the surface of companies with an IT department open to only a limited set of resources, the technology came up. The IT talent gap which overshadows the IT industry is filled through this technology, and companies are getting back on track.  
Here is why we say you need to try your hand at it: 
Pushing Digital Transformation

 
Pushing digital transformation is often the break-even point for every other company nowadays. Much of the job done in creating applications via low code tools requires no to very low IT department involvement. This shows us the bright future of this technology, where getting an edge in technology is visualized without coding skills and rigorous training. 
Perks are of developing agile process improvements and innovations. Often, the time to make the product live with the application is cut short by 38%, while the development cost is ramped down by 34% using this technology. 
Addressing IT Staff Shortages

 
Companies often lack skilled IT departments and staff, which is actually the need of the hour. This is a major hurdle to business progress and devoting valuable developing time seems not the right idea. This is where the concept of low code technology kicks in and finds a seat. It gives the rank-and-file employees of the company the liberty of developing the apps straightforwardly. 
Low Code and No Code is the way Forward

 
Lately, the adaptation of this tech has been on the rise. Companies that need to scale up digitalization and speed up operations can rely on this tech which helps develop sustainable operational processes. Suggestions to make use of these tools strategically are round the corner, which would last for the long term. 
The Rise of Citizen Engineers

 
Companies get to leverage talents that are not from the typical IT background and are referred to as the citizen engineers. As opposed to coding knowledge, such individuals only need to know how to use the tool through GUI. This domain does not require a steep learning curve as would a traditional developing team. This increases your chances of pooling manpower to build applications and digitalize your company. 
Benefits of Low Code and No Code Technology
This automatic method of developing a flexible app is remarkable. Let's see how these technologies can be helpful and assist us in fast tracking the development process. 
This technology offers you improved agility, i.e., high-end and equally smooth experience for users of multiple devices. The function of accessing data, collaboration tools, and apps must be smooth across smartphones as well as desktops.
When you increase your developing capability, you cut down on time and costs attached to every single project. Hiring costs are pared down, while productivity surmounts.
Productivity levels go up in the bar, i.e., you would need less time to create an app. Apps that would take months to build, would now be developed within a few days.
The IT department sure does get an advantage, but this tech improves the overall customer experience. With that, the company also gets enough time and room to act upon any changes in market and demand.
Regulations around the globe are ever-changing and this technology lets you adapt well and make quick changes as and when required. This helps every organization keep up with the requirements and the deadlines.
New updates are rolled with every passing day and low code technology lets you quickly upgrade to the new trends.
Difference between low code and no code
Low code and no code are definitely confused for a single concept; however, they are two separate types. Low code is a shout-out for people who have a fair share of basic coding knowledge or professionals in general. This technology lets the users build apps in a go, via visual development environments and automated linkages to back-end systems, databases, web services, or APIs. The developer writes the custom outlier functions, while the repetitive cookie-cutter functions of the application are delegated to the technology. 
No code, as the term screeches, is for individuals who know not a thing about coding and can use the simple visual drag drag-and-drop interfaces. The results of the applications made from both these technologies are far different, though the technologies might seem alike.
Building capability – Low Code vs No Code
Low code proves to be a great help while creating web applications that expose information and automate business processes. Its niche is simple standalone web and mobile applications as well as complex and sophisticated applications. It also plays a crucial role in automating multiple processes within a company. Integration functionality is an add-on, where data from multiple sources are extracted and also processed. 

 

Activities that can be done using spreadsheets are enhanced through the no code solution. These platforms help the citizen developers create applications with rich user interfaces, a backend powered by a spreadsheet or a database, and some other built-in functions

 
Why is it the next big thing?
Organizations have only grown to realize the worth of low code and no code technology. Companies are now recognizing how they can achieve the target of entirely automated functioning, and transform into a digital company. Software development is the need for every other organization and this technology accelerate the process. 
Professional developers get an edge here since handmade development is cut short through massive delegation to technology. Developers can do a lot more in a shorter time interval, through pre-written code components, then they would previously require. Low code platforms give a mover advantage to companies through high scalability, performance, security, and integration with enterprise applications. 
Which are the best platforms?
Multiple software vendors are competing in the market and offer the best of products for you to choose from. Here are the top No code platforms that are in trend: 
Here is the best of low code platforms presently among the hyped offerings. 
Appian

Gramex

GoogleAppSheet

Mendix
Why should one pay attention to this trend?
Resources to develop applications are scarce and bring forth a lot of barriers. These barriers are eradicated via low-cost platforms that let organizations fulfill the objective of building the best applications on a tighter budget, with fewer developers within a limited time-span.
With the increasing demands and needs, non-developers can also become a major contributor as well. This increases the overall efficiency of the company and customer satisfaction. New tools, software and enriched digital experience become obvious with this technology. 
Implement low code and no code technology
You are the master of your imagination and this technology contributes in numerous ways. Here is how you can implement both the technologies and make their use worthwhile.
Low code
You can build complex applications

 

You can build foundational apps or the ones which are a major part of your organization's core business.

You can build apps with more than 5 years' life cycles, which require few updates.

Your developer will get the ultimate control and will be mission-critical

 
No code
Reporting, analytics, and tracking apps are best created using this technology.

 

You can create a basic app for starters, and transform it into a remarkable app by introducing constant updates.

You can create integrated apps as well as stand-alone apps.

It is a likely option for self-deploying apps and is highly mobile responsive.

 
Low code or no code trends best suit the arenas of workflow applications, web and mobile front ends, and customer-facing applications. Prediction is, this technology would soon become the standard practice for many companies, and would probably expand into reengineering technology stacks and ecosystems.
The ways of implementing and utilizing both the technologies differ and depend on case-to-case scenarios. However, Both the technologies look promising, and offer attractive benefits for both the individual developers as well as multi-scale companies.