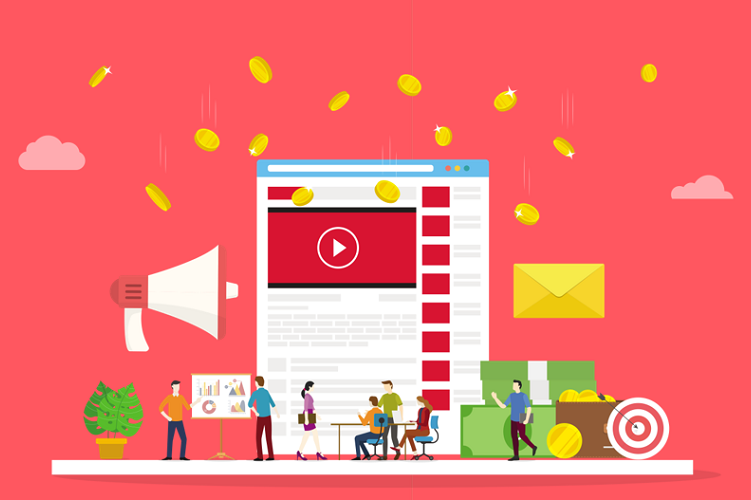 For a new business looking to start or expand in the digital space, YouTube is a no-brainer choice. YouTube has over 1 billion monthly searches, making it a very lucrative digital marketing hotspot for new businesses.
If you are a small business, YouTube marketing will also be cost-efficient for you. It is completely free to upload your videos and start a channel, and you will find the right target audience for you as well.
Having said that, you will need to hone your skills in creating relevant and trending videos and learn some basic editing skills. You can use apps or YouTube video editors for the same.
Besides that, you need to speak the language of your audience and keep it relevant for them to understand what your business is all about. Having your brand's voice reach your audience requires intricate work. Your business should demonstrate how it solves problems with its products and stay consistent with the brand values in all the videos and content you post as marketing material.
Once you have started marketing on your YouTube channel, you can begin using promotional tools to gain traction, viewership, and subscribers. Having a customer base becomes a strong medium to entrust your brand to your target audience.
Now, Let's look into some ways to leverage YouTube marketing for your small business.
5 Ways to Use YouTube for Marketing Your Small Business
Here are some ways to use YouTube as a marketing tool and enable your audience to understand your business better.
1
Introduce Your Products or Services
If you are a new business entering the digital space, then introducing your products and services to your audience is a good first step. Do this through introductory videos on your products.
You can showcase your products to your audience in a way that fits your brand's values. You can also show the relevance of your product in the market and how it can come to use.
The best way to start the introductory product video is by showing the convenience and utility of your product to your audience. You can also add some informational content to these videos.
2
Establish Authority in Your Business
YouTube is the largest search engine after Google. You thus need to establish your expertise in your domain there to solidify the authority of your business. The huge user pool on YouTube creates a great opportunity for you to do this. 
You can establish authority by offering your expertise with short advising reels and content tips in YouTube shorts. Make sure to keep your product central to the advice and tips so your audience will think of your product whenever they come across your niche. Use the right YouTube video editor tools to create high-quality videos and build credibility. If your YouTube shorts are edited in an interesting way then the audience can engage with your content and it will increase the chances to increase the sales of your product. 
Whenever the audience faces a problem your product is solving, the authority you have built will come into play. Your audience will think of your business and be convinced to purchase your product. 
When you let your audience in through behind-the-scenes videos, it creates transparency between your audience and your business.
This will turn out to be an effective way to build trust with your audience. You can film sequences featuring your CEO and staff to show your work culture or have your workforce make a vlog sharing their day at work.
Make sure you edit your content optimally to manage the brand voice throughout all the videos. These videos and reels will make the brand seem approachable and transparent to the audience.
Video tutorials are an easy way of understanding complex user manuals. If your business can make your industry understanding easier, then you should leverage the medium of YouTube to make great video tutorials with informative and entertaining content.
Another great benefit that can come out of this is the engagement of the audience. The support and help you gain from other users in the comment section are noteworthy.
You can help your customers in real time by offering advice in the comments section. Your potential customers can either go through the comments and see your engagement and have trust in your brand or interact with you and become a customer. It is thus a win-win for your business.
5
Use Customer Feedback Videos
Displaying customer testimonials on your YouTube channel will bring you more customers. Putting up a positive feedback video from your existing customers will spread good word of mouth about your brand and business to your potential customers.
This video format will also motivate other users to create and share such content with you. A positive track record of your business and products will further encourage others to make purchases. Seeing you respond to their feedback will create trust among your customers involved and the new ones as well.
If you receive healthy criticism from some of your users, this will also become a space for your brand to improve and make more user-friendly changes to your product or service. This will ensure that your product is modern and efficient for usage and utility.
Adding YouTube to Your Marketing Plans
Over and above these, there are many subtle ways to use YouTube's features for marketing. You can host live videos with informative content or with some industry experts explaining your product and its uses.
You can also do a Q&A session with your subscribers or use the platform to show a recap of any live events you have. 
Exposure to Video Marketing through YouTube
Using video marketing will carve your brand into a relevant one in the digital space. Businesses today use it in increasing magnitude to reach their audience and stay relevant to them. It allows you to enhance your video-making and editing skills, especially if you're using a good YouTube video editor.
You can tap into your target audience in the YouTube comments and get acquainted with them through conversations. You can then personalize the communication with the potential leads you find there. Your YouTube channel will open the gates to building trust, communication, and brand loyalty with your target audience. Small businesses should thus leverage this platform to its fullest.
Conclusion
Listed above are some of the basic tips and video ideas you can incorporate to make sure your YouTube channel becomes a successful medium of marketing for your business.
Pick and choose different ways to integrate YouTube into your marketing plans. Choose only the ways that are relevant to your audience, and make sure to follow the stats on traction, viewership, and engagement.
This way, you can make effective use of YouTube as a cost-efficient tool for marketing your small and growing business.