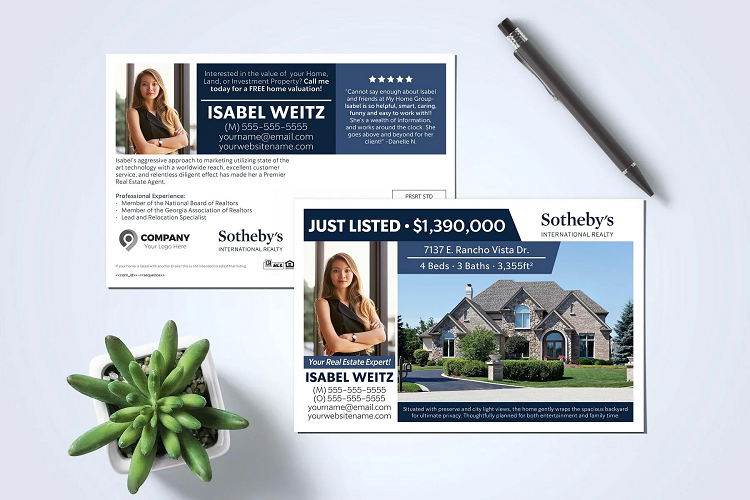 Postcards play a vital role in real estate marketing. They help promote open houses, generate new leads, develop and maintain relationships, and build brand awareness. They are pretty easy to create; however, most realtors do not know how to opt for the right design. This article will teach you five things to consider while designing real estate postcards.
5 Tips to Design Real Estate Postcards
No one wants to read lengthy content on a postcard. Catalogs and brochures are the best options to introduce the readers to the details. So you must keep the content short but informative on a postcard.
You should mention what your target audience wants to read on it, for example, their requirements. What are their queries, and what solution are you providing through your business?
2
Keep Visuals Streamlined
Wondering how to make your real estate postcards look amazing? Well, including images on it is an excellent idea.
Real estate shoppers are drawn to properties with appealing visual elements. However, overcrowding the postcard with images of luxury houses from Pinterest would make them doubt the authenticity of your business.
Since there is limited space on the material, try to add original and high-quality images of the properties you own and have sold. This will increase the chance of being trusted by the clients. You can also add photos of your real clients as testimonials to show prospects your real-life experiences.
Postcards are one of the best places to include CTA for real estate marketing campaigns. Many realtors forget to include this essential component and reap no benefits from their efforts. You won't gain any new leads and conversions without a solid and specific Call to action.
Find the goal of your CTA. Do you want them to call you, send a message or email, check out your website, etc.?
4
Include Relevant Testimonials
Testimonials are the most potent component of a marketing strategy to motivate users to take action. Make sure you add authentic and relevant testimonials to the real estate farming postcards.
5
Use a Readymade Template
You can find thousands of real estate postcard templates online on reputed real estate resource sites that are easily editable. You only need to pick one design and paste your content on it. This makes sure you do not go through any hassle of creating your postcard design from scratch.
Some postcards are even equipped with an integrated mail campaign tracking system. It means you can track their delivery to your farm or sphere. Moreover, professionals designed these templates and tried and tested them to engage more people.
Choose the right type of postcard template
There are different types of real estate postcards. Some of the most popular ones are listed below-
These postcards are generally used to raise awareness. You can use them to help people know about the benefits of buying a house. Even if they aren't looking for it right now, they might think about you when the time comes.
These types of real estate postcards are used to increase people's interest in your new properties and attract potential buyers.
The goal of open house postcards is to get more and more people to attend the event. Add the most attractive photos of the house to it, and you will surely get good results.
Conclusion
There is no doubt that real estate postcards are one of the most effective marketing tools that can bring you excellent results with minimal effort. The above-mentioned tips should help you choose the right design according to your marketing campaign requirements.