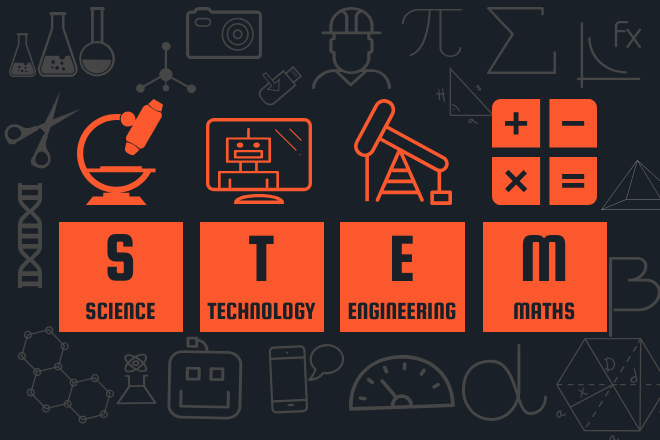 Whether it's designing the first buildings on Mars or finding affordable housing solutions for the world's developing nations, all great engineers, architects, computer scientists and thinkers start with a basic education. When the basic foundations of Science, Technology, Engineering and Math (or STEM) aren't laid at a young age, it makes it much harder for tomorrow's adults to find careers in the fields the world most relies on.
But by fostering a love of science and technology and inspiring youngsters to stay curious, ask questions, and ultimately pursue a career in research, engineering, technology, computer science and related industries, we can lift up and transform the whole of society. Here we explore the importance of STEM education – from the empowerment of women, to creating a more sustainable engineering sector.
T

he careers of the future

Despite the fact that the USA's highest paying jobs are largely found in the STEM-related industries, the proportion of bachelor's degrees in those fields has actually declined from 24% in 1985, to only 18% in 2009. And with more and more jobs lost to automation or cheaper overseas labor, a reversal of that trend is vital in the fight against unemployment. While the gears of government may grind slowly, there is potential for the private sector and other organizations to step in and help.

The Mars City Facility Ops Challenge STEM Program Intro by the National Institute of Building Sciences (NIBS), Total Learning Research Institute (TLRI) and NASA, is one such program. While the main focus of this project is a simulated Mars base which students are tasked with maintaining and operating, they use the same software tools that facility managers currently use in the field today.

They are also developing a career center aimed at introducing students to other potential career opportunities in the building industry and working with industry experts to help highlight potential career paths. When coupled with good primary and secondary school groundings in STEM subjects, these kinds of projects could prove invaluable to the world of tomorrow.
W

omen and STEM

In October 2018, Canadian Donna Strickland became one of just three women in history to win the Nobel Prize for Physics – the others being Marie Curie in 1903 and Maria Goeppert-Mayer in 1963. She received the award for her role in the development of 'chirped pulse amplification' in 1985 – a technology now widely used in applications such as laser eye surgery and even glass cutting. At the time, she was one of only three female students in her engineering class. Inspired by her mother, Donna's daughter, Hannah, is a graduate student in astrophysics at the University of Toronto.

Sadly, this inspiring story stands out because it goes against the norm. There is still a very obvious lack of female representation in STEM-related career fields worldwide and changing our ingrained beliefs about the role of women in society appears to be a slow process! But by allowing and encouraging girls to develop STEM skills and follow career paths in science and technology, we're giving half the human population a better chance of playing an active role in shaping the future.

A fascinating study by Microsoft, which examined the reasons why girls and young women seem to lose interest in STEM education, found that girls react more positively to STEM subjects when they can see what the real world applications of the material they're studying are.

For boys and girls alike, making STEM subject matter more than just abstract classroom concepts can make all the difference in whether they feel these subjects are worth pursuing even when they find them more challenging than their other subjects. And by introducing the basics at a young age during their preschool years, they will be far better equipped to grasp more complicated subject matter.
S

ustainability

Another aspect of designing the infrastructure and technology of the future lies in making our homes, commercial buildings, agricultural developments and cities not just better, but more sustainable too. Ideally, those solutions need to be easily rolled out in developing nations as well. But designing elegant and seemingly simple sustainable solutions frequently requires a lot of hard science and number-crunching in the background.

Take geocells, a technology by PRS Geo Technology in Canada which is used in sustainable road construction, as an example.  Despite the fact that it's a simple geosynthetic product, it combines advanced materials, civil, geotechnical and soil engineering. Although it involves advanced 3D confinement technology and pavement design methodologies, the product itself is simple to implement. It can be laid out by general laborers with minimal training in the construction of almost any road, even in the most challenging conditions, with significant engineering, environmental and economic benefits.

Designing these kinds of technologies requires an excellent STEM grounding, but the results can be just as useful to developing nations, helping them develop the infrastructure they need to grow their economies and develop their own educational systems in time.