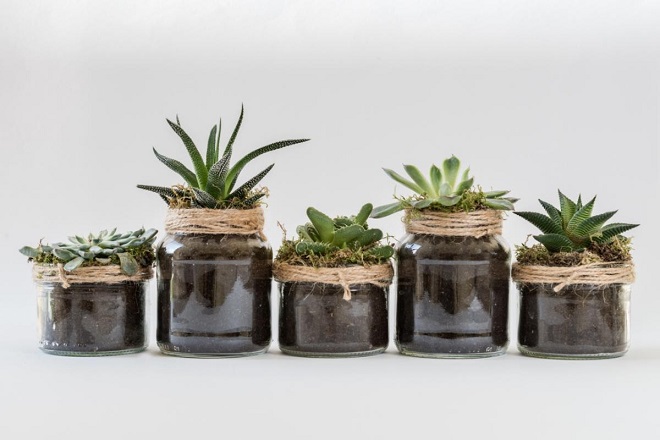 Have you always wanted to own some houseplants to brighten your home, but you're scared of taking care of them? Here are seven perfect plants for beginners!
Suppose you'd like to try your hand at caring for plants in your apartment. If you do, that's excellent news! Plants naturally brighten up any space and make things fresh and inviting.
You may have one problem though: You're not that good taking care of plants. Or, you don't have a lot of plant experience.
If either of these sounds a lot like you, you've come to the right place.
Doesn't it relieve you to hear that you don't have to be a plant pro to make your apartment look inviting?
The 7 Best Houseplants for Beginners
To create a calming plant oasis, all you need is the right type of plant! Here are seven houseplants that are ideal for beginner plant owners like yourself.
Don't worry, spider plants don't have spiders on them.
They do, however, have white flowers that bloom on their long stems during the summer. Besides its white flowers, baby spider plants bloom. That's how the plant got its name — because of its baby spiders, aka "pups!"
This plant does great in a variety of light and many temperature conditions.
Even though spider plants are perfect for beginners, they do best in indirect light.
Their soil should also be well-drained. But, it's hard for them to die, so don't be too concerned.
Isn't the name of this plant reason enough to add it to your apartment plant collection?
Ponytail palms look like a ponytail, and they thrive in the sun. If you're a California girl or guy, this plant sounds appropriate! And if you're not, ponytail palms are still just as fun.
This plant is drought-tolerant. That means if you're on the go and forget to water it, it'll still do okay.
Ponytail palm plants thrive in the light and don't need a whole lot of watering. To create summer all year round, put one on a side table or in a corner in your living room.
With all its features, it sounds like the perfect plant for plant newbies!
Peperomia plants look attractive on a desk or kitchen counter. Its thick and beautiful leaves can be the perfect focal point in your apartment.
Their leaves are drought-tolerant, which makes it difficult to harm this plant. So, if it gets neglected, it'll still be around for you to enjoy.
Peperomia plants aren't that large and are perfect for apartment living. You could put one on a desk, kitchen countertop, or even a bookshelf!
This plant's foliage varies in color. So if you so desire, you can get a few different plants to create an attractive arrangement!
You've likely heard of aloe vera, which is what you use on your skin after getting sunburned.
Aloe plants take more effort to care for than other plants but are well worth it. They do best in indirect sunlight. If you were to put them in direct sunlight, they would get dried out.
This type of popular plant not only has benefits, but it looks great in an apartment.
Before applying the gel, do some research on how much to use. And make sure you don't ingest it. You could get sick!
If you're looking for a flowering plant that's hard to kill and has beautiful blooms, then you'll love the wandering Jew.
It's hard not to recognize this popular plant. Its beautiful heart-shaped leaves make it stand out.
You'll be happy to learn that it is a herbaceous flowering plant. It has single flower blooms that show up in the middle of its leaves throughout the year. And when it blooms, it's a beautiful sight!
The flowers mixed with the unique colors of the leaves create a colorful feast for the eyes.
This plant does best in a humid room where it gets plenty of moisture.
Regarding placement, the wandering Jew blends in well with decor on a piece of furniture, such as a bookshelf. Place it next to a few other plants to create a lovely plant arrangement.
Improve the air quality in your apartment by getting a snake plant.
Snake plants don't need a lot of water to survive. And like other low-maintenance plants, they do well in a variety of conditions.
Their name may not be appealing (unless you like snakes!), but the plant sure is. Not only is it a good looking plant, but it has many benefits as well.
A few benefits include:
Removes toxic pollutants
Filters indoor air
Combats airborne allergies
A plant that's appealing and offers health benefits? Sounds pretty perfect!
Larger plants are ideal if you're looking for an eye-pleasing decoration in an interior such as a living room.
In particular, a dragon tree is easy to grow and can get as large as six feet in ten years!
It's best to place a dragon tree where there's a lot of light, but they still will do well in dim lighting.
This plant also needs more water, but you shouldn't soak it. Instead, make sure the soil stays moist without overwatering it.
A dragon tree blends in well in a living room, but of course, you can place it wherever you'd like!
In Conclusion
Now that you have seven houseplant ideas, which one do you plan to get first?
Besides this list, there are many other types of plants for beginners. Start with a few plants before graduating to plants that are higher maintenance. You may find that you're so interested in plants that you don't mind the extra care.
After mastering the art of being a plant owner, you could even do a little bit of indoor gardening!
Have fun becoming a skilled plant owner who will soon know everything there is to know about plants!
Caitlin Sinclair is the Business Manager at The Rylan. With over five years of property management experience, she begins and ends each day loving what she does. She finds joy in helping current and future residents and makes The Rylan a place everyone loves to call home.